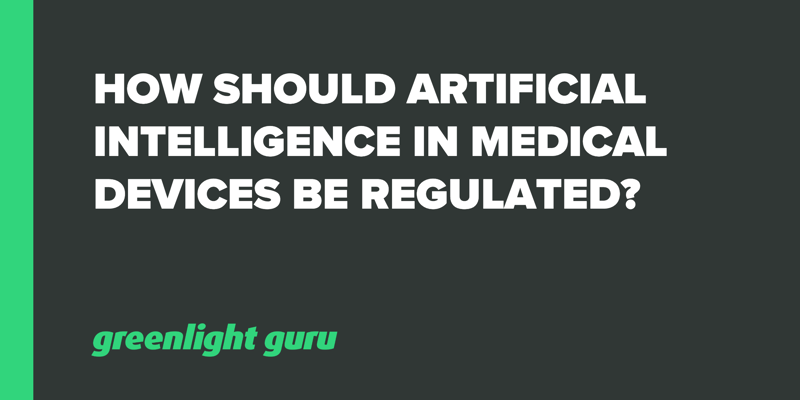 Take a close look at any global industry and you'll find them all locked in the same race toward innovation. Technology has quickened every part of every business process, and the capability of modern tools already stretches farther and helps more users than ever before.

This is especially true in healthcare, where a recent study has projected the medical industry to outpace finance, manufacturing, and media with a compound annual growth rate of 36% between now and 2025.
According to the same study, the biggest catalyst for this explosion is the healthcare sector's massive trove of patient data, which figures say should reach $34.7 billion by 2022.
For Software as a Medical Device (SaMD) and devices that feature software, it's a perfect opportunity to make use of artificial intelligence (AI) and machine learning (ML) technologies.
These advanced computing techniques leverage data and can be used to turboboost the performance of medical devices, provide real-time feedback, or even detect hard-to-spot diseases, such as cancer.
Of course, with such great power comes a great responsibility for upholding the highest quality standards. Let's take a look at the FDA action plan for regulating AI and ML in SaMD and what the future of MedTech may hold for such technologies.
FREE RESOURCE: How is AI transforming healthcare? Find out 6 ways by clicking here for your PDF download
Regulatory considerations for artificial intelligence in medical devices
Despite FDA's long standing reputation as a trusted regulatory safeguard for medical devices, the agency has found some difficulty in establishing an effective framework for devices with artificial intelligence or machine learning components.
Currently, the agency defines and evaluates software in a similar fashion to traditional devices. Any software used to treat, diagnose, cure, mitigate, or prevent disease is considered to be a medical device. Though this paradigm may have worked in the past, it falls short when applied to regulating AI and ML technologies.
When devising regulations for traditional products, regulators typically look at inflexible technology that works within the strict boundaries for which it has been programmed - for example, by following strict decision trees. This is also known as deterministic logic, and for the majority of medical devices this would generally be fine.
However, software-based medical devices with AI/ML operate using data-driven logic, where they are capable of learning and adapting based upon the data they receive. It's a flexible technology that develops more over time as it processes more data.
Imagine a radiology tool to measure bone density. Whereas a traditional medical device would refer to a straightforward pass/fail check on how the device functions, emits radiation, and displays results, an SaMD equipped with AI will do the same, but also learn from the data being collected by the device.
Under the current framework, manufacturers must evaluate each individual postmarket modification to determine if it requires a premarket submission. But for AI technology that is continuously evolving and constantly improving, the agency has concluded that, "refinements are needed across the program" to drive repeatability, improve the quality of information gathered, and reduce significant time burdens.
Proposed FDA framework for Artificial intelligence & Machine Learning-based Software Products
As the Big Data era continues, FDA has put considerable effort into not only devising a proposed regulatory framework, but also working with customer feedback and heeding the advice of subject matter experts throughout the medical device industry.
In 2019, FDA published its Proposed Regulatory Framework for Modifications to AI/ML-Based SaMD in which they identify the need for a tailored premarket submission practice for any SaMD that includes artificial intelligence and machine learning technologies.
Some key takeaways from this proposed framework include:
The expectation is that manufacturers will follow Good Machine Learning Practices (GMLP)

A Total Product Lifecycle approach will be taken with regulating AI/ML software products

Manufacturers will submit a "Predetermined Change Control Plan" during the initial premarket review. The plan will include SaMD pre-specifications, descriptions for expected and planned device modifications, as well as algorithm change protocol, description of specific methods used to control changes for risk.

AI/ML manufacturers should have a quality system geared toward developing and maintaining high quality products while conforming to appropriate standards and regulations.

Monitoring of AI/ML is an expectation of manufacturers and a risk-based approach must be taken with development, validation and execution of algorithm changes. (This might involve submitting a 510(k) for a software change).

An expectation of transparency with regard to the real-world function, performance and modifications of the device. This includes sharing with users and providing periodic reporting to the FDA.
More recently, in January of 2021, FDA released an action plan that includes both findings and feedback in response to their 2019 paper. At its core, the plan still adheres to FDA's long standing commitment to patient safety, specifically with a "patient-centered approach to incorporating transparency to users."
This is meant to ensure that patients understand the benefits, risks and limitations of AI/ML-based devices. It also creates regulatory guidelines to better help manufacturers predict runways for future product releases.
FREE RESOURCE: How is AI transforming healthcare? Find out 6 ways by clicking here for your PDF download
Greenlight Guru is the only AI/ML recommendation engine for medical device quality
AI/ML in software-based medical devices require a lot of documented evidence to show that appropriate plans and risk mitigations are in place and being followed by manufacturers.
In fact, manufacturers of AI/ML software-based devices can get assistance managing the subsystem processes within their quality systems with Halo by Greenlight Guru— the world's first AI/ML recommendation engine for medical device quality.
Change is inevitable with any AI/ML technology, so accurately predicting its impact is important. Halo℠ allows you to intelligently manage change and immediately view predictions for which QMS documents will be impacted.
Get your free demo of Greenlight Guru's Intelligent Document Management solution here.
---
Looking for a design control solution to help you bring safer medical devices to market faster with less risk? Click here to take a quick tour of Greenlight Guru's Medical Device QMS software