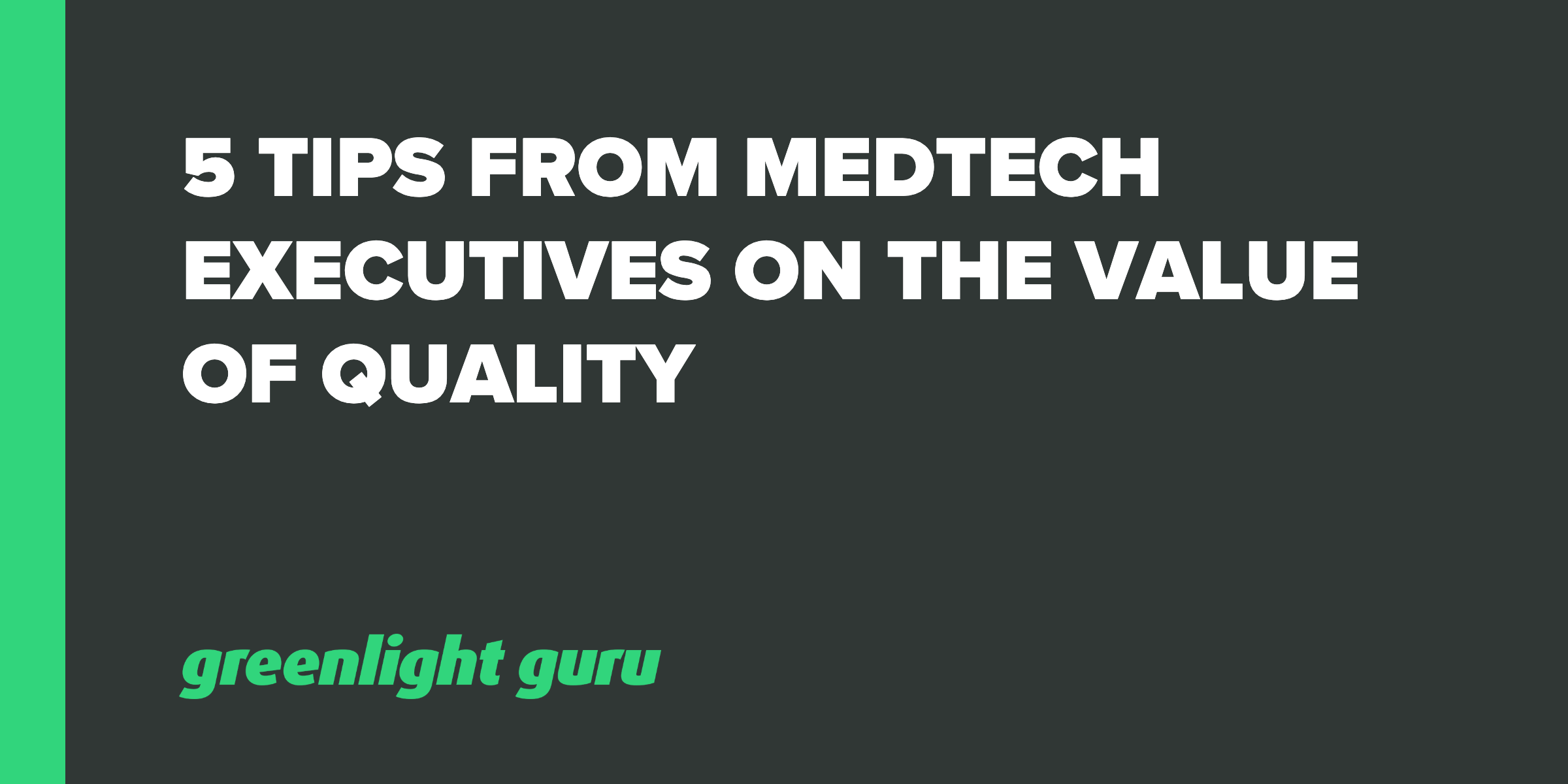 When it comes to making medical devices, quality is key.
That's a concept that nearly every medical device professional agrees with, but what does it mean? Why is quality so important, and how should it be pursued? These are the questions that every MedTech executive and company stakeholder should be asking themselves and their teams.
At Greenlight Guru, we work with many MedTech executives who are making incredible innovations in the space; their insights are invaluable.
The best way to explore the value of quality is by learning actual examples of how and why it works. We've taken it upon ourselves to put together five of our favorite pieces of wisdom from medical device executives on the value of quality.
FREE DOWNLOAD: Understand the process of creating a quality culture at your company. Click here to download the free PDF of our Quality Culture Flowchart.
1. Start with Why Quality Matters
We spoke with Devon Campbell, founder of Prodct LLC, and he made an excellent point right off the bat on how true quality starts with educating your team.
You can't force individuals to care about quality by training them on your company Quality Policy, SOPs, and WIs and expect them to care. Instead, invest carefully and consistently in ensuring teams understand WHY quality matters and the lasting, important value it brings for patients.
Every team has heard of quality and quality culture.
Some companies may have their quality policy printed on the office wall, or even memorized by heart. But do they really believe it? Does quality really resonate with them?
The elements of medical device development that Devon lists, such as the policies and procedures around quality, should come later. The first step in understanding the value of quality should start at the executive level with educating teams on what quality actually does for their project, the product, and its users. We'll get into this more in the remaining tips.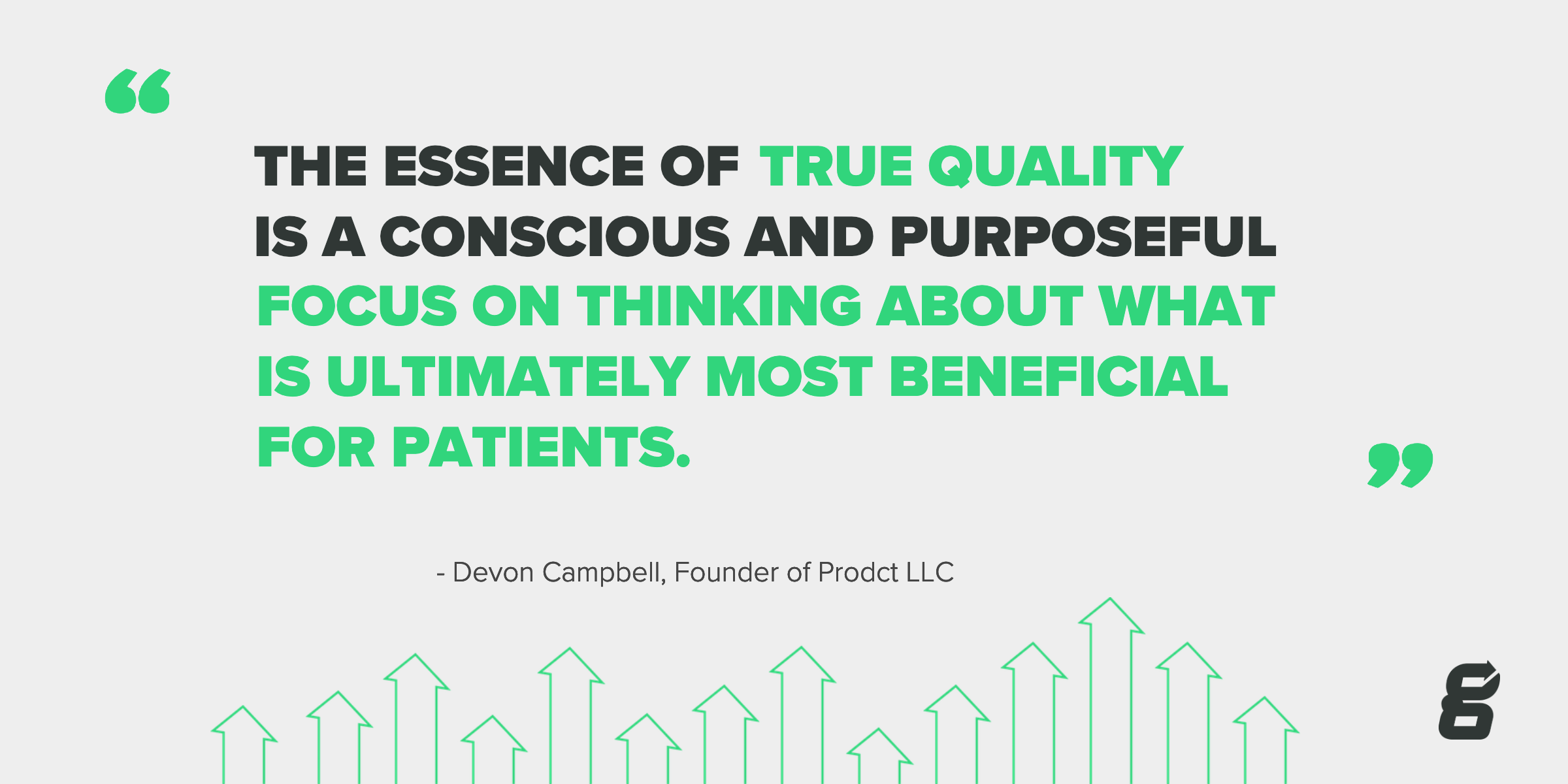 As Devon went on to say, "The essence of 'True Quality' is a conscious and purposeful focus on thinking about what is ultimately most beneficial for patients."
By approaching everything with the mindset of improving the lives of patients who will be the recipients of your product, you're ensuring that quality is at the forefront of your company's activities. That's when teams will be able to truly appreciate its value.
2. Quality Isn't a Function, It's an Advantage
Many teams view quality as a checkbox activity in order to achieve compliance and move on to the next step of the product lifecycle. But the value of true quality runs much deeper than that.
Dan Holton, President and CEO of Cypris Medical, had great insight to share on the value of quality, addressing what he believes to be a common misconception in the medical device industry.
Dan told us that it's important to view quality as "a culture, not a function," adding that quality can be a competitive advantage and drive enterprise value for companies.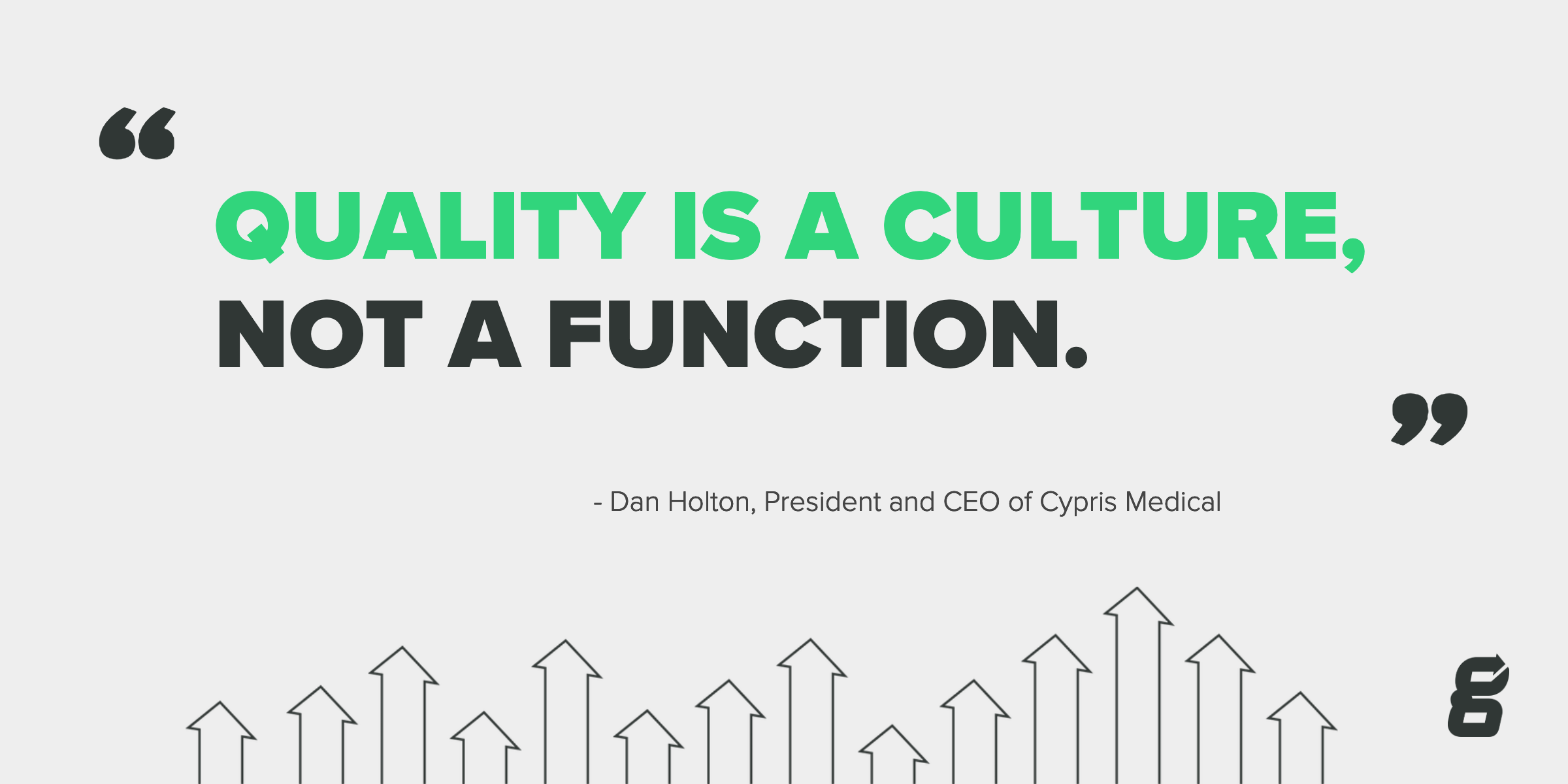 "Quality is a culture, not a function."
This isn't just a platitude — we've written before about how, in our experience, VC firms will actually place a higher valuation on a company that they believe demonstrates a firm grasp of quality management and a robust quality culture.
When investors see that a company has effectively integrated quality into their own internal operations and processes, not just to meet the minimum requirements, they tend to have more confidence in that company's competence and longevity.
And rightfully so. A medical device company that understands the value of quality is well positioned to effectively manage product risk and design controls. Practicing this type of due diligence will yield a safer, more effective product and a more rewarding end-user experience.
3. Identify Gaps in Knowledge, and Learn
David Narrow, founder and CEO of Sonavex, highlighted an important aspect of true quality in a recent Global Medical Device Podcast episode we recorded together.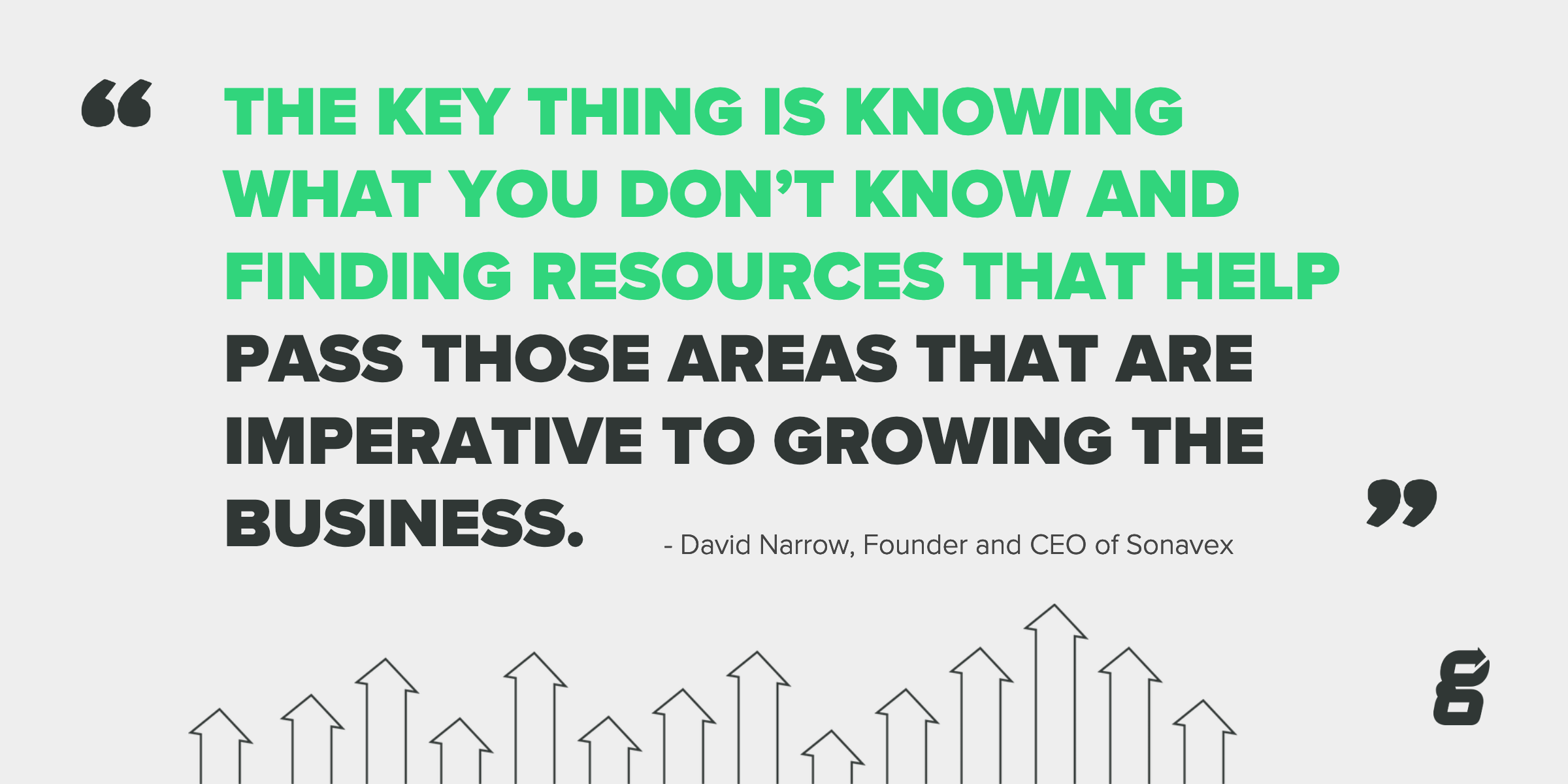 "The key thing is knowing what you don't know and finding resources that help pass those areas that are imperative to growing the business."
Quality is instrumental in growing a business, and you can only get so far before drawing on the wisdom of others.
David furthered this point by acknowledging how it's human nature to play to one's strengths and perhaps lean away from what makes us uncomfortable to do or learn about. Be that as it may, taking the advice of others can be paramount to improving and developing your project.
David did just that at Sonavex, where they assembled a team of board members, advisors, and consultants to support their company in areas where they felt their experience was lacking, and it paid off.
"Feeling as though you are willing to take other people's advice, but also pressure testing what they're saying to make sure it is truly accurate and relevant to what you're doing is imperative."
Greenlight Guru is purpose-built to facilitate all aspects of quality management, but beyond that, we offer QA/RA Guru services to provide expert guidance based on years of experience in the medical device industry to help companies all around the world bring new products to market and ensure that existing ones stay there.
4. Negative Experiences Are Valuable Too
Daniel Powell, CEO of Spark Biomedical, shared a powerful piece of advice for medical device professionals about True Quality during a past episode of our other podcast show, MedTech True Quality Stories.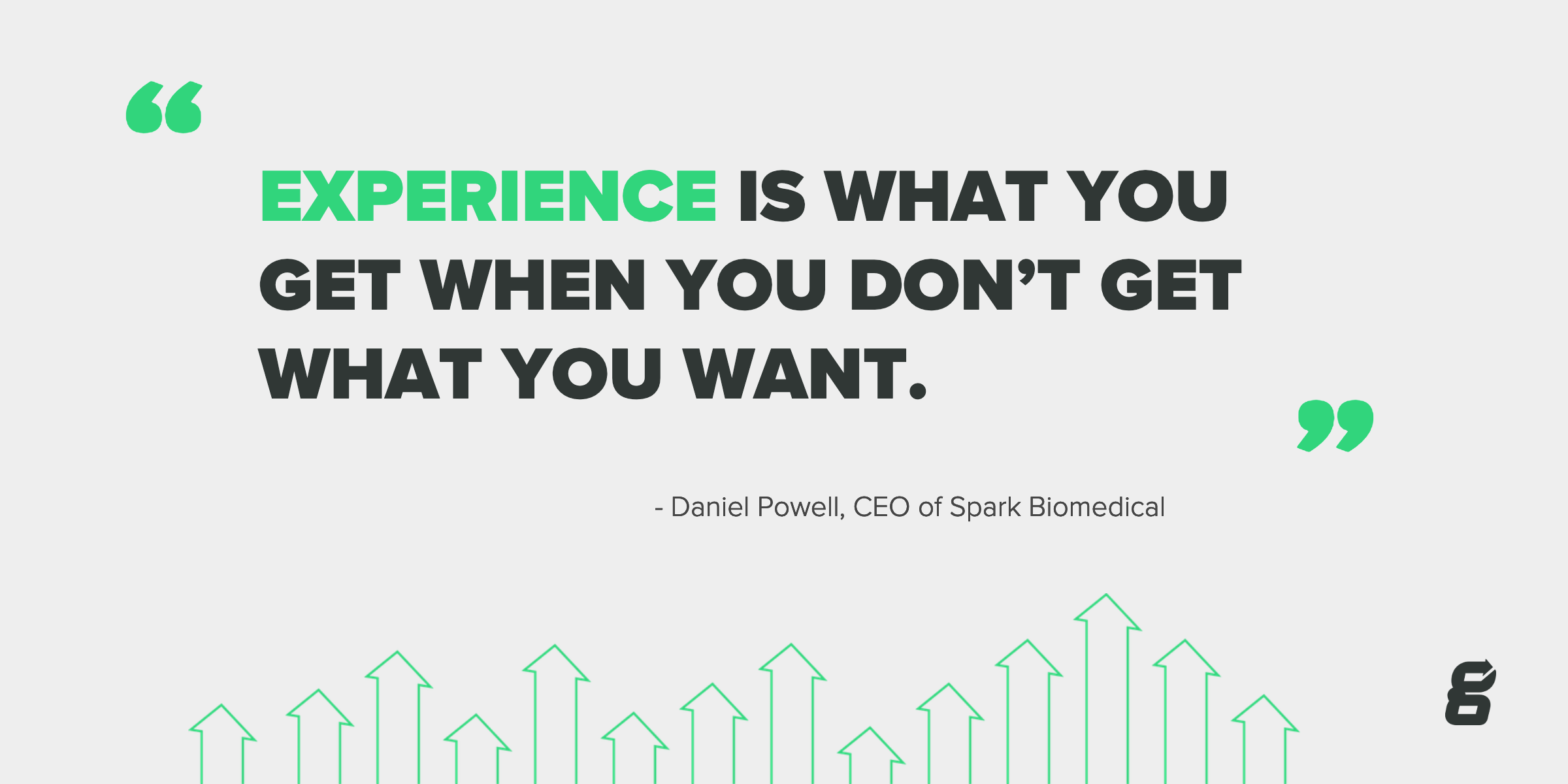 "Experience is what you get when you don't get what you want."
This old saying is particularly true in the medical device industry, where teams can often face headwinds and obstacles that leave them feeling overwhelmed. Daniel's point here is that these obstacles are all valuable learning experiences that can create what he calls a "higher quality IQ."
"I've had the privilege of going through at least one full warning letter experience with the FDA while I was at a Class III medical device manufacturer."
Of all the words people use to describe being on the wrong end of an FDA warning letter, "privilege" isn't usually the first one that comes to mind. Daniel shared how it was one of the worst things he ever went through, but also one of the most valuable things for his career in terms of appreciating and learning about quality.
Seeing what could go wrong, and then putting critical-thinking skills to the test to correct course, was an informative experience that ultimately helped him in his executive role.
So while you may face obstacles along the way, mitigating them isn't the only thing you should focus on - treating them as a learning experience will also improve your quality culture overall.
5. The Right QMS Makes All the Difference
Your QMS is a crucial aspect of medical device quality management. Many solutions are available — some of them are purpose-built, and others, like Microsoft Excel and Google Docs, are not. You can invest in a basic tool, or you can invest in a partner that works exclusively with medical device manufacturers.
Patricia Setti-LaPerch, Director of Regulatory Compliance and Quality at Koios Medical, shared her key advice on harnessing the value of true quality.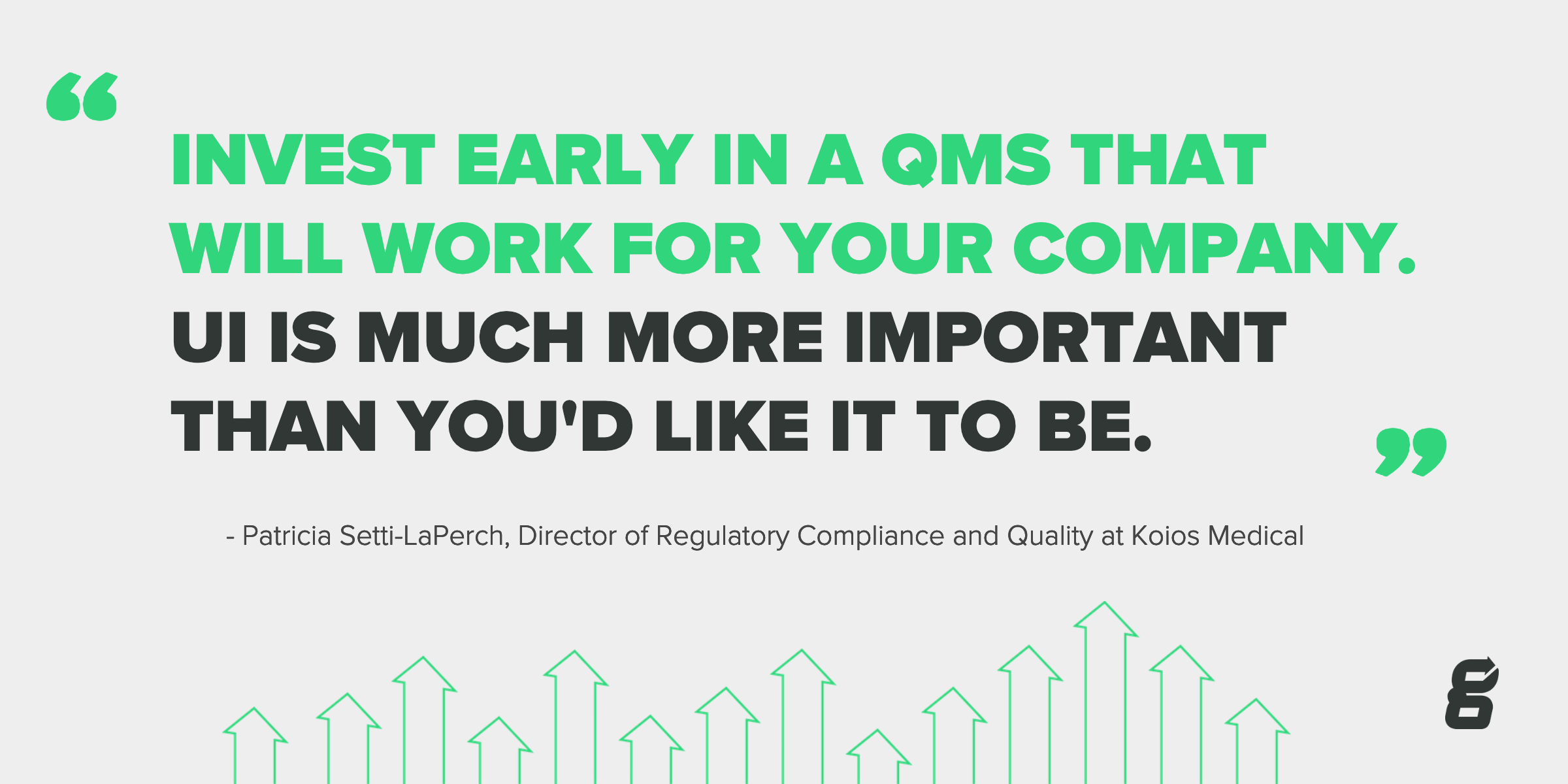 "Invest early in a QMS that will work for your company. UI is much more important than you'd like it to be."
New device manufacturers can find themselves, as Patricia says, "overwhelmed" by some of the aspects of quality management. Drafting and sharing SOPs, keeping track of who still needs to sign a certain document, or not knowing who has the most up to date version can lead to workflow and regulatory nightmares.
In the later stages of a product's lifecycle, CAPA activities generate a huge amount of documentation, and teams can find themselves building an ad-hoc traceability matrix in Excel that can quickly become cumbersome and difficult to navigate.
Patricia voiced her support for automating and simplifying as much of the development process as possible, adding, "The right processes (and their documentation) determine how quickly a company can innovate and bring new products to market."
FREE DOWNLOAD: Understand the process of creating a quality culture at your company. Click here to download the free PDF of our Quality Culture Flowchart.
Final Thoughts
By educating your team about the value of quality and its advantages, learning from experiences−both negative and positive, and using the right solutions for your work, you can drastically improve your overall processes. Not only that, you'll also end up with a true quality medical device and a more efficient team, as well.
Greenlight Guru's MDQMS is the only software on the market specifically designed to align with regulations and standards like EU MDR, FDA 21 CFR Part 820 and ISO 13485:2016. In addition, our user interface and experience is seamlessly tailored to simplify every pre- and post-market task and process of a medical device, giving companies the freedom to focus on building and marketing true quality products.,
Teams can work together in real time and tag other users in any necessary documents, saving a substantial amount of time, as well as drive traceability across quality processes and product development to ensure everything is in the right place and easily accessible.
---
Looking for an all-in-one QMS solution to advance the success of your in-market devices and integrate your company's quality processes with product development efforts? Click here to take a quick tour of Greenlight Guru's Medical Device QMS software →