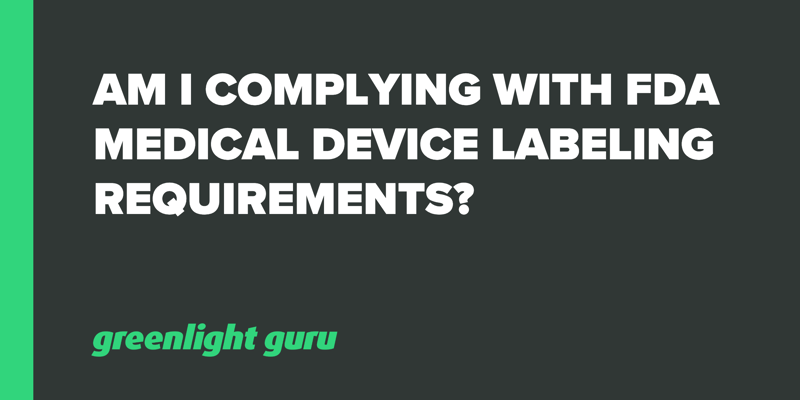 Medical device labeling requirements are a key part of getting your device to market.
It's important that we are on the same page with what "labeling" encompasses. When we say "labeling," there's a common misconception that we're just talking about the label on your device.
In fact, the term labeling covers ALL types of labels associated with your device, including the box your device comes in and the instructions for use (IFU).
Here in the US, the FDA provides extensive guidelines around labeling, including general requirements and special sub-categories for different types of devices. You are required to know and understand what applies to your device.
Here's what you need to consider when looking at your own labeling for compliance:
FREE RESOURCE: Click here to download our PDF checklist for complying with FDA medical device labeling requirements.
What are the FDA requirements for medical device labeling?
Labeling requirements in the United States that pertain to medical devices are found in the following Parts of FDA Title 21 of the Code of Federal Regulations (CFR):
Remember, it's also important to know how the FDA defines labeling. The following definition can be found on the Device Labeling page of FDA's website.
Section 201(k) defines 'label' as a:
'display of written, printed, or graphic matter upon the immediate container of any article…'
The term 'immediate container' does not include package liners. Any word, statement, or other information appearing on the immediate container must also appear 'on the outside container or wrapper if any there be, or the retail package of such article, or is easily legible through the outside container of the wrapper.'
Section 201(m) defines 'labeling' as:
'all labels and other written, printed, or graphic matter
(1) upon any article or any of its containers or wrappers, or
(2) accompanying such article' at any time while a device is held for sale after shipment or delivery for shipment in interstate commerce.
The term 'accompanying' is interpreted liberally to mean more than physical association with the product. It extends to posters, tags, pamphlets, circulars, booklets, brochures, instruction books, direction sheets, fillers, etc. 'Accompanying' also includes labeling that is brought together with the device after shipment or delivery for shipment in interstate commerce.
It's also noteworthy that they have said "some if not all" advertising counts as labeling.
General device labeling
Before embarking on labeling your device, you should first define the risk classification of the device and the intended uses. This will guide which specific parts of the regulations you need to comply with.
You also need to establish and maintain a procedure to control labeling activities, making sure to include the following five areas:
Labeling integrity - the label should remain affixed to the device and should be legible.

Labeling inspection - is the labeling accurate?

Labeling storage - you need a system that ensures the correct label gets applied.

Labeling operations - manufacturers should control the labeling process

Control number - this is used to demonstrate traceability
Subpart A of CFR Title 21 covers general device labeling requirements. There is a very clear requirement that labeling must clearly identify the manufacturer of the device, including their name and place of business.
If the device is manufactured for or distributed by another company, this must be shown on the label with a designation such as "manufactured for" or "distributed by."
Use of symbols
Section 801.15 covers the use of symbols in medical device labeling. FDA issued its "final rule" on the use of symbols in 2016, in a document that can be read here. In this final ruling, the FDA states that it is:
[I]ssuing this final rule revising its medical device and certain biological product labeling regulations to explicitly allow for the optional inclusion of graphical representations of information, or symbols, in labeling (including labels) without adjacent explanatory text (referred to in this document as "stand-alone symbols") if certain requirements are met.
Prior to this, FDA had generally required explanatory text with all symbols used on labeling, specifically:
Under the final rule, symbols established in a standard developed by a standards development organization (SDO) may be used in medical device labeling without adjacent explanatory text as long as:
(1) The standard is recognized by FDA under its authority under section 514(c) of the Federal Food, Drug, and Cosmetic Act (FD&C Act) (21 U.S.C. 360d(c)) and the symbol is used according to the specifications for use of the symbol set forth in FDA's section 514(c) recognition, or alternatively,
(2) if the symbol is not included in a standard recognized by FDA under section 514(c) or the symbol is in a standard recognized by FDA but is not used according to the specifications for use of the symbol set out in the FDA section 514(c) recognition, the device manufacturer otherwise determines that the symbol is likely to be read and understood by the ordinary individual under customary conditions of purchase and use in compliance with section 502(c) of the FD&C Act (21 U.S.C. 352(c)) and uses the symbol according to the specifications for use of the symbol set forth in the SDO-developed standard.
Manufacturers must also include a glossary of symbols, either on paper or electronically. Labeling must clearly tell users where to find that glossary.
In vitro diagnostic products
According to the In Vitro Diagnostic Device Labeling Requirements from FDA,
In vitro diagnostic products (IVD's) are those reagents, instruments, and systems intended for use in the diagnosis of a disease or other conditions, including a determination of the state of health, in order to cure, mitigate, treat, or prevent disease or its sequelae. Such products are intended for use in the collection, preparation, and examination of specimens taken from the human body.
21 CFR Part 809 covers in vitro diagnostic products. Subpart B of the FDA regulation covers the labeling of those devices.
This is quite an extensive section, with requirements for everything from appropriate storage instructions, warnings, and a summary explanation of the test and methodology.
Investigational device exemptions (IDE)
Investigational device exemptions exist to encourage the safe development and discovery of devices intended for human use while maintaining "optimum freedom" for scientific investigators to pursue this knowledge.
In other words, IDE permits you to lawfully ship a device that would otherwise require a PMA or compliance with a performance standard for the purposes of testing the device on humans.
Part 812.5 deals with the labeling of investigational device exemptions. Among other requirements, the label must state: "CAUTION - Investigational device. Limited by Federal (or the United States) law to investigational use."
Unique device identification (UDI)
The UDI is a system established by the FDA to adequately identify medical devices sold in the United States, from manufacturing, through distribution to patient use. The UDI rule requires device manufacturers to:
Include a unique device identifier (UDI) on device labels and packages, except where the rule provides for an exception or alternative.
If a device is intended for more than one use and intended to be reprocessed before each use, the device labeler must also mark the UDI directly on the device.
Submit device information to the Global Unique Device Identification Database (GUDID).
You can find UDI requirements in Part 830.
Medical device labeling good manufacturing practices
Good manufacturing practices include all of those outlined under the FDA 21 CFR Part 820 - Quality System Regulation. Section 820.120 includes labeling requirements, which outline the five areas we shared at the beginning of this section (labeling integrity, labeling inspection, etc.)
The point of 820.120 is to have good, reliable procedures to control and monitor labeling. These should be included in your documentation, stored in your QMS.
General electronic products
Performance standards for electronic products are found under Part 1010. Labeling is specifically covered in 21 CFR Part 1010.3.
Of note here is that you must specifically include information on the place, month, and year of manufacture.
Medical device patient labeling considerations
The whole point of labeling is to be able to provide users of your device with clear information that will help them to use it safely and effectively. FDA defines "patient labeling" as "any information associated with a device targeted to the patient or lay caregiver."
Your medical device patient labeling should inform users or caregivers of the proper use, risks, and benefits of the device. It should be in a language they can easily understand. That means avoiding excessive jargon or terms they will be unfamiliar with and doing what you can to simplify your instructions.
Another consideration is formatting. For example, you might think about breaking information down into clearly numbered steps rather than presenting users with a wall of text.
Patient labeling is not always necessary. If your device is only to be used by healthcare practitioners (for example, if your device is a scalpel), then there's no sense in including patient labeling.
FREE RESOURCE: Click here to download our PDF checklist for complying with FDA medical device labeling requirements.
Simplify compliance with medical device labeling requirements
There are a lot of different moving parts to consider your device labeling. Your first job is to clearly define your risk categorization and indications for use, so that you can then identify the labeling requirements you must comply with.
Your design controls will play a big part in helping you to devise your final labeling. The best QMS software keeps design control elements updated at all times and provides full transparency of all data and activities throughout the total product lifecycle.
All data stored in a closed-loop quality system will feed directly into your labeling activities, so your efforts are simplified and improved.
Greenlight Guru provides multi-level design control software with powerful traceability capabilities that allow companies to uncover the relationships in your device's design, keep your team audit-ready at all times, and produce FDA-compliant labeling in a streamlined manner. Get your free personalized demo of our software today →
---
Looking for a design control solution to help you bring safer medical devices to market faster with less risk? Click here to take a quick tour of Greenlight Guru's Medical Device QMS software