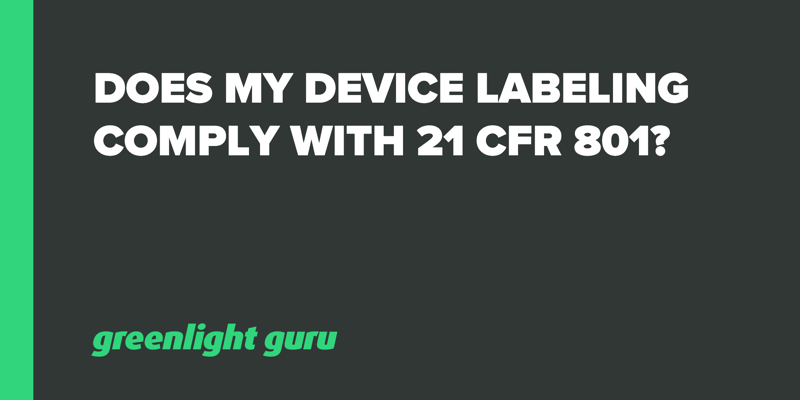 Medical device labeling is a core requirement for getting your device onto the market.
21 CFR 801 covers general device labeling and the use of symbols. One thing the regulation makes clear is that the term "labeling" isn't just about a sticker or engraving on a device.
Labeling covers all types of labels that are associated with your medical device - the instructions, the box it comes in, and of course, any label on the device itself. When you are checking to see what is required for your device, you'll need to look at the general requirements and any sub-categories that may apply to your particular type of device.
Here's what you need to know about being compliant with 21 CFR 801:
FREE RESOURCE: Click here to download our free on-demand Risk Management True Quality Summit Series Replay Package.
21 CFR 801 - How the FDA regulates device labeling in the US
In the United States, medical device labeling is regulated by FDA under these three laws:
The Food, Drug and Cosmetic (FD&C) Act

The Fair Packaging and Labeling Act

The Radiation Control of Health and Safety Act
These laws are implemented in the form of regulations, of which 21 CFR 801 regulates general device labeling. Key concerns are that the user (or layman) of the medical device must be able to understand labeling so that they can operate the device safely and for the purposes intended, and that labeling must not be misleading or false.
It's worth noting how the term "label" is defined under Section 201(k) of the FFDCA, the law under which FDA may seek action against regulated products:
'display of written, printed, or graphic matter upon the immediate container of any article...'
The term 'immediate container' does not include package liners. Any word, statement, or other information appearing on the immediate container must also appear 'on the outside container or wrapper if any there be, or the retail package of such article, or is easily legible through the outside container or wrapper.'
Section 201(m) defines a 'labeling' as:
'all labels and other written, printed, or graphic matter
(1) upon any article or any of its containers or wrappers, or
(2) accompanying such article' at any time while a device is held for sale after shipment or delivery for shipment in interstate commerce.
The term 'accompanying' is interpreted liberally to mean more than physical association with the product. It extends to posters, tags, pamphlets, circulars, booklets, brochures, instruction books, direction sheets, fillers, etc. 'Accompanying' also includes labeling that is brought together with the device after shipment or delivery for shipment in interstate commerce.
In other words, FDA wants to see that your labeling: is easy to follow, has all the information that is required and doesn't have any information that is false or misleading.
What are the different subparts of 21 CFR 801?
Here are the subparts found under 21 CFR 801:
General labeling provisions include the meaning of "intended uses" for the purpose of labeling and guidelines on adequate "directions for use." This section also discusses misleading statements and required statements for the Spanish language.
The general labeling provisions include date format requirements as well as the requirements for labeling specific to the name and place of business of the manufacturer, packer or distributor. Lastly, Subpart A includes a list of relevant definitions for terms used throughout 21 CFR 801.
All medical devices must bear a unique device identifier (UDI, unless it falls under the list of exceptions which are found at 21 CFR 801.30. If your device is not required to bear a unique identifier, you still may choose to do so voluntarily.
The rest of Subpart B contains the requirements for the UDI form, requirements for SaMD (Software as Medical Device) labeling and requests for exceptions.
This subpart provides guidelines for all over-the-counter devices, including how the principal display panel and statement of identity must be displayed. There is a list of requirements pertaining to how you must declare the net quantity of contents, which will depend on your device type.
This section outlines conditions for exemptions from adequate directions for use. Examples of this type of exemption include, but are not limited to, in vitro diagnostic products, prescription devices, and devices for which adequate directions for use are commonly known.
There are some situations where the FDA issues further exemptions to labeling, of which are outlined in Subpart E. For example, where a product is packaged and shipped in a location different from where it will be processed, repacked and labeled.
This section covers specific types of devices, such as dentures, eyeglasses, hearing aids, devices with Ozone and devices with CFCs.
How to apply 21 CFR 801 when designing my device labeling
The concept of "designing device labeling" is an important one to consider early on, bearing the applicable 21 CFR 801 regulations in mind when doing so. What is it that you want your labeling to say? How do you want it advertised?
Depending on your regulatory plan, device labeling design will vary. For example, if you're going down the 510(k) submission route, your medical device labeling will be limited to what's found on your predicate device.
If you're prepared to take the De Novo route, you may not have the same labeling limitations as you would with a 510(k), but you will assume a larger regulatory burden upfront in meeting requirements that would have otherwise been satisfied by a predicate device, such as testing.
Your device labeling should take into account whichever regulatory pathway you choose to pursue as well as any exemptions (such as wellness) that apply. Importantly, your labeling is part of your design outputs and should reflect what you have documented for those.
In compliance with 21 CFR 801, remember that any written, printed or graphic material on packaging or accompanying the device also falls under the "labeling" regulations. Address labeling early on in your planning so that you will be prepared when it is needed.
FREE RESOURCE: Click here to download our free on-demand Risk Management True Quality Summit Series Replay Package.

Produce 21 CFR 801-compliant labeling in a streamlined manner with Greenlight Guru
Your labeling needs to comply with 21 CFR 801 and to achieve this, you need well-organized design controls to inform your labeling. Keep your documentation up-to-date and easily located with a purpose-built eQMS solution.
Greenlight Guru is the only eQMS built exclusively for medical devices. Our platform is built and kept up to date with the latest industry regulations and standards in mind to keep medical device companies compliant with 21 CFR 801 as well as other regulatory requirements.
Get your free live demo of Greenlight Guru →
---
Looking for a design control solution to help you bring safer medical devices to market faster with less risk? Click here to take a quick tour of Greenlight Guru's Medical Device QMS software