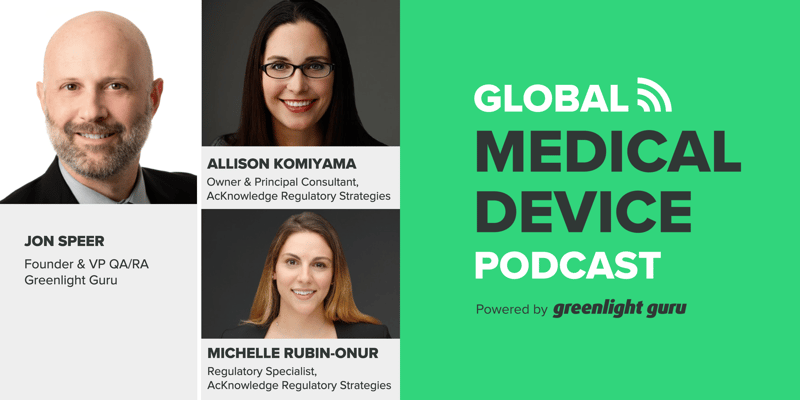 Artificial intelligence (AI) and machine learning (ML) seem to be involved in everything, including medical devices and software as a medical device (SaMD). So, regulatory ramifications are possible with such technology and innovation.
In this episode, Allison Komiyama and Michelle Rubin-Onur of Acknowledge Regulatory Strategies discuss regulatory guidance documents related to SaMD created by the International Medical Device Regulators Forum (IMDRF) and U.S. Food and Drug Administration (FDA).
LISTEN NOW:
Like this episode? Subscribe today on iTunes or Spotify.
Some highlights of this episode include:
IMDRF's definition of SaMD is software intended to be used or performed for at least one medical purpose without being part of a hardware medical device.
SaMD field follows four guidance documents that provide key definitions, risk categorization, quality management systems (QMS), and clinical evaluation.
Manufacturers are encouraged to provide feedback regarding performance, input, and intended use changes and submissions via FDA's discussion paper.
When categorizing SaMD, consider the significance of information provided and state of healthcare situation or condition.
SaMD must undergo a three-step process: Valid clinical association, analytical validation, and clinical evaluation.
The benefit of using a QMS to understand and mitigate risks helps FDA understand SaMD.
To Do List: Complete FDA's call to action; attend Reg AF Conference; and go to Greenlight Guru's True Quality Roadshow.
LINKS:
Acknowledge Regulatory Strategies
Regulating Software as a Medical Device in the age of Artificial Intelligence
Artificial Intelligence and Machine Learning in Software as a Medical Device
Proposed Regulatory Framework for Modifications to Artificial Intelligence/Machine Learning (AI/ML)-Based Software as a Medical Device (SaMD)
Software as a Medical Device (SaMD): Key Definitions
Pre-Cert Program Version 1.0 Working Model
Software as a Medical Device (SaMD): Clinical Evaluation
Deciding When to Submit a 510(k) for a Software Change to an Existing Device
Devices Subject to Premarket Approval (PMA) - PMA Supplement Decision-Making Process
Software as a Medical Device: Possible Framework for Risk Categorization and Corresponding Considerations
Software as a Medical Device (SaMD): Application of Quality Management System
FDA Premarket Notification 510(k)
The Ultimate Guide To Design Controls for Medical Device Companies (waterfall method)
Understanding the Difference Between a General Wellness Device and a Regulated Medical Device with Mike Drues
MedTech True Quality Stories Podcast
Greenlight Guru True Quality Roadshow
Memorable Quotes from this episode:
"SaMD is software that may be used to diagnose, prevent, monitor, or treat a disease." Michelle Rubin-Onur
"FDA is really interested in helping develop a regulatory path for manufacturers of SaMD, and helping these devices get to market." Michelle Rubin-Onur
"The guidance out there is fairly good. FDA is still trying to figure out how they're going to regulate a lot of this." Allison Komiyama
"The categorization for SaMD is independent of categorization of medical devices...because they do look at different things." Michelle Rubin-Onur
---
ABOUT THE GLOBAL MEDICAL DEVICE PODCAST: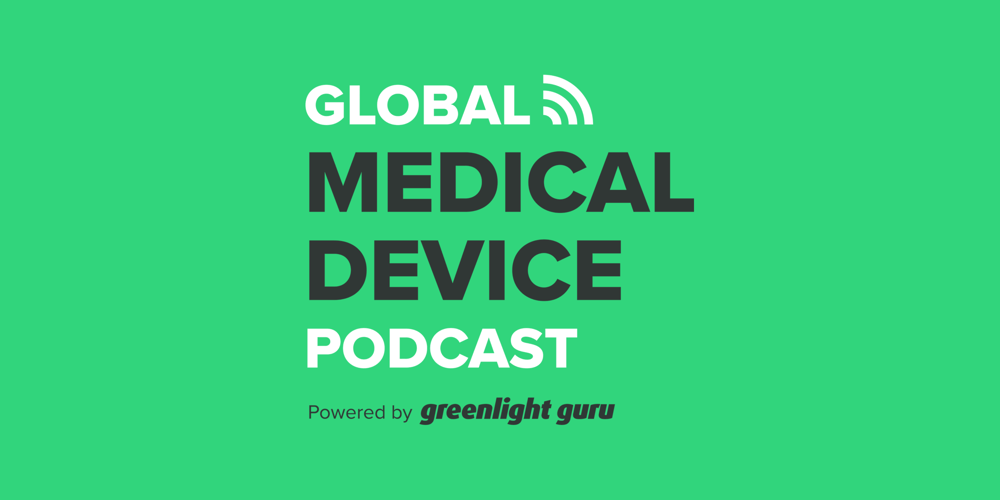 The Global Medical Device Podcast powered by Greenlight Guru is where today's brightest minds in the medical device industry go to get their most useful and actionable insider knowledge, direct from some of the world's leading medical device experts and companies.