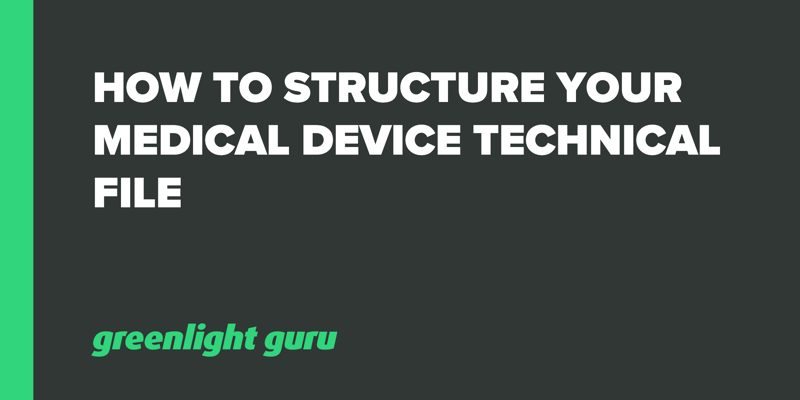 The medical device technical file is a must-have document for devices to be sold in the EU marketplace.
The file contains detailed information about your medical device, its design, intended use claims, composition, and clinical evaluations. It's essentially an "everything you must know" document for a device.
If you're going for a CE Mark, then you need to understand what is required of the technical file. Here's how to structure yours to successfully enter the EU:
FREE CHECKLIST: Make sure you're structuring your technical documentation correctly with this helpful checklist that you can download for free by clicking here.
Technical file overview
The technical file has been around for a long time. A good way to think of it is that it's analogous to a 510(k) or a regulatory submission to FDA, except with a European twist, if you will. A technical file comprises a collection of evidence used in a regulatory submission to demonstrate that a product is safe and effective and that you've met the requirements for the CE Mark.
One thing to make clear is that the technical file is not exactly the same as a design dossier, which can be seen as slightly more in-depth or advanced than a technical file. In the EU, the design dossier is used for the higher risk medical devices. It's very much like how a PMA is used for Class III product submissions to FDA.
When is a technical file required? Basically, all types of devices entering the EU marketplace will require a technical file. What throws some manufacturers off is that some products classified as lower-risk will have a self-declaration, which does not require the permission of a Notified Body to review a technical file.
Self-declaration means that your company declares your device has met the required standard. It sounds simple on the face of it, but it does mean that you are also responsible for defining the legal framework applicable to your device and identifying which assessments are necessary (tasks that a third party would otherwise undertake).
No matter what classification your device is or which pathway you are taking, a technical file is necessary. You can expect that if you are going through a Notified Body, they will definitely review your file.
The EU MDR states that medical device manufacturers must:
Prepare technical documentation before placing a product on the market.

Ensure technical documentation is made available to the market surveillance authorities (should they request to see it) as soon as the product is placed on the market.

Keep records of technical documentation for 10 years from the date the product is placed on the market (unless explicitly specified otherwise).
What is the structure of technical documentation?
A strong structure for your technical documentation helps any reviewers to clearly see and understand your contents. The structure can help you to maintain traceability and highlight any associated risks.
At a minimum, technical documentation should have:
A device description and specification section. This should also have your unique device identification (UDI) number.

Labeling and instructions for use. (Note: You will need a translation for the local language of the EU country you plan to enter).

Detailed information on design and manufacturing. (It is recommended that you make use of flow charts to clearly show processes and relationships). You need to show the manufacturing process, suppliers, and materials used.

Detailed risk management information in compliance with ISO 14971.

General Safety and Performance Requirements (GSPR), formerly known as essential requirements. It identifies all the things you must do for your device type. From a design control perspective, the contents of your traceability matrix will assist you with addressing the criteria of GSPR.

Verification and validation information. In terms of verification and validation, the European Commission places a heavy emphasis on clinical data - not just during design and development, but post-market, too. CERs (Clinical Evaluation Reports) should provide a comprehensive overview of the device's design and composition, as well its intended applications and any relevant literature reviews.

Post-market surveillance (PMS) information, including PMS plan, post-market clinical follow-up (PMCF) plan, and periodic safety update report (PSUR).
You can find more information on the requirements for the various types of technical documentation in the MDR. For example:
Who reviews technical documentation?
Once your technical file is complete, you'll want to run it through some internal checkpoints before submitting it for final review by a notified body. I recommend conducting your own internal audit review. This should be carried out by a cross-functional team of design and development, quality, regulatory, and even manufacturing stakeholders.
You might also choose to use external consultants to help you if you don't have the internal expertise available. It can be invaluable to have someone come in who already has expertise on your specific type of project.
Greenlight Guru has a worldwide network of trusted partners who have specific expertise with technical documentation. In fact, we hosted a 5-day EU MDR & IVDR virtual summit event where over 20 of these experts presented on EU device-related topics. You can access the full session replays here to learn more about these speakers and their areas of expertise.
Externally, the technical file is reviewed by a notified body, who assesses the technical documentation to determine whether all requirements have been met in order for certification to be given.
FREE CHECKLIST: Make sure you're structuring your technical documentation correctly with this helpful checklist that you can download for free by clicking here.
A seamless solution for managing your medical device technical file
There is an expectation that a technical file should be a living document that is kept within the quality management system, alongside other key artifacts, throughout the entire product lifecycle. This would be extremely difficult to do using a paper-based system that involves manually updating and maintaining stacks upon stacks of physical documents and reports.
Conversely, a robust quality system that automatically manages your technical file, PMS reporting, and helps you maintain compliance is a clear winner. Greenlight Guru is the only QMS software that is purpose-built for the medical device industry and makes the entire technical file process seamless. Get your free demo today →
---
Looking for a design control solution to help you bring safer medical devices to market faster with less risk? Click here to take a quick tour of Greenlight Guru's Medical Device QMS software