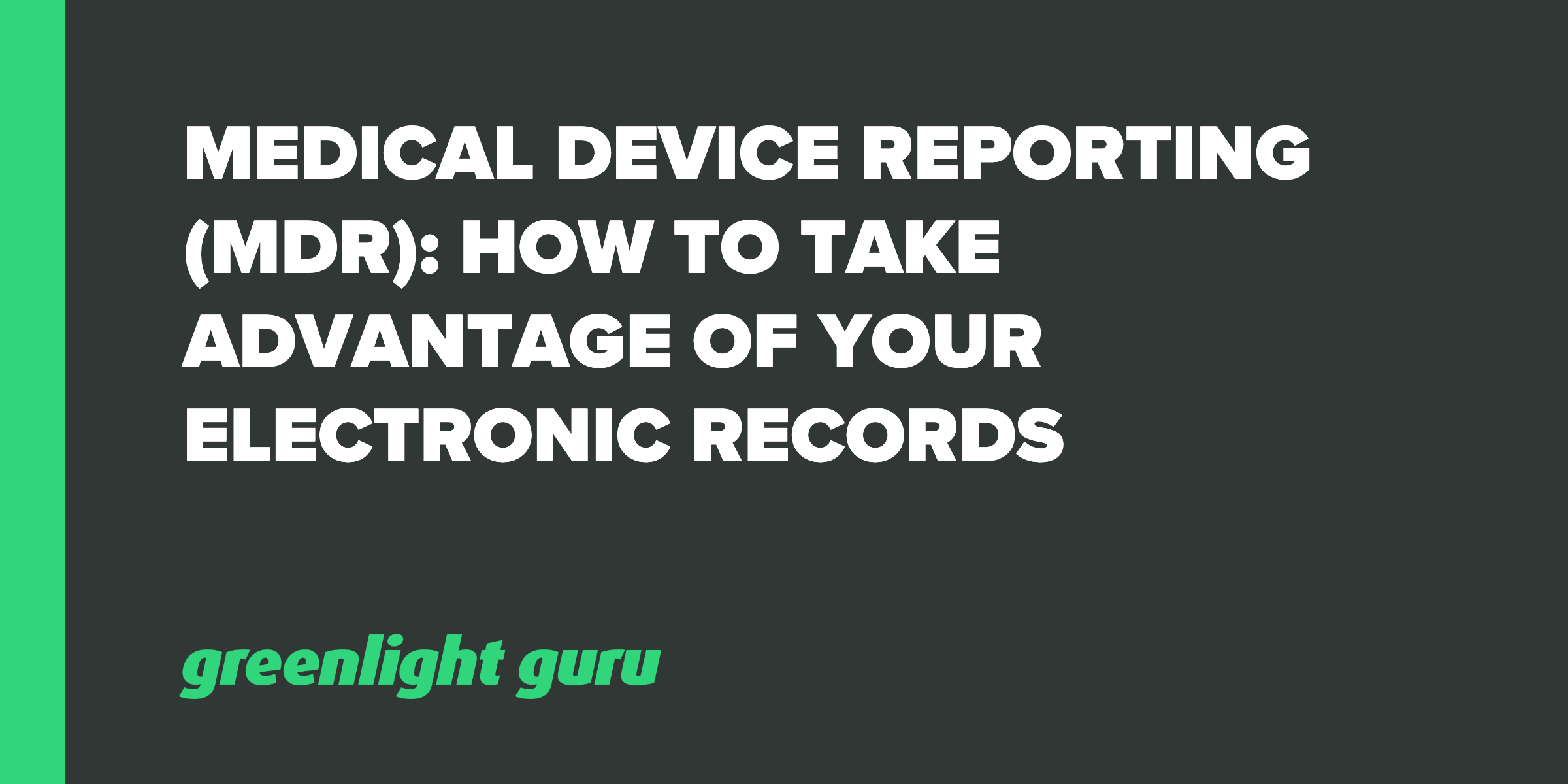 Some companies in the medical device industry show resistance to digital technology, preferring to use the same paper systems they've used for decades.
This is true even for medical device reporting (MDR). In the United States, when a medical device contributes to a death or serious injury or poses a threat from a flaw or malfunction, companies are required to submit a medical device report to FDA.
Beginning in 2014, FDA required medical device reports be filed electronically; however, that didn't mean technology-resistant device companies started embracing digital transformation right away.
Forward-thinking medical device companies can find opportunities to leverage the benefits of electronic medical device reporting (eMDR) and improve their internal reporting processes all the while.
In this article, we cover what is involved with medical device reporting, what makes eMDRs more beneficial than paper-based MDRs, and how you can improve your company's processes that utilize them.
FREE DOWNLOAD: Click here to download a PDF version of the medical device reporting (MDR) decision tree.
Electronic medical device reporting (eMDR): regulatory requirement
The regulatory requirements for medical device reporting are outlined in FDA 21 CFR 803 Medical Device Reporting (MDR) regulations and ISO 13485:2016 section 8.2.3 Reporting to regulatory authorities.
FDA and ISO require manufacturers to report any incidents in which a medical device may have contributed to serious injury or death, or malfunctioned in such a manner as would be likely to cause serious injury or death should a similar malfunction happen again.
"Caused or contributed" is defined by FDA as any event occurring as a result of:
Failure
Malfunction
Improper or inadequate design
Manufacture
Labeling
User error
FDA 21 CFR 803 mandates these requirements for manufacturers, importers, and device user facilities by reporting product problems and device-related issues to FDA. On February 13, 2014, FDA published a final rule on eMDR stating manufacturers, importers, and device user facilities are all mandatory reporters and must electronically report any adverse events that a medical device causes.
FDA has since published more prescriptive MDR guidelines and best practices for electronic submissions. These updates have helped to clarify existing ambiguity surrounding the actual utilization of eMDRs.
Keep in mind medical device reporting isn't just a requirement or a box to check. MDRs fulfill an important role in post-market surveillance and serve as the link between mandatory reporting and monitoring potentially life-threatening safety issues.
MDR records help FDA track device performance and potential safety issues. The better FDA can track issues, the better they can report back to medical device companies—as well as medical device importers, health care providers, other government agencies, and patients.
eMDR benefits (and opportunities)
The requirement to use eMDRs versus paper reports offers a multitude of benefits, some of which are obvious and others less so. It's important to trace exactly which benefits this relatively new mandatory reporting system offers so that medical device companies can identify opportunities and leverage points to gain competitive advantage in the marketplace.
Resource savings
In the 20 years leading up to the 2014 ruling, most device makers generated and kept records on physical paper. Prior to 2014, it was easier to fill out forms and mail them to FDA following a device-related problem.
With the use of electronic forms, there's major savings on resources. It requires fewer resources and less time to submit an online form than it does transcribing electronic data onto paper and sending it to FDA by mail. Companies can spend less money on paper and postage costs and use less employee time working on zero value-add activities.
Reduced reporting errors
Processing reports electronically helps reduce a number of common errors, namely human error. There will inevitably be fewer errors that occur when you're not transcribing between multiple documents. The same is also true when FDA personnel aren't transcribing the data from paper reports into electronic versions.
The eMDR submission interface provides helpful guardrails to remind companies which information is required, thus eliminating the worry of forgetting to include key information needed in a submission. As a result, the need for resubmission and corrective documentation is significantly reduced.
Instant access to e-filed MDRs
FDA's Manufacturer and User Facility Device Experience (MAUDE) database contains all mandatory and voluntary MDRs filed since 1993. Companies have near-instant access to any adverse event report that's been made about one of their own devices, or those of a competitor.
Your ability to access MAUDE and view all MDRs can help you streamline customer feedback, including complaint management processes so you can conduct immediate CAPA investigations when necessary.
With Greenlight Guru's medical device QMS (MDQMS) teams are given full traceability into every process throughout the product lifecycle. Users can quickly and easily determine whether MDR is required and, if so, generate the report to be electronically submitted to FDA or other regulatory authority.
The best quality systems not only come equipped with the capabilities of making electronic reporting an effortless task to ensure regulatory compliance, but also help medical device companies establish, navigate, and improve QMS processes so that the best possible outcomes can be achieved for the end user.
Faster FDA responses
eMDRs expedite FDA review time and analysis, enabling more efficient decision-making. Because all medical device reports are now electronic, FDA can access safety records much faster, which makes the review and analysis of reports faster too. Even better, it ensures regulatory decisions are made using the most up-to-date information.
This overall speed increase allows FDA to communicate to medical device companies and other stakeholders much more efficiently. This is useful because adverse events, especially ones that have the potential to cause serious injury, can put the future of your company in jeopardy.
Back and forth correspondence with FDA can create serious stress for you and potential investors. The faster turnaround of electronic reports helps you know where you stand with FDA, so you can get things on track with value-add activities.
Leverage eMDR for faster medical device report handling
The benefits of eMDR are available to all medical device companies, but you need to know how to utilize the reporting tool and leverage it.
Respond to adverse events quickly
As much as we might wish otherwise, medical devices that are intended to help a patient can actually cause harm. When this occurs, it's called an adverse event.
The best approach to addressing an adverse event is to leverage the aforementioned eMDR benefits and make the risks, realities, and remediation as transparent as possible. This can be done in two ways: submitting eMDRs and responding to MDRs that others submit.
FDA offers two options for adverse event reporting:
Submit using the ESG interface: This web-based submission tool is an industry-wide entry point for all electronic submissions. Manufacturers must download the e-submitter application and complete the MedWatch 3500A form within the electronic submission zip file before submitting the file via the WebTrader site.

Submit using the AS2 gateway interface: High-volume reporters can use an AS2 submission system that generates HL7 ICSL XML files and submits them to the ESG. This method allows manufacturers to automatically generate and submit eMDRs as part of their complaint handling process.
A consumer-based version of the manufacturer's web-based submission tool is available to the public for voluntarily reporting an adverse event or product problem, via Form FDA 3500B. For companies embracing the transparency provided by eMDRs, this is a means of accessing any eMDR that has been submitted by others relating to one's own device.
With this accessibility, medical device companies can respond to customer feedback and improve their products. Companies can communicate with the affected persons to gain better insight into the adverse event and gather meaningful insights that go beyond the submitted report.
These customer-driven insights can help companies better understand the role their device played in the adverse event and which problems can be remediated to ensure nonrecurrance.
How to determine if a medical device problem is a reportable event?
What happens when your company receives an incident report regarding a problem with your medical device? The best way to approach these occurrences is by using a decision tree.
Decision trees use a flowchart-like structure to help you follow the logic of a decision and its premises. The decision tree shown below begins at the time that your company is made aware of a problem with your medical device, and which action you should take to address the problem.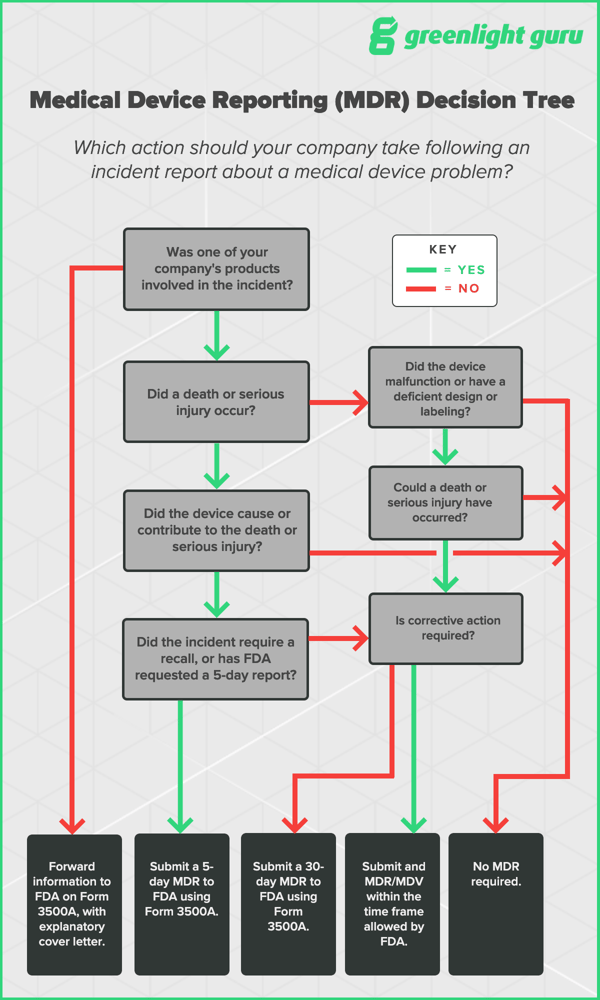 FREE DOWNLOAD: Click here to download a PDF version of the medical device reporting (MDR) decision tree.
Embrace Medical Device Reporting and reap the benefits
The ultimate goal of medical device reporting is to help companies design, produce, and market products that help the patients who use them. It's inevitable that in some events, things will not go as planned. That's why it's so critical to have formal, well-understood processes in place that will serve as the guardrails to help you achieve the best possible outcomes.
The manner in which your company responds after learning about a problem involving your medical device is where industry leaders stand apart. To do this well, you must have the necessary systems in place for support. A healthy, purpose-built quality system is a key ingredient in this recipe for success.
Greenlight Guru's QMS software makes it easy for medical device manufacturers to store and organize the critical data needed to complete and submit medical device reports to regulators within the allotted time frame. The purpose-built system allows users to securely access data like product identifiers, lot numbers, lab data and test results that relate to the specific adverse events being reported.
---
Looking for an all-in-one QMS solution to advance the success of your in-market devices that can integrate your post-market activities with product development efforts? Click here to take a quick tour of Greenlight Guru's Medical Device QMS software →