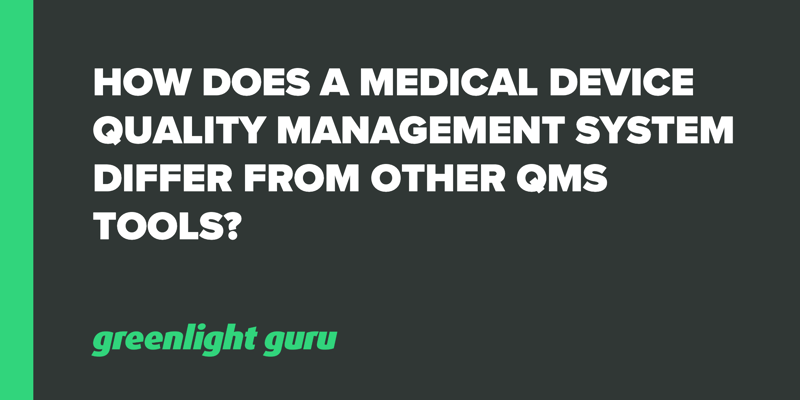 Establishing a more efficient and effective quality management system (QMS) has been a recurring quest for nearly every medical device company I've worked with throughout my career. Do you stick with that good ol' paper-based system that has been in place for a while? It's not the most efficient approach but one you are at least familiar with.
Or do you implement a general-purpose QMS software tool? Sure, doing so might eventually lead to improved efficiencies but only after you spend months of time and numerous valuable resources to configure and customize the tool to attempt to make it work for you.
Oh yeah, and the need to validate a tool is also quite the commitment—not only initially—but every single time something needs to be updated within the workflows.
A non-industry-specific tool lacks the features medical device companies need to create safe and effective products.
Or should you consider an actual purpose-built, medical device industry-specific platform that already complies with FDA 21 CFR Part 820, EU MDR, and ISO 13485 and comes pre-validated per 21 CFR Part 11 with near-zero effort on your part?
With a purpose-built medical device QMS, you'll save money over time, bring your product to market faster, make product and process improvements easier, have built-in documentation for proof of compliance, and actually realize the value and benefits of effective and efficient quality management.
Free Download: See how legacy QMS tools stacks up against best-in-class quality management systems with this PDF comparison chart.
Medical Device Quality Management Systems vs. General-purpose Tools
General-purpose QMS tools are exactly that — general. As a result, general-purpose QMS tools require a high degree of customization, making initial setup more difficult for the user. The idea behind a general-purpose QMS tool is that they will theoretically work in any industry, from pharma to food, but even after customization a general-purpose QMS may never be the right fit for a company. General-purpose tools are often very ineffective because they are trying to be all things to all companies, regardless and irrespective of the industry.
Medical device quality management systems, on the other hand, is designed to help manufacturers manage regulatory compliance, speed, short- and long-term costs, and the safety and effectiveness of their product throughout the entire medical device life cycle. But the differences don't stop there.
Regulatory compliance
As a quality manager for a medical device company, you're responsible for implementing and maintaining a quality management system that is in compliance with regulations and standards like FDA's QSR, ISO 13485:2016, and EU MDR respectively, depending on the market in which your device is sold.
Look for a quality management tool that supports and simplifies your ability to provide documentation proof of regulatory compliance to those authorities.
The globally harmonized standard ISO 13485 and the U.S. regulation 21 CFR Part 820 are the two most widely adopted quality system requirements for medical devices. But, without a medical device-specific QMS in place, compliance with these requirements becomes difficult.
Every element of the quality system process is important, but design control and document control are arguably two elements with the most weight. When medical device companies consider a QMS tool, any features around design and document control deserve additional scrutiny.
Connecting design control and risk management processes within a system that's managed as a company's single source of truth are two regulatory expectations that are not supported by a general-purpose QMS tools.
Therefore, these solutions require its customers to carry the burden of customizing and validating the software on an ongoing basis in order to satisfy electronic document requirements, as outlined by FDA in 21 CFR Part 11.
In addition to meeting regulatory mandates of the geographic markets in which your device is sold, you'll also need to stay on top of all regulatory changes to ensure ongoing compliance within the ever changing medical industry. And there has been and will continue to be numerous regulatory changes impacting the medical device industry and your company.
You likely have someone staying on top of regulatory changes. But, general-purpose QMS tools still require manual input for any regulatory changes or updates. A medical-specific QMS, like Greenlight Guru, automatically adapts to updates, taking the onus off of the user.
Consider medical device regulations in the United Kingdom. As a result of Brexit, requirements for registering a device will change in January 2021, meaning any entity with devices sold in the UK market will need to adjust their general-purpose QMS accordingly.
Alternatively, with a quality management software for medical devices, your software partner would update the tool automatically to reflect the most recent changes in requirements.
Likelihood of errors
Customizing general-purpose QMS tools to suit the unique needs of medical devices is a highly cumbersome task that is difficult to sustain. A general-purpose QMS tool is designed for exactly that: general purposes. This puts the burden of customizing the tool on you, the user.
The process of customizing a general-purpose QMS tool is time-consuming and, worse, may lead your company to control documents using multiple on- and off-line sources.
In such a case, you'd be relying on three different approaches to manage the quality of your medical device: paper, a general-purpose tool, and, people. And trying to effectively manage all of these approaches in sync is highly unreliable and extremely error prone.
Managing resources and documentation in three separate locations threatens your product's quality and safety—and is especially problematic when it comes time for an audit.
For example, let's say you're using a general-purpose QMS that is unable to automatically compile all design changes into a design history file. You're likely having to manually update the tool every time you make a design change and link to related documents within your QMS.
Now, let's add that some of your documents are still living in SharePoint or, worse, on physical paper. You now have to go through all related documents and records, ensure the right versions are selected, and transfer them to your QMS.
Sound time-consuming? Yes, but what's worse is the margin this leaves for errors. Without a system that allows you to easily track product and process related changes as well as revisit past changes, you run the risk of building a device with critical errors.
With quality management software for medical devices, design control workflows, for instance, are a built-in function of the platform and follow industry best practices from the latest standards and regulations.
Consider the medical device quality management system QMS solution offered by Greenlight Guru. Greenlight Guru's QMS platform includes workflows to manage all aspects of the total product lifecycle, document and change management, and post-market quality events, such as CAPA and complaints.
The tedious and error-prone process associated with change management, specifically, is transformed within the QMS platform through Halo℠ for Change Management, the world's first AI and ML recommendation engine for medical device quality.
Medical device companies using Greenlight Guru no longer have to work from a reactive state, waiting for mistakes to happen as a result of missing documents or inaccessible information. Halo℠ for Change Management allows companies to advance their change management process by making predictive quality decisions that create significant efficiencies throughout the entire change process.
Additionally, the machine learning capabilities of Greenlight Guru Visualize within the medical device quality management system paints a complete, detailed picture for companies to see and understand how everything within the QMS platform is related and connected.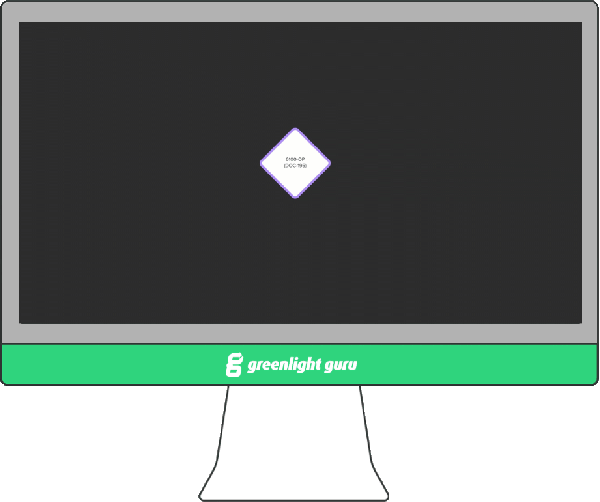 Click here to learn more about Greenlight Guru Visualize
This is huge because Visualize gives you the abilities to understand connections and relationships of all of your products, processes, and quality events to assist you with being more proactive rather than the usual reactive nature you are likely in now. Visualize allows you to effectively manage closed-loop traceability (CLT).
What makes a medical device quality management system better than other solutions?
In order to choose the best QMS software for your medical device company you must do your research to find a reliable, purpose-built solution that will support your efforts throughout the lifecycle of your product.
Consider the total costs of your QMS. Beyond the annual or monthly cost of whichever platform you choose, consider the time and resources it will take to manage quality management software made for medical devices vs. a general-purpose QMS tool.

While considering the total costs is something to consider, you should also be focused on value when evaluating the best QMS options for your company.

Remember that a general-purpose QMS leaves more room for error. Errors can amount to huge business risk and increases the total cost of poor quality that your company is left to manage.

Choose a QMS software that can support all stages of your medical device lifecycle. Managing design controls, risk, quality events, and more are all essential stages that occur throughout your product's total lifecycle.

To this end, you'll want to choose a quality management solution that can manage all activities from these stages within a closed-loop quality system that acts as your single source of truth and functions according to medical device industry best practices.

QMS software for medical devices that offers closed-loop quality system traceability supports its users by connecting the technology, people, and processes across all stages of the total product life cycle (TPLC) while also helping you meet regulatory requirements for your medical device.

Choose a software partner with a proven track record. Evaluate prospective QMS software vendors by investigating how frequently their software is validated, what their customer support policies entail, and how they manage and store customer data.

Even more important, browse any published case studies or third-party review sites to get a better feel for how they have successfully helped other companies like yours achieve true quality medical devices and other metrics of success. By researching your options, you'll be set to pick a quality management software that will enable the success of your company and medical device.
Free Download: See how legacy QMS tools stacks up against best-in-class quality management systems with this PDF comparison chart.
Why you need an industry-specific medical device quality management system
Unlike general-purpose QMS tools, Greenlight Guru is the only quality management software designed specifically for the medical device industry that streamlines your entire QMS workflows, evolves with the latest industry standards and regulations, and allows its users to achieve full end-to-end quality system traceability.
We understand the intricacies of the medical device industry and evolve our platform as the market changes. When you choose Greenlight Guru, your company will benefit from our ear-to-the-ground approach to maintaining software that suits market requirements and promotes True Quality.
In addition to our core software offering, you'll be assigned a dedicated member from our Customer Success team of medical device experts, or "Gurus", who will serve as an extension of your team to guide you through every new, unfamiliar step you take with your medical device and ensure lasting success.
Get your free demo of Greenlight Guru's quality management software for medical devices now →
---
Looking for an all-in-one QMS solution to advance the success of your in-market devices and integrates your quality processes with product development efforts? Click here to take a quick tour of Greenlight Guru's Medical Device QMS software →