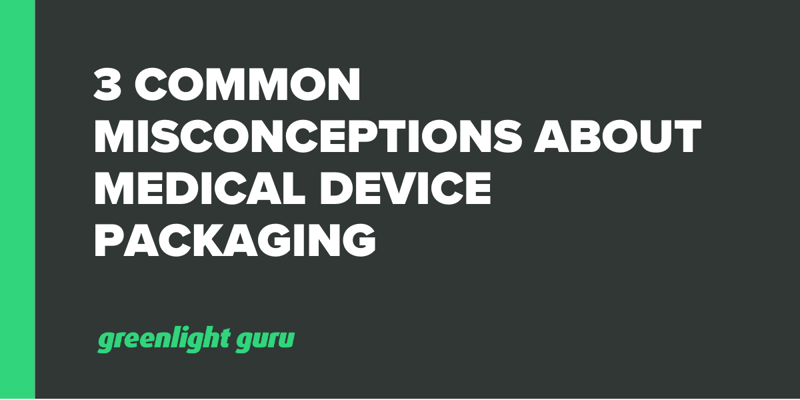 If you asked people what comes to mind when you say designing a medical device, you're likely going to have responses related to design controls or the device itself. What you're not likely to hear is packaging or labeling.

Since its introduction in 2006, the international standard ISO 11607 has become the go-to guidance for medical device packaging.
Still, it seems that one of the last things on your mind when designing a medical device is how you're going to package it. More often than not, it's because people underestimate what it takes to design and test the packaging.
To help you avoid these mistakes, here are three common misconceptions about medical device packaging and what's really true.
FREE DOWNLOAD: Click here to access key questions for determining which testing is required for your medical device packaging.
Misconception #1: Medical device packaging is one-size-fits-all
ISO 11607 outlines basic requirements for sterilized medical device packaging. Specifically, the standard identifies two parts:
The sterile barrier system (SBS), which protects and "minimizes the risk of ingress of microorganisms and allows aseptic presentation of the sterile contents at the point of use"

Protective packaging, an additional layer which protects the sterile barrier system
Together, these elements form the packaging system, and maintaining its integrity is paramount to safety. However, one study found that 10% of all medical device recalls were caused by packaging failures, with 31% of those occurring due to a hole in the packaging system.
In fact, in a proposed change to QMSR, FDA calls out ISO 13485's section on packaging as being inadequate, citing its lack of additional requirements for labeling and packaging and subsequent inspection.
Every medical device is unique, both in terms of design and indications for use. The packaging manufacturers use for distribution, then, should also be chosen with the same spirit of careful considerations.
ISO 11607 identifies some basic standards medical device packaging should meet:
Made of known and traceable materials

Non-toxic, non-leaching and odorless

Free of holes, cracks, tears, creases and localized thinning

Intended for use in medical applications.

Allow sterilization

Maintain sterility up to the point of use

Allow aseptic presentation
From there, manufacturers will need to consider the design and functionality of the device: the specific nature of the medical device. Some specific areas to address are:
What are the intended sterilization methods?

What is its intended use?

Where will it be used?

Who are the end-users?

How will it be transported?

How will it be stored and for how long?

What is the device expiration date?
By considering these device attributes, manufacturers can avoid issues like failed packaging tests, product launch delays, and regulatory submission issues.
Misconception #2: Medical device packaging only needs to be tested and validated once
Perhaps the most crucial element of ISO 11607 is its stringent requirements for testing of the materials used to maintain the sterile barrier systems and packaging systems, as well as the validation of packaging processes. Not only is it extensive, it also must be checked and rechecked throughout the product lifecycle.
For new devices, there are three primary categories of package validation testing: Integrity, or the characteristics preventing the growth of microorganisms; Strength, or the strength/force needed to open the packaging; and Microbial Barrier, or confirmation that the chosen, porous materials provide an adequate microbial barrier.
For each category, there are multiple tests used to evaluate a pass or fail for the packaging. Manufacturers are required to choose at least one test from each category. Some of the primary tests are:
Integrity Tests: Bubble Emission Test, Dye Migration Test, Dye Immersion

Strength Tests: Seal Peel Test, Burst Test, Creep Test

Microbial Barrier Tests: Microbial Ranking, Whole Package Aerosol Challenge
From there, manufacturers are required to complete a validation report to confirm the forming, assembling, wrapping, and sealing of the medical device. Additionally, IQ, OQ, and PQ (installation qualification, operational qualification, and performance qualification, respectively) are all required for sterile barrier systems.
If that wasn't enough, it's also important to note that any changes made to existing products require revalidation and additional testing. These changes could be major, such as the intended use or an all-new design; they could also be internal directive shifts, like environmental sustainability initiatives. In fact, even a slight change in raw materials for previously-validated packaging materials could result in further revalidation for years.
Misconception #3: Packaging can happen after design and development
Medical device packaging is more than just determining the dimensions of a cardboard box or pouch. These processes are crucial to safely and securely delivering a device to end users, while ensuring the sterile barrier stays intact.
Unfortunately, the packaging design process is all too often given little attention in the overall product development process. And with so much riding on the packaging process decisions at hand, manufacturers cannot risk letting packaging become some sort of afterthought.
When the design of packaging for medical devices is left to the final hour, shortcuts often utilized to save time and money can increase the risk of noncompliance. Instead, during this process different sterile barrier systems can be evaluated and manufacturing methods evaluated to best meet the needs and characteristics of a particular device.
For any shot at long-lasting success, manufacturers need to thoroughly define the requirements of the unique device's packaging system much earlier in the product development process. For good cause, too, as prequalification of these kinds of discussions around packaging validation will only save money, time, and labor in a variety of ways, such as:
Early detection of design or manufacturing problems

Gives ample time for revisions

Identifies possible packaging test failures

Prevents slowdowns in product release

Improves overall quality and patient safety
Medical device packaging may be the last thing on an engineer's mind, but thinking ahead and connecting the dots will only help in a device's progress as it moves downstream.
FREE DOWNLOAD: Click here to access key questions for determining which testing is required for your medical device packaging.
Closing the total product lifecycle loop with Greenlight Guru
Medical device packaging is a prime example of why it's so important to have full visibility and control of activities that take place during a project or quality event. Without it, it becomes extremely challenging for teams to understand connections, effectively communicate, and accurately track quality data.
With Greenlight Guru Visualize, you and your entire team can effortlessly achieve closed-loop traceability throughout your quality system, make key connections, and understand the relationships that exist within your QMS - all in a single, network view.
Ready to get started? Contact us today for your free personalized demo!
---
Looking for an all-in-one QMS solution to advance the success of your in-market devices and integrates your quality processes with product development efforts? Click here to take a quick tour of Greenlight Guru's Medical Device QMS software →