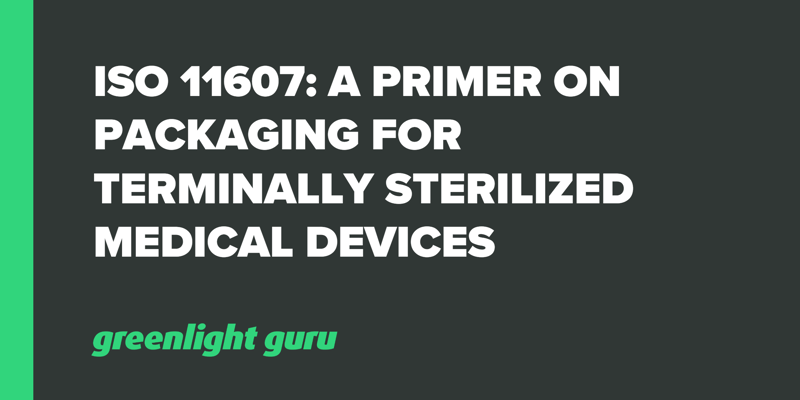 For many medical devices, sterilization is the final step in the manufacturing process before they're shipped and used by patients and providers all over the world.
However, the act of sterilization isn't the last thing manufacturers need to be concerned about. For the device to be safe for users and patients alike, it has to remain sterile from the moment it exits the sterilization process up until the moment it's used.
The device's packaging will dictate whether it stays sterile through the shipping, handling, and storage process—until the moment it's needed. And because packaging is so important to the safety and effectiveness of sterilized medical devices, the International Organization of Standardization (ISO) has created a standard to address the packaging requirements for terminally sterilized medical devices: ISO 11607.
In this article, we'll review the basics of ISO 11607 and walk you through the key packaging requirements you need to understand and follow in order to achieve a terminally sterilized medical device:
WANT TO BECOME A MEDICAL DEVICE INSIDER? Get VIP access to the best medical device content, checklists/templates & events delivered to your inbox every week by subscribing to our newsletter now!

What is ISO 11607?
To say that a medical device is "terminally sterilized" is to say that it has undergone a sterilization process while the product is already within its packaging, which includes a sterile barrier system. A sterile barrier system is the minimum layer of protection, often placed within an outer layer of packaging, that ensures sterility.
The "packaging system" as a whole is a combination of the sterile barrier system and any protective packaging used to prevent damage to the sterile barrier system or the device. Terminally sterilized devices are sterilized using an agent that can penetrate their packaging system, such as ethylene oxide or gamma radiation.
This type of sterilization differs from aseptic processing, where products or components are sterilized separately and are later put together in a sterile environment. ISO 11607 covers the packaging requirements—for the entire packaging system—for any terminally sterilized devices.
The ISO 11607 standard is broken up into two parts:
ISO 11607-1: The first part of the standard covers the requirements and methods for testing the sterile barrier systems and packaging systems that are required to keep terminally sterilized medical devices sterile until they reach the end user.

ISO 11607-2: The second part of this standard includes the requirements for the development and validation of processes manufacturers must follow to ensure the sterile barrier systems for their medical devices work as intended and keep devices sterilized until their use.
What are the main requirements for medical device packaging in ISO 11607?
There are a lot of requirements for packaging in ISO 11607. In fact, the word "shall" (which in this context, means you must do it) appears more than 115 times in the document. For the sake of brevity, I want to outline just a few of the most critical requirements within the standard you must understand and adhere to:
First, ISO 11607 requirements explicitly state that packaging must keep the device sterile until the moment of use. This means a user must be able to bring the device out of the packaging without contamination.

The requirements from ISO 11607 also specify that packaging must come with instructions on how to remove the device from the sterile barrier system in an aseptic manner.

Additionally, the packaging itself must be resistant to the sterilization process. This is a reference to the fact that popular terminal sterilization processes like ethylene oxide or radiation have the ability to deform or degrade certain types of packaging. So, the sterile barrier system and any protective packaging outside it must be able to undergo the sterilization process without degradation, discoloration, or any other defects.

One requirement of ISO 11607 that sometimes goes overlooked is stability testing. The shelf-life of a sterilized device depends in large part upon its packaging, and medical device manufacturers must test and prove that their packaging will ensure sterility throughout the shelf-life they claim for their device. This may include accelerated aging of the packaging or tests of its ability to withstand different pressures, temperatures, humidity levels, or applications of physical force.

Lastly, ISO 11607 also addresses the expectation that sampling must be used to validate the packaging process. It emphasises that the sampling must be decided upon using a statistically valid method.
What changed in ISO 11607-1:2019 from the previous version?
The most recent update to ISO 11607 occurred in 2019, and it included some significant revisions. These revisions were made in an attempt to harmonize the standard with the General Safety and Performance Requirements (GSPR) in the new European Union Medical Device Regulation (EU MDR).
Some of the updates in the 2019 version of ISO 11607 include:
A usability evaluation requirement for aseptic presentation in a real-world situation

A requirement to include risk management in the packaging process

An annex regarding environmental considerations

A new section on design change and validation
While ISO 11607:2019 is still relatively new, an amendment to the standard is currently underway to develop a GSPR-harmonized version. The reason for this being the current standard's direction to "consider" risk management is not detailed enough. So, a future, amended version will contain a general risk management process that addresses this inadequacy.
Keep in mind, though, this new risk management process will not expand the scope of the standard. The requirements and validation process outlined in both Part 1 and Part 2 of ISO 11607:2019 will remain current.
WANT TO BECOME A MEDICAL DEVICE INSIDER? Get VIP access to the best medical device content, checklists/templates & events delivered to your inbox every week by subscribing to our newsletter now!
Ensure your medical device packaging is ISO 11607-compliant with Greenlight Guru
The litany of "shall statements" in ISO 11607 is enough to give even seasoned medical device professionals a headache. And that's just one standard among a sea of many.
Greenlight Guru's Medical Device Success Platform (MDSP) is the only purpose-built solution designed by medical device professionals specifically for medical device professionals. Our cloud-based QMS software is based on the latest regulatory standards as well as best practices of medical device market leaders.
If you're ready to see what a purpose-built QMS can do for your medical device company, then get your free demo of Greenlight Guru today.
---
Looking for a design control solution to help you bring safer medical devices to market faster with less risk? Click here to take a quick tour of Greenlight Guru's Medical Device QMS software