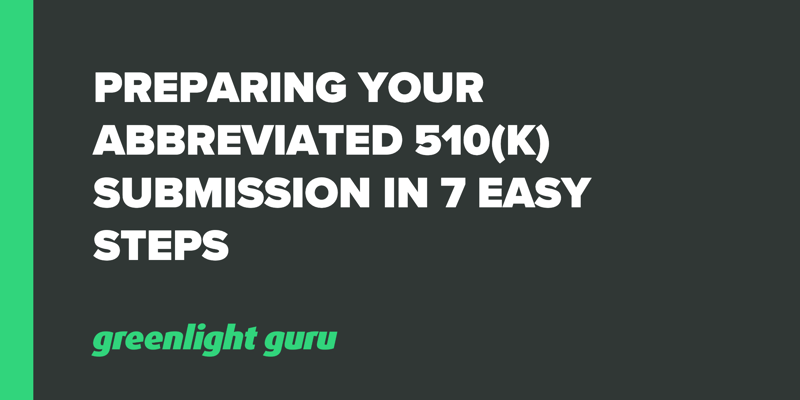 The Abbreviated 510(k) pathway is one more tool to add to your tool belt for bringing a new medical device to market.
This pathway is still not widely-used - only around 2% of clearances have taken this route in recent times. However, it just might be the right path for you, and the more you know, the better you can choose a pathway to market that will be to your best strategic advantage.
What is it? An Abbreviated 510(k) is where you show substantial equivalence to a recognized standard, special control or guidance using a declaration of conformity. In other words, it's a paper-based comparison, rather than a comparison with a specific device.
According to the FDA guidance, device manufacturers may choose to submit an Abbreviated 510(k) when the submission relies on one or more:
FDA guidance document(s);
Demonstration of compliance with special controls for the device type, either in a
device-specific classification regulation or a special controls guidance document; and/or
Voluntary consensus standard(s).
If you've determined that an Abbreviated 510(k) is the right pathway for your device, what are the next steps?
FREE CHECKLIST: Want to make sure you've included all necessary sections in your Abbreviated 510(k) submission to FDA? Click here for a free downloadable checklist that can help.
#1. Prepare "abbreviated 510(k)" cover sheet
A Medical Device User Fee Cover Sheet is required with your application. This answers a series of questions about the type of application being submitted to FDA and includes basic information about your company. The FDA recommends that even if your device has a fee exception, you should still include a cover sheet that explains what your exception is.
You'll also need a 510(k) cover letter, which should summarize the type of 510(k) submission you are making. Typically, you will write the cover letter last, so as to provide a good, high-level summary. Your cover letter should include the following:
Type of 510(k) submission, Abbreviated or Traditional

Your device type in plain terms, i.e., by its common name

510(k) submitter

At least one contact person, by name, title, and phone number

Your preference for continued confidentiality (21 CFR 807.95)

Your recommended classification regulation

Class (i.e., whether it is unclassified or a class I, II, or III device)

Review panel

The FDA product code

Any FDA document numbers associated with prior formal correspondence with FDA (e.g., IDE, pre-IDE, 510(k), PMA, request for designation (RFD)) related to your device.
#2. Prepare description, intended use and indications for use
The recommended next step is an indication for use statement. You can use FDA Form 3881, which is used to identify and describe indications for use for a medical device. An important note here is that you need to be consistent. Your indications for use statement must be exactly the same as your indications for use listed throughout the rest of your submission.
You should also prepare a device description, including its intended use. Your intended use should match what you claim your device is for in labeling. It's a balancing act as intended use also affects the classification of your device. A scalpel becomes Class III if its intended use is on the eyeball…
It's important not to mix this up with indications for use, which are the reasons or situations for using the device. These must be clear in your submission.
#3. Prepare an abbreviated 510(k) summary or statement
A summary or statement is required for all types of 510(k) submission, including the abbreviated 510(k). You can choose either the summary or the statement, and can elect to change your choice right up UNTIL the substantial equivalence determination is made.
510(k) summary
This information should summarize everything for which you are basing your claim of substantial equivalence. In other words, it provides specific examples that you are citing as evidence. FDA places a summary online 30 days following the determination of substantial equivalence.
For submissions that rely on FDA guidance documents or are subject to special controls, you need a summary report that describes how those were used to demonstrate substantial equivalence.
You may also rely on voluntary consensus standards, for which you should consult the FDA's guidance on the appropriate use of voluntary consensus standards.
510(k) statement
The 510(k) statement is really a promise that you will provide safety and effectiveness information to support an FDA finding of substantial equivalence to ANY person within 30 days of a written request.
If you elect to take this option, literally anyone can request a copy of your abbreviated 510(k) submission (with confidential information and trade secrets deleted). So it may be something of a strategic choice.
#4. Include a truthful and accurate statement in your abbreviated 510(k) submission
The "truthful and accurate statement" can be as simple as this:
I certify that, in my capacity as (the position held in the company) of
(company name), I believe to the best of my knowledge, that all data
and information submitted in the premarket notification are truthful and
accurate and that no material fact has been omitted.
_____________________________
(Signature)
#5. Prepare proposed device labeling in your abbreviated 510(k) submission
Labeling is also a required part of your abbreviated 510(k) submission, for which FDA says:
The 510(k) must include proposed labeling in sufficient detail to satisfy the requirements of 21 CFR 807.87(e). If the device is an in vitro diagnostic device, the labeling must satisfy the requirements of 21 CFR 809.10. Generally, the term "labeling" includes the device label, instructions for use, and any patient labeling. See the FDA guidances "Device Labeling Guidance #G91-1,"25 "Labeling – Regulatory Requirements for Medical Devices,"26 "Guidance on Medical Device Patient Labeling,"27 and device-specific guidance, where available, for more information about labeling your device.
(Note: that many parts of the abbreviated submission are exactly the same as the traditional 510(k) submission and can be found in this FDA guidance document).
It's important to know that FDA considers the term "labeling" to cover many things, from your packet inserts to your marketing. You can find a summary of these labeling types here.
#6. Add a specifications section to your abbreviated 510(k) submission
Your specifications section should have a narrative description and a physical description of your device. This includes performance specifications and a brief description of device design requirements. FDA recommends that you identify all models and accessories. They also state:
If diagrams, dimensions, tolerances, and/or schematics are useful to fully describe and characterize the device, we recommend that you include them for each device and accessory included in the 510(k) submission. We also recommend that you provide a list of all tissue-contacting components and their respective materials.
#7. Add a substantial equivalence comparison section
One of the recent changes to the FDA criteria for the abbreviated 510(k) is to allow companies to establish substantial equivalence through performance criteria. This relies on established performance requirements and associated test methods.
Essentially, in this section, you need to prove that your device meets the appropriate, established criteria and cite your sources. To go a step further, you might also talk about why something is not relevant to your case. Sometimes, saying why something is not relevant can save you from a back and forth discussion with the FDA.
FREE CHECKLIST: Want to make sure you've included all necessary sections in your Abbreviated 510(k) submission to FDA? Click here for a free downloadable checklist that can help.
Gain clearance for your abbreviated 510(k)
As with the traditional premarket notifications, an abbreviated 510(k) does require quite a bit of work. You need to have exhaustive evidence to back your claims and comprehensive documentation. You'll gather this information from multiple areas of your QMS, which should be kept updated at all times.
For medical device companies, the strength of their QMS can make or break their FDA clearance hopes. Not all quality management systems are built the same - many are simply not purpose-built for what medical device companies need and can be cumbersome to set up, manage, and maintain.
The best QMS solution will be purpose-built for medical devices, making these tasks simple and easy to execute. Greenlight Guru is the only medical device QMS (MDQMS) built by medical device professionals for medical device professionals.
Your journey to getting your device cleared via the abbreviated 510(k) pathway can be made effortless with the implementation of our MDQMS software. Get your free personalized demo now →
---
Looking for a design control solution to help you bring safer medical devices to market faster with less risk? Click here to take a quick tour of Greenlight Guru's Medical Device QMS software