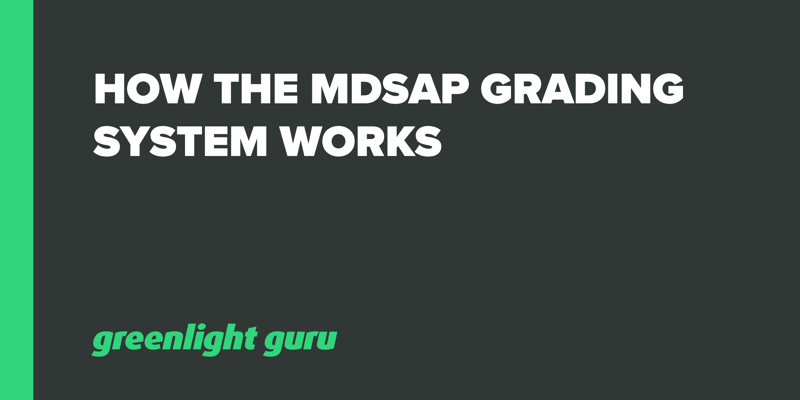 The Medical Device Single Audit Program (MDSAP) allows you to have a single audit of your medical device that will satisfy the requirements for multiple regulatory bodies.
At the time of writing, the regulatory bodies participating in MDSAP include:
United States of America - FDA

Australia - TGA

Japan - MHLW

Canada - Health Canada

Brazil - ANVISA
MDSAP uses a points-based grading system for audit findings, which has been developed in an effort to keep grading consistent. This article will explain how it works:
FREE DOWNLOAD: Click here to download our MDSAP vs. ISO 13485 Gap Assessment that includes risk grading for MDSAP requirements.
Nonconformity grading matrix of MDSAP
The nonconformity grading matrix is an example of something where you don't want to get a high score. Scoring highly can mean that the Auditing Organization conducting your audit has to report you to the relevant regulatory body or bodies.
The nonconformity grading matrix is based on a points system that works in two stages. At the first stage, nonconformities are assigned points against the requirements of ISO 13485:2016.
This is done using a four-point nonconformity matrix, which plots points according to whether they have a direct or indirect impact on the device's safety and performance on one axis, and their frequency of occurrence on the other. This is shown in the diagram below: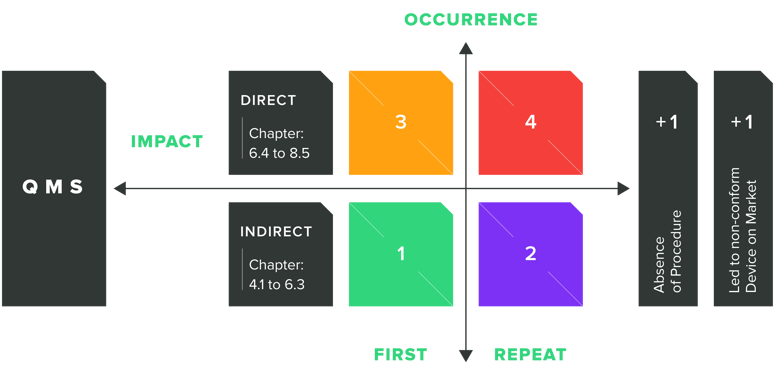 The definitions of "indirect" and "direct" impact are:
Indirect QMS impact is categorized as the "administrative enabler" section of ISO 13485:2016. These requirements, found in clauses 4.1 through 6.3 of the standard, make it possible or feasible for QMS processes to operate and are considered to have an indirect influence on medical device safety and performance.

Direct QMS impact is the category of requirements, encompassing clauses 6.4 through 8.5 of the standard, that have a direct influence on design and manufacturing controls, which in turn, directly impacts product safety and performance.
A "first occurrence" means that nonconformity in the particular sub-clause of ISO 13485:2016 wasn't present in the previous two audits where that sub-clause was assessed. A "repeat occurrence" means that it was present within the last two audits where that sub-clause was assessed.
MDSAP scoring rules
As part of that first scoring stage, a '2' or a '4' would be given for repeat nonconformances as a result of the corrective action either not being taken, or, if it was, being inadequate. For impact, 3 or 4 may be given for any direct QMS impact as this is the highest concern for device safety and performance.
The second stage of scoring involves adding points based on whether you meet any of the grading escalation rules. One point is to be added for each occurrence of:
The absence of a documented process or procedure

A nonconformity resulting in the release of a nonconforming medical device.

This scenario would indicate a QMS failure. However, if a nonconforming device is released with adequate technical and scientific justification, the nonconformity is considered to be resolved and the rule will not apply.
Your final nonconformity score will be between 1 and 6. Any grade of 4 or more is determined to be of high enough risk that intervention is required. If you have a grade of 6, this will be recorded as 5 as there is no benefit in the grading system to differentiate between those two scores.
Reporting & Recording Scores from Medical Device Audit
What happens after a nonconformity score is given? Firstly, the scores will be recorded on the standardized Regulatory Audit Information Exchange Form. The manufacturer is given a draft of this form during the closing meeting of the audit.
One thing to check is that any nonconformities recorded on the Regulatory Audit Information Exchange Form match the nonconformities in the audit report. They should also include any country-specific nonconformities that fall outside the bounds of ISO 13485.
The next step is that the auditing organization will submit its report to the regulators. If they find three or more grade 4 nonconformities, or one or more under grade 5, then they must submit their report within five days.
The manufacturer in this situation is required to submit a remediation plan for each nonconformity within 15 days of it being issued. They also must provide evidence of implementing their remediation plan within 30 days from the end of the audit.
Note for manufacturers: Auditing organizations have an appeal or dispute process which you can use if you can demonstrate that a recorded nonconformance is not valid. Grades assigned to nonconformities aren't to be changed as a result of corrective actions though - they can only be amended based on evidence to show that they weren't valid in the first place.
FREE DOWNLOAD: Click here to download our MDSAP vs. ISO 13485 Gap Assessment that includes risk grading for MDSAP requirements.
MDSAP auditors agree Greenlight Guru puts manufacturers ahead of the curve
The ideal situation for all medical device manufacturers is to breeze through the MDSAP audit process with low scores and no corrective actions needed. To do just that, you need a QMS that puts you ahead of the curve and on-track to impress auditors.
Greenlight Guru is that QMS solution, preferred by auditors and medical device manufacturers alike. Greenlight Guru's QMS software helps medical device companies create and maintain strong quality procedures and easily accessible records that can show proof in an instant that you meet the applicable standard requirements during an MDSAP audit.
Get your free demo of Greenlight Guru now →
---
Looking for a design control solution to help you bring safer medical devices to market faster with less risk? Click here to take a quick tour of Greenlight Guru's Medical Device QMS software