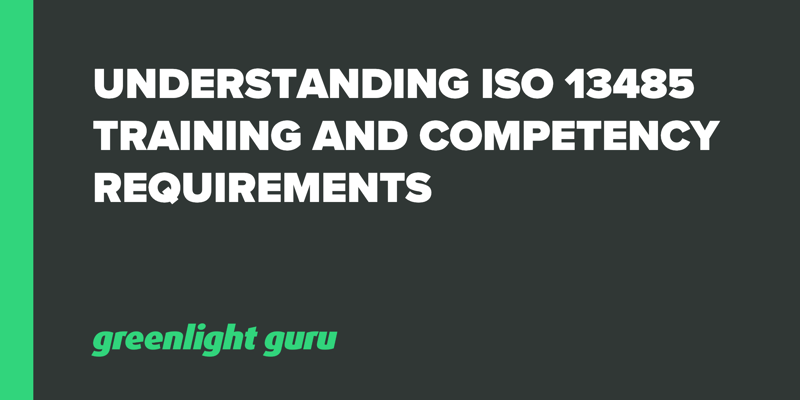 Are the employees in your medical device company meeting the training and competency requirements of the ISO 13485 standard for quality management systems?
ISO 13485:2016 addresses training and competency requirements in Section 6.2 Human resources of the standard:
Personnel performing work affecting product quality shall be competent on the basis of appropriate education, training, skills and experience.
The organization shall document the process(es) for establishing competence, providing needed training, and ensuring awareness of personnel.
The organization shall:
a) determine the necessary competence for personnel performing work affecting product quality;
b) provide training or take other actions to achieve or maintain the necessary competence;
c) evaluate the effectiveness of the actions taken;
d) ensure that its personnel are aware of the relevance and importance of their activities and how they contribute to the achievement of the quality objectives;
e) maintain appropriate records of education, training, skills, and experience (see 4.2.5).
The requirements are relatively brief and non-prescriptive, so medical device companies are often left questioning exactly how they can meet the requirements.
This article will explain what the international standard for medical device quality management systems require when it comes to training and competency of personnel, and what you need to do to comply.
FREE DOWNLOAD: Get a copy of our customizable training matrix template by clicking here.
How to follow ISO 13485 training requirements
A training program that meets ISO 13485 requirements is something that often gets overlooked, especially in early stage medical device companies. It's one of those things that can sneak up on you during an audit and result in a finding, so you're much better to establish compliant training procedures early on.
Here are some key questions that companies ask when it comes to following ISO 13485 training and competency requirements:
What type of training is needed?
The ISO 13485 standard sidesteps giving any specific instruction as to what should be defined in a training procedure or how the training activities should be conducted. The short answer is that all personnel must be trained on the QMS policies and procedures respective to each person's own job role and any specialized roles must have the appropriate training to perform it competently. This might include external training courses that are hosted by accredited third party firms.
You need to be able to show that appropriate training has been completed and have the records to prove it, so a robust training management system is a must-have. As part of this expectation, you need to document how you identify the skills, training, and/or experience needed by each person in each role.
Who needs to be trained?
Does everyone need to be trained on every part of your QMS? The short answer is no. But anyone who is responsible for following a set of processes and procedures must be trained on those same processes and procedures.
The key is that personnel must have the competency to adequately perform their own job function. If you have a quality inspector that is unaware of a change to your acceptance criteria because they haven't received the necessary training, then noncompliance becomes a concern. More importantly, it could lead to serious safety ramifications for the patient.
ISO 13485 training requirements state how everyone involved in critical processes must be fully aware of the importance of their work and its impact on product quality or quality objectives. In short, everyone who is required to follow a process must be trained on it and any time there is an update to the process, follow-up training must be conducted.
How do we conduct training?
The "how" of training is left wide open for interpretation. It is up to your medical device company to determine this, placing an emphasis on the effectiveness of the training. The ISO standard requires that you must evaluate the effectiveness of your training - this could be as simple as requiring employees to take and pass a quiz on the subject.
Under ISO 13485, a risk-based approach is always highlighted. Therefore, the riskier the work, the more extensive training may be needed. The standard emphasizes "proportionate" training, conducting training whereas necessary and required without going overboard. The key here is that training must be sufficient enough to establish competency.
How to evaluate ISO 13485 training competency
Competency can be gained through education, certification, skills development, and experience. In accordance with ISO 13485, you need to ensure that your training methods are effective, in that it results in the competency of personnel to perform the necessary job functions specific to their roles.
Under Section 6.2 of the standard, the following statement is included with the Human resources requirements: "NOTE The methodology used to check effectiveness is proportionate to the risk associated with the work for which the training or other action is being provided."
Establishing these checkpoints for evaluating effectiveness should be balanced against the risk of the policy, procedure, or task. It wouldn't make sense to conduct a 2-day training seminar for a low-risk task, for example.
Training assessments and quizzes are common tools for evaluating competency. One great piece of advice is to keep your questions focused, avoiding any additional trivia that strays from the necessary information at hand while also ensuring that it's rigorous enough to gauge the trainee's comprehension of the material.
How else might you evaluate competency? Observations on-the-job (and as part of your internal auditing program) are also valid methods. For example, you might keep some sort of checklist for assessing the completion of an assignment.
At the very least, you must ensure that you're keeping up-to-date and accurate records that show how and when you assessed competency. This will be paramount to your ability to maintain compliance with the ISO 13485 training requirements.
How to formalize QMS procedures that comply with ISO 13485 training requirements
Your QMS plays a key role in your ability to achieve and maintain compliance with ISO 13485 training requirements. In a nutshell, here's what you need:
Defined training needs for each role in your organization

Training records for every procedure in your QMS

Training records for all individual personnel.

You need to maintain objective evidence to prove your training is happening as required

Documented processes for how you established competence
Note: job descriptions themselves are not required to be kept as controlled documents, but a definition of the training associated with each job position does. Some roles may be able to be consolidated, along with their respective training requirements, especially for smaller sized companies.
The ease with which you are able to manage training records tends to come down to your choice of QMS solution. With legacy quality system tools, there are several associated pitfalls to look out for.
For example, training records are often kept in paper format by different team leads. In this case, any auditor that comes in and requests to see all of your training records for "X task" will likely lead to a mad scramble to locate which filing cabinet the record has been relegated to.
Besides accessibility and transparency of records, ensuring these are kept up to date presents a huge challenge to managers who are relying on physical copies of the training record (and their ability to remember where it was last placed).
Consider the alternative solution of a modern quality system, such as Greenlight Guru Training Management software. The medical device specific platform has a dedicated training workflow that simplifies compliance with ISO 13485 training requirements and automates activities that help users ensure competency among all necessary personnel.
Comply with ISO 13485 training and competency requirements with the best QMS software
The best way you can assure compliance with ISO 13485 training and competency requirements is by keeping accurate records that are instantly accessible and automatically updated within a robust electronic QMS solution.
Greenlight Guru's dedicated Training Management Software goes a step further by including features specifically designed for the ease of those responsible for overseeing training for the company.
Training managers can easily trace any task or activity and provide records with objective evidence proving effectiveness and completion of employee training on processes, procedures, changes, and other QMS documentation - all within a single, closed-loop system.
Additional benefits offered through the Training Management workflow within Greenlight Guru include:
Automated training tasks and notifications on assigned training activities

Part 11 compliant sign-off, audit trails, and password requirements

Require a trainer sign-off to ensure training activities are effective

Personalized dashboard to view assigned and outstanding training activities

Easy to view tracking and status of assigned training tasks for Trainers by document level or by individual/group

Auto-generated training logs and records to provide objective evidence and traceability for training and compliance

Provide relevant attachments as supporting evidence of external training events.
Compliance with ISO 13485 training requirements has never been easier than now. Get your free demo of Greenlight Guru Training Management software →
---
Looking for a QMS solution to help you bring safer medical devices to market faster with less risk? Click here to take a quick tour of Greenlight Guru's Medical Device QMS software