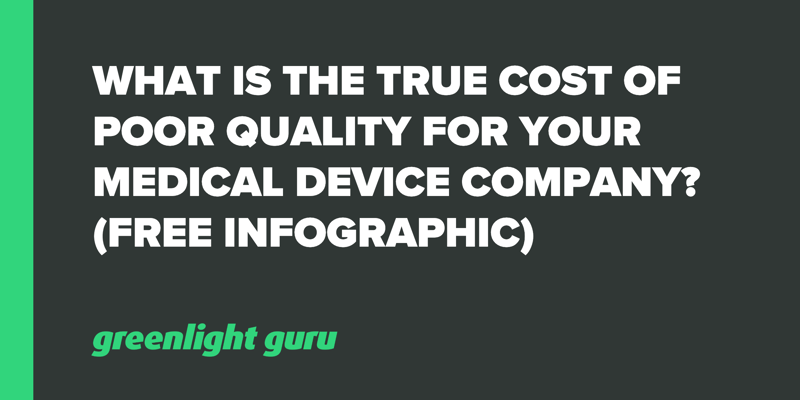 For a lot of medical device companies, quality management can be a vexing issue. How much is enough? Is it possible to spend too much time worrying about it?
The evidence implies that, for most fledgling medical device companies, there isn't nearly enough focus on quality for long-term goals like acquisition or IPO to be on the table.
A business case report from McKinsey outlines the industry-wide costs in clear terms:
Non-routine quality events—such as major observations, recalls, warning letters, and consent decrees, along with associated warranties and lawsuits—cost the industry between $2.5 billion and $5 billion per year on average. This includes $1.5 billion to $3 billion per year on non-routine costs, plus $1 billion to $2 billion in lost sales of new and existing products.
So, how can you determine the true cost of poor quality management at your medical device company? The total cost can be broken down into three different categories: hard costs, soft costs, and hidden costs. Let's explore each of these in more detail:
FREE DOWNLOAD: Click here to get a printable PDF of the Value of True Quality infographic.
Hard Costs Associated With Poor Medical Device Quality Management
Hard costs are the things you'll notice; the cash that's taken out of your bank account. These hard costs associated with poor quality management might include:
Complaint handling and field service rework: Managing customer complaints is no easy task for medical device companies. In fact, in one year alone, 70% of the warning letters sent out by the FDA cited complaint management as a core issue. If your quality system isn't compliant with subsections §820.198 and §820.180 of 21 CFR Part 820, you're inviting trouble if the FDA comes knocking.
Warranty Repairs, replacements, and partner retraining: According to McKinsey, routine external quality failures represent up to 1.6 percent of annual sales for medical device companies. Keeping that number low is essential for early-stage medical device companies to raise additional VC funding and scale their operations.
Consulting fees and internal man hours associated with rework: Even after you've dealt with the corrective actions due to poor quality systems, you'll still have to pay more in consulting fees and spend more time on preventive actions to avoid these problems in the future.
Soft Costs Associated With Poor Medical Device Quality Management
Soft costs are still material and many will still affect your balance sheet, but they're easier to miss than the hard costs that take money out of your pocket today. These costs might include:
Patient harm: The most serious cost associated with poor quality is also one of the hardest to quantify with a cost. Poor quality management leads to harm done to patients, which undermines the reason that most of us got into the medical device industry to begin with.
Opportunity cost of device recalls: Opportunity cost is the amount of money that you could have earned if your device was on the market. When your device gets recalled, you don't just waste the money it takes to fix the problem, you miss out on valuable sales you would have made if the recall never happened.
Product liability, regulatory, and litigation costs: If your medical device harms a patient this could result in a lawsuit, you could end up paying fines, fees, and costs for litigation. These can add up fast. In 2018 alone, class action lawsuits made up 11% of all legal costs in the United States.
Net cost of scrap and expired product: For some devices, you may need to consider the potential cost of having to throw out device parts that will expire before production can ramp back up again.
Delays in go-to-market timelines: Even after you've performed corrective and preventive action, you will still likely face delays in bringing your medical device to market which increase your company's burn rate before your device is even being used.
Hidden Costs Associated With Poor Medical Device Quality Management
Finally, there are the hidden costs that go unnoticed by most medical device entrepreneurs. These may not have a dollar amount associated with them, but they can have a huge impact on your ability to run a successful business. These hidden costs include:
Lower valuation and reduced brand equity: Medical device companies that are reliant on raising their next round of funding may struggle as a result of poor quality management. Between reduced valuations, customer churn, and fewer investors willing to take on the risk, poor quality management poses an existential threat to many medical device companies.
Difficulty recruiting and retaining top talent: Another invisible cost of poor quality management has to do with recruitment and retainment struggles associated with repeated cases of noncompliance. Once you gain a reputation as an organization that doesn't focus on maintaining top quality, the most talented medical device professionals are likely to view your organization as a risk. It's important that management continues to prioritize quality beyond the hiring process. Too often top talent will leave an organization that lacks buy-in from management because it impedes their ability to do their job well.
Internal culture of poor quality: We have all seen the difference in cultures between teams that play to win and teams that play not to lose. If you accept "good enough" quality management practices in your organization, that's a slippery slope that can lead to skirting rules and regulations
It's important to remember that, typically, your device only has one shot at success once it hits the market. If anything goes wrong, it can be extremely challenging, if not impossible, to fully recover from a damaged perception. Because of this, you must treat this as the opportunity of a lifetime. Position your device to succeed in the market by investing in quality from the start.
FREE DOWNLOAD: Click here to get a printable PDF of the Value of True Quality infographic.
How Your Medical Device Company can Reduce the Cost of Poor Quality (Infographic)
If you're interested in reducing the cost of poor quality, what's your best course of action? After working with hundreds of medical device companies around the world, here are our recommendations:
Invest in a purpose-built medical device quality system: The needs of medical device companies are dramatically different from other industries because the consequences of quality missteps are so much higher. This isn't a bad thing! It should serve as a catalyst for your team to invest in quality management. Consider a medical device QMS (MDQMS) like Greenlight Guru that is designed specifically for medical device companies who are facing similar challenges to you.
Don't skimp on surveillance: Post-market surveillance is just as important as laying the appropriate groundwork to begin with. The best QMS software solutions have strong post-market surveillance and compliant management capabilities built-in.
Ensure closed-loop traceability in your quality system: Finally, you want to ensure that your quality system enables closed-loop traceability so you can see how every change will impact the quality of your medical device. General-purpose quality systems can't provide this level of insight or visibility, which is why a purpose-built QMS solution is essential.
Check out the infographic below for a visual representation of the value of true quality for medical device organizations and, when you're ready, get your free demo of Greenlight Guru. We'd love to show you how our purpose-built MDQMS can help you improve the quality of your medical device and get to market faster with less risk.
---
Looking for an all-in-one QMS solution to advance the success of your in-market devices that can integrate your post-market activities with product development efforts? Click here to take a quick tour of Greenlight Guru's Medical Device QMS software →