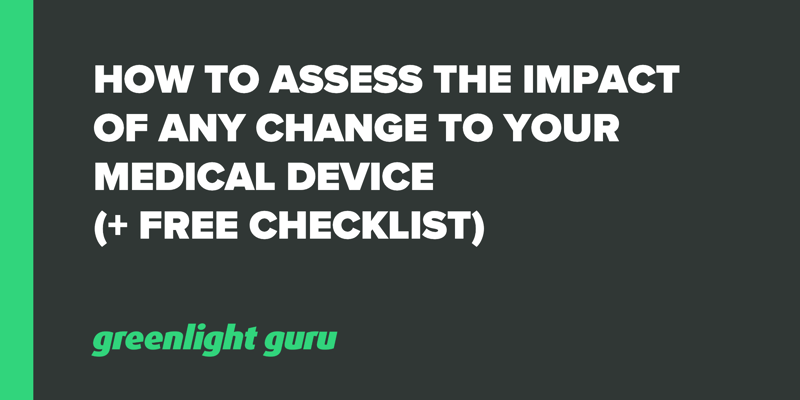 So you need to make a change to your medical device, what now?
When we talk about change management for medical devices, the term "change" can mean something altered about the device itself, or it can mean a change in the process. Here, I'm mostly talking about changes to a product rather than the initial process.
Like most other things to do with medical devices, you are expected to follow good change management procedures and assess the various impacts of the change. What do those good practices look like?
Here's my rundown on assessing the impact of any change to your medical device:
Free Download: Get this free checklist for conducting your change impact analysis.
Determining the impact of medical device changes
Change is a constant for medical device companies and manufacturers often struggle with it, oftentimes from a compliance perspective because many people get it wrong. Change management, particularly with regard to a medical device's design, is a common reason cited in FDA 483s and warning letters.
As you proceed through the design and development phase, you're fine tuning all of the moving parts, pieces, and processes that will make up your final product. There can be a whole litany of changes identified as you move through product lifecycle stages.
Any time you make a change you need to conduct a change impact analysis.
What impact will this product change have?

What evidence do I need to gather to support this change?

Who else needs to be aware of or involved with this change?
Change impact assessment
There are the three main components that should be covered in any change impact assessment:
Description of the change. This is as it sounds - describe exactly what is changing, for example, "we are replacing the tubing material with a sturdier, longer lasting type."

Description of the reason for the change. Explain what prompted the change. For example, "the current tubing material is showing signs of deterioration 6 months before the indicated expiration date."

Justification of the change. Provide all evidence for why the change is acceptable. For example, include the results from any testing that proves the change is safe and effective, or documentation to prove that the change doesn't significantly impact the intended use of the device. The idea is to provide necessary "objective evidence" to support and demonstrate the change is appropriate.
Be very descriptive of the change you are making. The records or artifacts you include to support your claim should clearly communicate to stakeholders exactly what the change is and what it will do. You should also describe the impact that the change is expected to have on any person(s) or process(es).
You should always have a rationale or justification for why you're making the change. These should be clearly different statements - a lot of people don't differentiate between the two, so be sure to avoid this pitfall.
Also keep in mind that change documentation and records become part of the history of the product and helps tell the story of the product evolution over time.
Form, fit, function
A common starting point for product changes is to ask; does this impact on form, fit or function? Where:
Form refers to the design itself.

Fit refers to the use case and intended user population.

Function refers to how the device operates or how users interact with it.
If any combination of these change factors is impacted, consider revisiting the design control process flow to assess the impact of the change from that vantage point. This can help you to formulate the right questions to ask during your change impact assessment.
Understanding regulatory requirements for device changes
Maybe. You will need to work through the related regulatory documents to determine if your change requires a new regulatory submission.
Both FDA 21 CFR Part 820 and ISO 13485:2016 cover requirements for managing change within a quality system, although only briefly and not at all prescriptively.
FDA outlines the requirements for a design change in 21 CFR Part 820:30(i):
Design changes: Each manufacturer shall establish and maintain procedures for the identification, documentation, validation or where appropriate verification, review, and approval of design changes before their implementation.
FDA very much leaves it up to your interpretation to satisfy those requirements. In essence, you need to be able to document the change, what you did and why, and any testing or validation to prove the safety and effectiveness of the change.
ISO 13485 mentions change and change management more often than the FDA; however, the spirit of the text is very similar. For example, ISO requires very detailed documentation and traceability of every change, which should all live as a single source of truth within your QMS.
If you currently have a device on the market which you plan to make changes to, there is almost always some sort of regulatory impact from changes made to your medical device. FDA has published guidance documents regarding the 510(k) submission requirements that may apply.
For CE Marked products in the European marketplace, you may need to inform your notified body of any planned design changes, for example.
A key underlying requirement for any regulatory body is that you must have robust documentation of your changes and of any evidence that you've assessed and found the changes to be safe.
Robust documentation is vital, even if you determine that the change does not require notifying regulatory bodies and determine a "letter to file" is all that is needed. (Note: "Letter to file" decisions must result in some sort of documentation to support the regulatory rationale.)
This brings me to a common pitfall that the FDA has certainly recognized. Oftentimes when companies go through the decision-making process, they may determine a new product change submission is required, swaying their decision to not pursue that change after all to avoid the added time and effort it will take.
This sort of unfortunate situation turned out to be a driving force behind the FDA Case for Quality Program, in which findings from the program's pilot revealed many worthwhile changes were not being made due to regulatory hurdles and obstacles.
The Case for Quality initiative has since made huge strides in breaking down those barriers and encouraging innovative, quality-based changes.
change management and risk connection
There is a strong connection between any medical device change and risk. Risk should always be a major, ongoing consideration.
A product risk profile should be part of your change impact assessment. You may need to make updates to your risk management file if anything changes in terms of risk profile.
Any sort of change also necessitates a thorough risk analysis. This is an important component of the change impact process to ensure you've properly identified and reduced all known risks associated with the change you'll be making.
Free Download: Get this free checklist for conducting your change impact analysis.
Visualizing the impact of changes to your medical device
Early on in my career I worked on a project where I was the lead designer of a catheter device. The product had a small cap on the end for attaching a syringe. For efficiency and cost benefits, we tried to use the same fitting on different catheters.
On one particularly big project, we were changing the material and design of that small cap. Sounds like a fairly simple change but, in reality, it was a huge undertaking. There were so many different variations to consider and we needed the change to be made across multiple product lines.
I conducted the change impact assessment and used its findings as supporting evidence to prepare the change order, which was ultimately accepted.
Fast forward to about a week after the changes were made; someone discovered a different drawing that hadn't been included in the initial project plan - so an additional change order was required to address the item that had initially fallen through the cracks. And this continued for several more weeks.
We probably submitted at least a half a dozen additional change orders using a paper-based quality system to manage that one small change. We didn't find everything we needed to gather on the first few attempts so we had to keep repeating the process.
This use case illustrates the importance of having a strong visual representation of your QMS that can provide full traceability of all quality system data, processes, and activities for your medical device.
Greenlight Guru Visualize is the only solution of its kind, powered by machine learning and natural language processing technologies, that provides closed-loop traceability throughout the QMS software.
Companies using this medical device-specific QMS solution are able to both satisfy regulatory requirements with ease and automate the change management process, subsequently reducing risk along the way.
Visualize will show you documents and records within your QMS that are related. This will help you to be more efficient with change management.
When making any change, you need a purpose-built tool that can point to the most relevant, accurate, up-to-date information that provides clear visibility into all areas that may be impacted so that your approach can be timely and efficient.
Greenlight Guru provides the only change management QMS software built exclusively for medical devices, offering many benefits to companies' quality management. The platform removes the pains associated with siloed change practices and showcases a dedicated change management workflow that automatically feeds real-time data from other quality subsystem areas potentially impacted by your change for data-driven decision-making.
Get your free personalized demo of Greenlight Guru today →
---
Looking for an all-in-one QMS solution to advance the success of your in-market devices and integrates your quality processes with product development efforts? Click here to take a quick tour of Greenlight Guru's Medical Device QMS software →