Leading MDQMS provider powers the conversation around the impacts of COVID-19 and other industry topics, led by top medtech experts and headlined by FDA keynote speaker.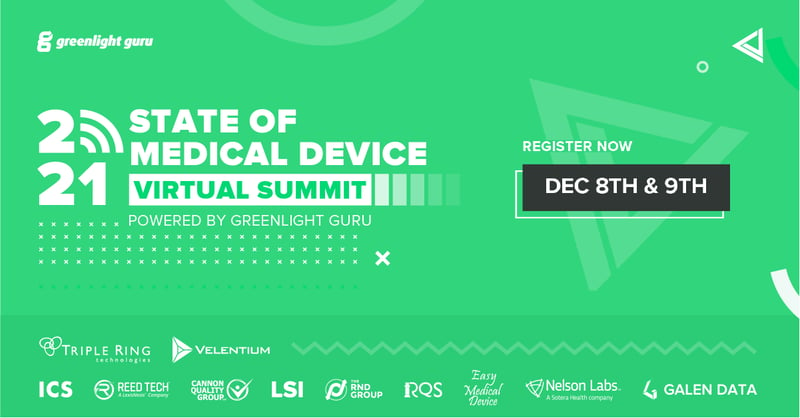 INDIANAPOLIS — November 9, 2020 — Greenlight Guru, the leading medical device quality management software (MDQMS) platform, today announced the 2021 State of Medical Device Virtual Summit, a two day online event to help quality, regulatory and product development professionals better understand the strategies, tactics and technologies being used today and uncover best practices, tips and trends for the evolving nature of the medical device industry. The 2021 State of Medical Device Virtual Summit will take place on December 8 and 9, 2020.
The uncertainty of the world has made it all the more critical for medical device companies to understand what strategies and technologies will allow them to plan for the future while staying flexible enough to quickly adapt when challenges arise. Greenlight Guru is dedicated to supporting the community of medical device professionals through these challenging times by sharing knowledge, insights, best practices and trends to help achieve success in the 2021 medical device landscape.
"We understand the entire medical device industry is a team that needs to work together to combat the unpredictable and conquer the challenges 2021 is bound to bring," said Jon Speer, founder of Greenlight Guru. "Part of that is coming together to share our unique experiences and accumulated knowledge, and the 2021 State of Medical Device Virtual Summit gives us a forum to do so."
The virtual summit will also share perspectives of top industry leaders and insightful findings from Greenlight Guru's 2021 State of Medical Device Quality Management and Product Development Report. Some of the topics that will be covered at the 2021 State of Medical Device Virtual Summit include:
FDA keynote speaker Matthew Diamond, Chief Medical Officer, Digital Health Center of Excellence, presenting on The FDA Digital Health Center of Excellence and the Advancement of Digital Health Technology

State of Medical Device Quality and Regulatory 2021 Survey Findings

Strategies for improving device software and cybersecurity in 2021

SaMD challenges and opportunities for 2021

Implications of EU MDR delay and preparedness tips

COVID-19 impact on the medical device industry

Brexit, Swixit, Turkxit impact on the European medical device market

Updates, requirements, and solution for global Unique Device Identification (UDI) system
"Greenlight Guru continues to drive the conversation in the medical device quality and regulatory space to a higher level," said George Zack, True Quality Virtual Summit speaker and principal and co-founder of Two Harbors Consulting. "Their recent True Quality Virtual Summit provided a community of industry leaders the opportunity to collaborate, dissect and uncover not only the root of True Quality, but the best way to achieve it. My experience in attending Greenlight Guru summits affirms that this upcoming event will help medical device companies like yours and service providers like mine navigate the changing landscape of 2021 by providing us with the tools, knowledge and best practices to be successful, regardless of what this next year brings."
The 2021 State of Medical Device Virtual Summit is sponsored by various industry-leading organizations to help present the most rounded experience possible. Sponsors include Cannon Quality Group, Easy Medical Device, Galen Data, Integrated Computer Solutions (ICS), Life Science Intelligence (LSI), Nelson Labs, Reed Tech, The RND Group, Rook Quality Systems, Triple Ring Technologies, and Velentium.
The 2021 State of Medical Device Virtual Summit is the second virtual summit powered by Greenlight Guru following their True Quality Virtual Summit in June of 2020 aimed to assist medical device professionals to use quality as a strategic asset for growth. In addition to the 2021 State of Medical Device Virtual Summit, Greenlight Guru recently launched Quality Event Automation and Visualize, machine learning-powered capabilities that revolutionize the way medical device manufacturers can approach and achieve closed-loop quality system traceability — yet another step in helping medical device companies move beyond baseline compliance and achieve True Quality.
For more information on the 2021 State of Medical Device Virtual Summit, visit: https://2021md.greenlight.guru.
About Greenlight Guru
Greenlight Guru is the only quality management software platform designed specifically for medical device companies. The platform helps companies bring safer products to market faster, simplifies FDA and ISO regulatory compliance and provides a single source of truth by connecting the management of all quality processes like CAPAs, risk, audits and more. Greenlight Guru's platform is used by thousands of users across the globe to push beyond baseline compliance and achieve True Quality for their medical devices.