New dedicated workspace and capabilities ensures the right training for the right people at the right time.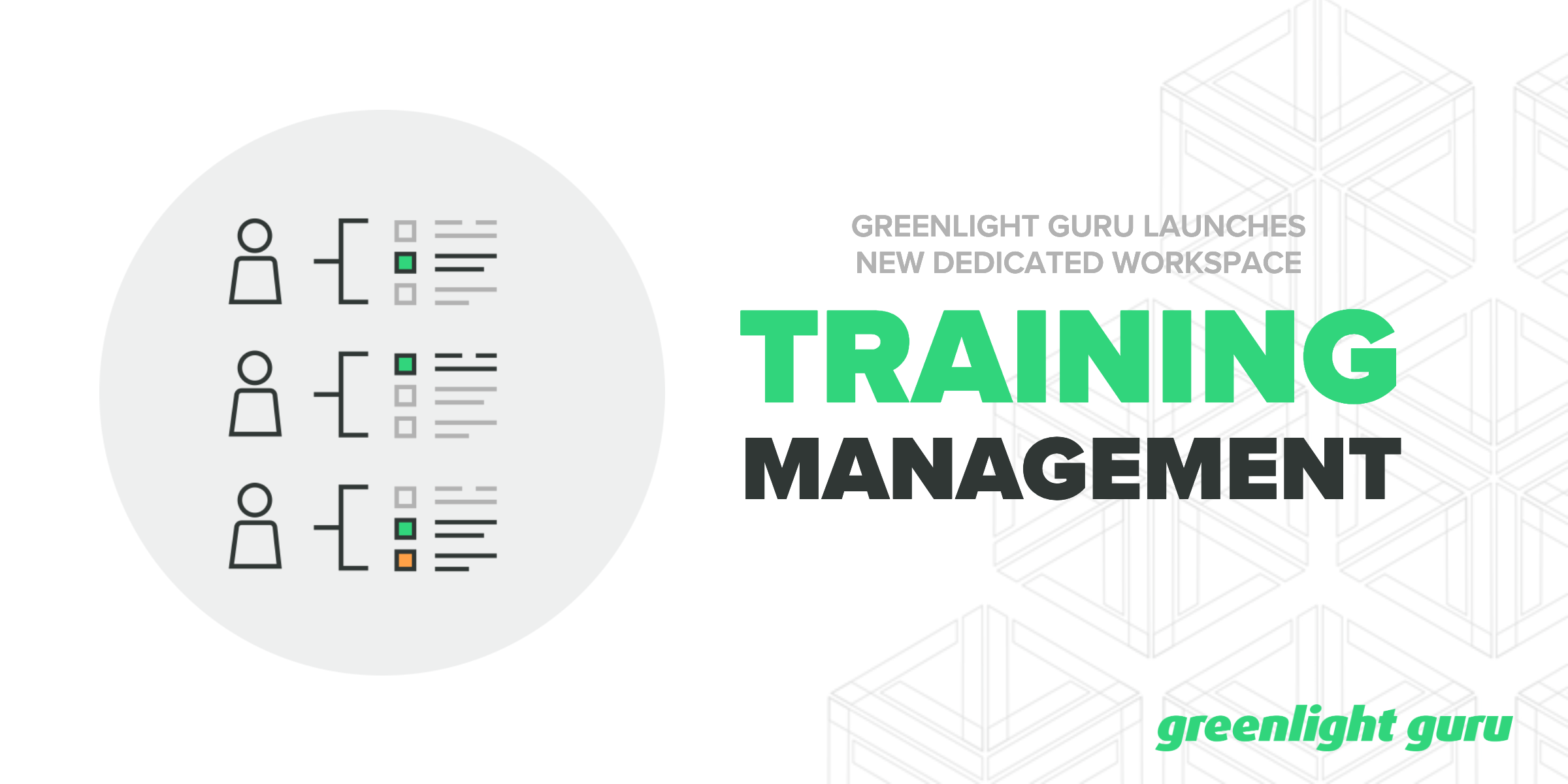 INDIANAPOLIS — November 16, 2020 — Greenlight Guru, the leading medical device quality management software (MDQMS) platform, announced today the launch of their dedicated Training Management workspace, providing quality teams the ability to track and produce evidence that employees have been effectively trained on processes, procedures, changes and other QMS documentation.
Training is an integral process for every medical device company for both ensuring compliance and enabling your team to deliver quality products for patient use. Unfortunately, training today involves a lot of cumbersome and disconnected legacy tools, paper-pushing and checkbox activities. This makes managing and tracking training activities and records a burdensome process that even the most effective companies struggle to maintain and have visibility into.
Greenlight Guru's dedicated Training Management workspace simplifies regulatory compliance and eliminates administrative overhead by streamlining the creation, assignment and tracking of training activities. This increases the efficiency and efficacy of your training program by improving visibility into the status of training activities, and generating easily accessible and comprehensive training logs and records for demonstrating regulatory compliance. Training is also completely integrated into the QMS, providing the necessary traceability and becoming part of your overall, closed-loop quality ecosystem.
"Training continues to come up more and more during audits and, until now, it has been difficult for medical device companies to keep their entire training process organized and accessible," said David DeRam, CEO at Greenlight Guru. "With Training Management, we aim to alleviate the compliance and training burdens that currently plague these programs by eliminating manual processes. With Greenlight Guru's Training Management, trainers can prepare training activities in a couple of clicks, then track and provide objective evidence that your employees have been effectively trained on processes, procedures, changes, and updates - all in a single, integrated closed-loop quality system. Trainers gain access to complete, accurate and up-to-date training activities, helping them maintain audit-readiness while making the training experience more streamlined and accessible for trainees."
Other features available through the dedicated Training Management module include:
Automated training tasks and notifications on assigned training activities

Part 11 compliant sign-off, audit trails, and password requirements

Require a trainer sign-off to ensure training activities are effective

Personalized dashboard to view assigned and outstanding training activities

Easy to view tracking and status of assigned training tasks for Trainers by document level or by individual/group

Auto-generated training logs and records to provide objective evidence and traceability for training and compliance

Provide relevant attachments as supporting evidence of external training events
This launch follows the announcement of Greenlight Guru's 2021 State of Medical Device Virtual Summit, a two-day online event to help quality, regulatory and product development professionals better understand the strategies, tactics and technologies being used by leading medical device companies today. Greenlight Guru also recently launched Quality Event Automation and Visualize, machine learning-powered capabilities that revolutionize the way medical device manufacturers approach and achieve closed-loop quality system traceability — yet another step in helping medical device companies move beyond baseline compliance and achieve True Quality.
To get your free demo of Greenlight Guru Training Management, please visit www.greenlight.guru/training-management-software.
About Greenlight Guru
Greenlight Guru is the only quality management software platform designed specifically for medical device companies. The platform helps companies bring safer products to market faster, simplifies FDA and ISO regulatory compliance and provides a single source of truth by connecting the management of all quality processes like CAPAs, risk, audits and more. Greenlight Guru's platform is used by thousands of users across the globe to push beyond baseline compliance and achieve True Quality for their medical devices.