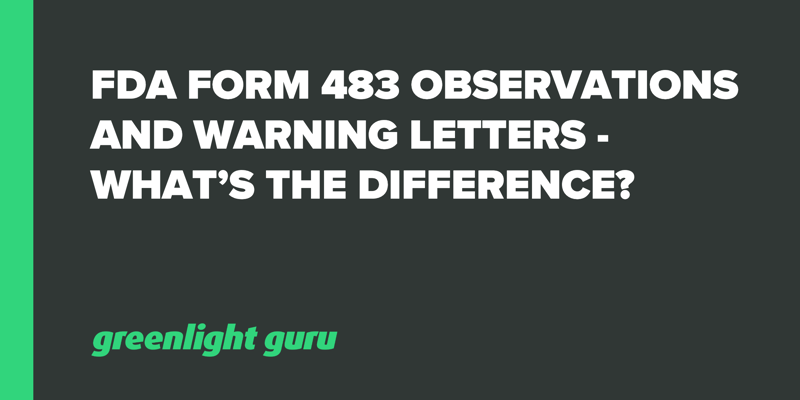 If you're a medical device company manufacturing Class II or Class III devices, you can expect to have the FDA turning up for an inspection.
It's what happens after that inspection that we're concerned with in this article.
The unfortunate truth of the matter is that some of you will receive 483 observations, and some will then receive warning letters.
It's important that you understand the differences between the two as well as what will be expected of you in either case.
FREE DOWNLOAD: Click here to get your free copy of our FDA 483 and warning letter response template.
WHAT IS AN FDA 483 OBSERVATION?
An FDA 483 observation, or "inspectional observation," is a notice sent by the FDA to highlight any potential regulatory violations found during a routine inspection. This can relate to the company's facility, equipment, processes, controls, products, employee practices, or records.
An FDA 483 observation can be very expensive, resulting in thousands or even millions of dollars in costs for some companies. If the issues are systemic, the Form 483 observation can trigger training, redesign, process implementation, and other measures.
Handling these problems all at the same time is expensive and disruptive to your company. It's far better to anticipate issues that might result in a Form 483 and build your processes to avoid that scenario.
The most common causes of a 483 observation are:
Procedures not fully followed.

Poor investigations of discrepancies or failures (CAPA process not used).

Absence of written procedures.
Taking the time to be diligent with your written procedures can help prevent you from receiving a 483. SOPs (standard operating procedures) are required for document control, risk management, design controls, and many other aspects of device manufacturing.
Regulators want evidence that your company has outlined a way to handle these fundamental processes, otherwise they may issue a Form 483 observation. If you do receive a Form 483, there are a few rules around responding you should consider.
HOW TO RESPOND TO AN FDA FORM 483 OBSERVATION
Once you've received a Form 483 observation, you should ask to review the document with the FDA inspector. This will give you a better understanding of their concerns. You can streamline the inspection process by asking questions, coming to terms with the observations made, and identifying any potential errors in their observations.
You are obligated to respond to an FDA 483 observation in writing within 15 days. Before an inspector leaves your facility, you'll receive a draft of their inspection report (known as an Establishment Inspection Report, or EIR) as well as drafts of any 483 observations. They'll ask you whether you plan to address those observations, too.
Failure to demonstrate that the observed problems have been handled can result in an FDA warning letter. In our experience, companies who choose not to take action to resolve issues raised in a Form 483 observation tend to end up with a warning letter later on.
Remember, the FDA isn't messing around; if you receive a 483 observation, consider it to be fair warning that something isn't quite right with your internal processes and it may be worth your time to look into those issues further.
WHAT IS AN FDA WARNING LETTER?
An FDA warning letter is a formal notification from the FDA that identifies serious regulatory violations. A warning letter is issued by more senior FDA officials after they've reviewed the inspector's report. A warning letter is considered an escalation from a 483 observation.
The most common causes for an FDA warning letters are:
Non-compliant written procedures.

Failure to follow written procedures.

Failure to prove that regulations have been followed with adequate documentation.
Warning letters are typically delivered in person to ensure that they're viewed and handled promptly. Like with an FDA 483 observation, an FDA warning letter requires a written response within 15 days maximum. If the cause for the FDA warning letter is severe, the FDA may escalate the deadline. You are obligated to rectify the violations described in an FDA warning letter.
Warning letters are made public. Anyone can find that the company has been issued a letter. We've even heard of competitors using a company's warning letter as a negative example of why a potential customer should choose their own company over the competing one.
Like 483 observations, warning letters can be very expensive to deal with. Receiving a warning letter can significantly delay your time to market and consume capital in the process.
WHAT'S THE DIFFERENCE BETWEEN FDA 483 OBSERVATIONs AND WARNING LETTERs?
Let's recap. An FDA 483 observation is a notice that highlights potential regulatory problems, while a warning letter is an escalation of this notice. You need to respond in writing within 15 days of receiving both a 483 and a warning letter.
You're not obligated to handle observations cited by inspectors in a Form 483. However, it is inadvisable not to. You're far more likely to receive a warning letter if you don't address the FDA's concerns in the 483 observation.
If you receive a warning letter, you're required by law to make any changes necessary to satisfy the FDA's concerns. A warning letter is far more serious than a 483 observation. Any violations must be dealt with before you can meet compliance and bring your medical device to market.
It's also possible to receive 483 observations and warning letters at the same time. Usually, potential violations will be ordered in priority as determined by the investigator. It can take some careful managing to ensure you are getting done what the FDA expects of you.
We've written a comprehensive guide on Responding to FDA 483 Observations and Warning Letters that you can check out if you would like to learn more about this topic.
ISO 13485 Equivalent to 483 observations and Warning Letters
ISO is a little bit different in that they assess the severity of the situation (termed as a "non-conformance") and assign a "major or minor" value to it.
Each registrar has a slightly different process, but the expectation is that you'll communicate your corrective action plan within a set period of time. This period of time varies depending on whether the finding was minor or major.
As you conduct and complete the minor actions, these will usually be verified by the ISO auditor at your next audit, generally sometime within the next year. Anything major will need to be verified much sooner, possibly by a second onsite audit, or with a remote audit.
Major findings from an ISO audit could put your ISO certification at risk, as could persistently ignoring those minor observations. It's worth noting that one of the possible definitions falling under "major non-conformance" is "repeated nonconformities from previous audits."
There are some terminology differences between ISO and the FDA, for example, the term "observation" (which the FDA uses in place of non-conformance). For ISO audits, in addition to a nonconformity, an observation may be raised.
An observation is an isolated or non-systemic finding detected during an audit that does not require action to bring the system or any clause into compliance. It may also highlight a potential nonconformity.
An observation may also be a positive comment that informs you of some of the strengths of your system; whereas an observation from the FDA will always be something you need to improve or fix!
FREE DOWNLOAD: Click here to get your free copy of our FDA 483 and warning letter response template.
Final thoughts
If you've received an FDA 483 observation or an FDA warning letter, you need to handle the situation with care. The same is true for dealing with non-conformances from an ISO audit.
These noncompliant incidences can have serious implications for your company and its ability to save and improve lives with medical devices. Listening to what regulatory bodies require for the production of safe and effective devices is always the best practice.
One of the reasons we created Greenlight Guru's QMS software for medical devices is to help companies navigate these issues with ease. Our medical device nonconformance management software was designed to allow you to reduce non-conformance cycle times and manage issues that are identified within your quality system.
Our audit management software helps you conduct internal audits with ease, route findings to the right place based on risk, and easily share results. Both of these are useful aspects of our medical device QMS, created to improve the way you handle noncompliance at your company.
---
Looking for an all-in-one QMS solution to advance the success of your in-market devices and integrates your post-market activities with product development efforts? Click here to take a quick tour of Greenlight Guru's Medical Device QMS software →