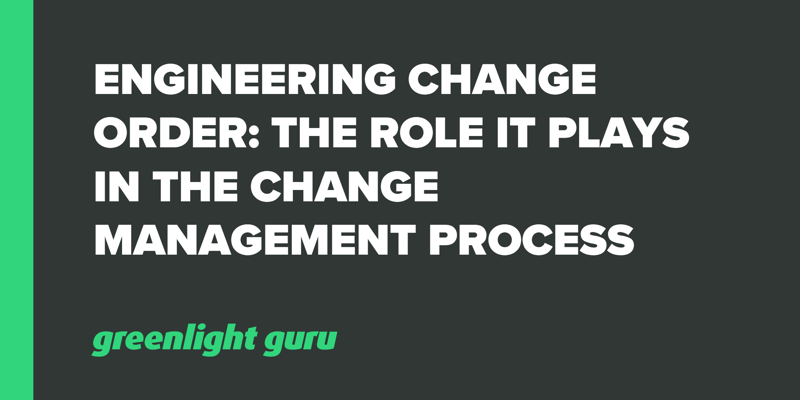 Change is just part of life for medical device companies. No device makes it to market without quite a few changes to its design along the way, and even devices already on the market will likely need to be periodically updated.
That's why successful medical device companies spend time developing an effective change management process. When the need for a change inevitably arises, those companies are able to review, approve, and document changes without unnecessary delays.
This article will focus on a specific component of change management that can make or break your process: the engineering change order (ECO).
BONUS RESOURCE: Want to streamline your change management process? Click here to download your free copy of this Change Order Template.
What is an engineering change order (ECO)?
An engineering change order is the document a manufacturer uses to describe a necessary change to a product or process during the medical device lifecycle. The ECO is used to notify the appropriate stakeholders about the proposed change, get their approval, and then implement said change.
The engineering change order itself must be meticulous; it should list everything that may be affected by the change, including materials, assemblies, documents, and processes. That way, the proposed change and any downstream effects it may have are documented and fully traceable for both regulatory bodies and internal review.
What events can trigger an ECO?
There are a wide variety of events that can trigger the need for an engineering change order, but they generally fall into three categories:
Product changes: There's no way around making changes to your device at some point. This may happen during design and development, when it becomes clear that you need to change a component or use a different material, for instance. However, existing products may also require updates or improvements—perhaps as a result of a CAPA investigation. Whatever the reason, when product revisions need to happen, they will trigger an ECO.

Regulatory changes: The regulations or standards you're using to guide product design, development, and manufacturing will almost certainly change at some point during the product lifecycle. Regulatory changes can also trigger an ECO if the new/updated regulation or standard requires an alteration to your product or processes.

Document changes: Your controlled documents exist to help ensure your device meets regulatory requirements and industry best practices, and that every job function involved in those processes fulfills their duties accordingly. Modifications and revisions to certain documents, like templates, forms, or work instructions can also trigger an ECO at any point during the product lifecycle.
What are the steps in the engineering change order process?
The engineering change order process is composed of seven steps. It's structured so that all relevant stakeholders have a chance to review and approve the proposed change.
Identification and Scope: The first step is simply identifying the issue that necessitates a change. Once it's been identified, you can estimate the scope of the problem and any possible effects.

Engineering Change Request: The engineering change request (ECR) is a document that describes the proposed change and the justification for it. It helps clarify the risks and benefits of approving the change and also dives into the technical feasibility of the change. The ECR is a precursor to the ECO and, if used, should be generated and reviewed before the ECO is created.

ECR Review: In this step, the ECR is brought to the relevant stakeholders, who then review it and make a decision about whether or not to move forward with the proposed change.

ECO Creation: If the change is given the green light, you may then create the engineering change order. The ECO lists all parts, assemblies, documentation, and processes that will be changed and all the information necessary to make a decision regarding the change.

ECO Review: This phase involves a formal review by stakeholders of the proposed ECO. If the change affects many parts of a product or process, it may require numerous stakeholders to sign off on it. The change is not authorized until all stakeholders have reviewed and approved the ECO.

Notification: In this step, everyone who will be affected by the change must be notified. This ensures everyone is on the same page and the change will be implemented correctly.

Implementation: It's been a long road, but the final step in the engineering change order process is the implementation of the change. Using the ECR and ECO documents as guides, the appropriate personnel will make the proposed change.
Common problems with the engineering change order process
You may have noticed that the steps in the engineering change order process contain a lot of documentation, review, and approval. And if you've been through the process yourself, you know very well that these steps don't always play out as quickly as the team would like.
In fact, the ECO process can easily fall prey to bottlenecks within organizations, eating up valuable time and leaving employees exasperated and frustrated. The fundamental issue is usually the use of a quality management system (QMS) that offers little-to-no visibility into the process.
Digital paper or general-purpose QMS tools tend to create many issues during the engineering change order process, like:
Lack of visibility into change impact. You may not realize just how many documents will be affected by a single change until you begin searching for them. Many QMS tools require teams to rely on tribal knowledge of documents and their locations during the ECO process, but this method is error prone and nearly impossible to scale.

Long wait times for ECO approval. The ECO process can easily get bogged down in endless cycles of documenting, linking, and reviewing. Getting the approval of every stakeholder becomes a second full-time job.

Inefficient document control and change management systems. Mistakes are simply the price of poor visibility and a reactive, stressful approval system. Missing documents, inconsistent implementation of changes, and even multiple ECOs for the same issue are often the result.
We highly recommend investing in a purpose-built solution for your medical device, such as the Medical Device Success Platform (MDSP) from Greenlight Guru. To show you how Greenlight Guru's MDSP solution compares to digital paper and general-purpose tools, we're addressing those same three issues listed above in the context of Greenlight Guru's capabilities:
Real-time visibility into change impact. Greenlight Guru has a dedicated Change Management workflow that automatically feeds real-time data from other quality subsystem areas potentially impacted by a change. You can demonstrate closed-loop traceability of all quality system data, processes, and activities for your medical device and visualize connections between related documents and records within your QMS in order to understand the true impact of a change.

Streamlined ECO review and approval process. The Greenlight Guru Visualize solution gives you full visibility into the ECO review process, like knowing exactly who is reviewing and how long they've had it, facilitating a timely and efficient ECO approval process based on data-driven decision-making by all stakeholders.

Integrated document and change management systems. With Intelligent Document Management from Greenlight Guru, you can identify every document, product development artifact, and quality event impacted by change. The AI and machine learning-powered solution transforms the document and change management processes, making it easy to reduce the risk of human error and avoid rework in making an update or executing a change.
BONUS RESOURCE: Want to streamline your change management process? Click here to download your free copy of this Change Order Template.

Predict the impact of any change order on your product, processes, or business with Greenlight Guru
Change doesn't have to be stressful or chaotic. In fact, given that it's inevitable, you should have a system in place to ensure that it's as easy and transparent as possible.
That's why Greenlight Guru created Halo℠, the world's first machine AI and machine learning recommendation engine for medical device quality. Halo℠ uses Intelligent Document Management to identify every document, product development artifact, and quality event impacted by a change. No more guesswork. No more fruitless searching.
Greenlight Guru Halo for Change Management
When you use Halo, you'll save enormous amounts of time by speeding up reviews and approvals and ensuring documents, records, and procedures are organized, up-to-date, and always accessible to the right stakeholders.

Get your engineering change orders done right the first time. Get your free demo of Greenlight Guru today.
---
Looking for a design control solution to help you bring safer medical devices to market faster with less risk? Click here to take a quick tour of Greenlight Guru's Medical Device QMS software