Medical device quality management system (MDQMS) improves traceability and efficiency associated with product and process changes.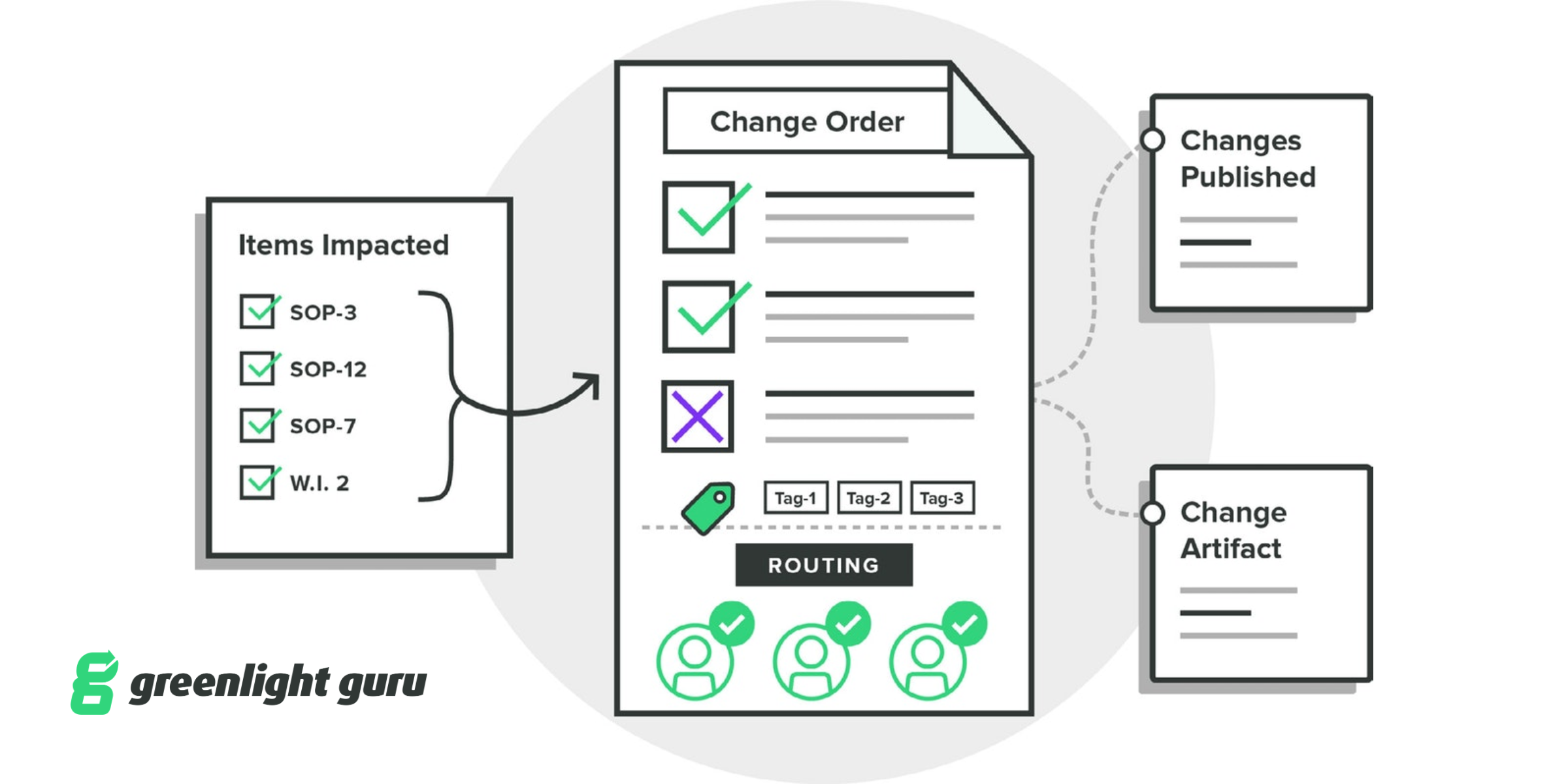 INDIANAPOLIS — December 9, 2019 — Greenlight Guru, quality management system purpose-built for medical device companies, today announced new updates to the platform's Change Management capabilities. The enhanced Change Management capabilities include advanced workflow efficiencies in customers' ability to identify, assess, and track the items impacted by change orders in a collaborative change workspace, while also ensuring connectivity and traceability to any records or sources that influenced design or process changes within the quality ecosystem. Additionally, customers can now track and trend the effectiveness of their change activities with analytics & KPI's.
Issues associated with medical device changes, both process- and product-related, represent a significant source of noncompliance for medical device manufacturers. Changes require updated documentation, approvals and signatures across teams, and depending on the complexity of the device across multiple departments, as well as clearly stated justification and desired outcomes for each change.
"We know change is inevitable with highly competitive medical device manufacturers changing rapidly in the pursuit of higher quality and, as medical devices become increasingly commoditized, in response to consumer demand for new features," said David DeRam, CEO of Greenlight Guru. "Modern medical devices require modern solutions to everyday workflows."
Whether it be design changes that require updates to design controls and risk matrices, or document changes that impact multiple procedures, work instructions, or forms, Greenlight Guru's Change Management functionality ensures medical device companies a simple way to manage change and be audit-ready.
"Paper and digital-paper based systems, such as spreadsheets and file hosting sites, can only get you so far once serious changes start being made to a medical device," said Jon Speer, founder and VP of QA/RA at Greenlight Guru. "Quality management systems shouldn't get in the way of innovation; we've improved our change management capabilities to make high device quality possible through the QMS, not in spite of it."
This announcement follows significant enhancements to Risk and Document Management workflows, the launch of Digital Design Reviews, and Greenlight Guru's fourth consecutive quarter as a G2 Crowd market leader in the quality management software category. For more information about Greenlight Guru's Change Management capabilities, please visit https://www.greenlight.guru/change-management-software.
About Greenlight Guru
Greenlight Guru is the only quality management software platform designed specifically for medical device companies. The platform helps companies bring safer products to market faster, simplifies FDA and ISO regulatory compliance and provides a single source of truth by connecting the management of all quality processes like CAPAs, risk, audits and more. Greenlight Guru's platform is used by thousands of users across the globe to push beyond baseline compliance and achieve True Quality for their medical devices.