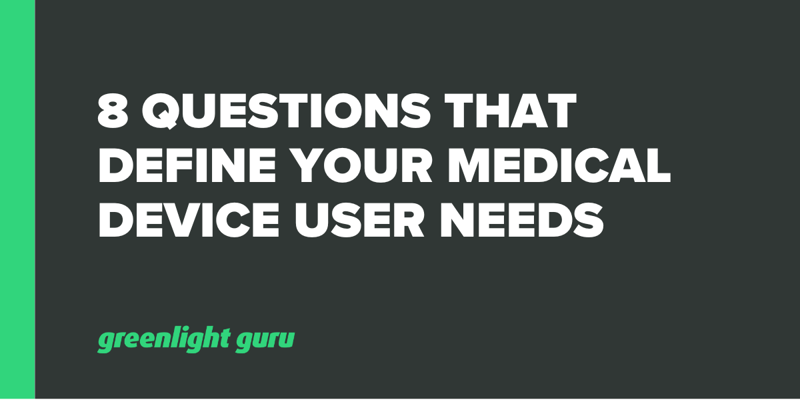 When people talk about design controls, they often place a lot of emphasis on design inputs and outputs, verification, transfer, and the design history file.

All good things, of course; without them, you won't meet FDA requirements for your design controls. The problem, however, is that too often people forget to ask themselves, "Why?"
Let me put it another way: Why am I creating this device in the first place? I'm assuming you want to meet a medical need of some kind. If that's true, don't start with what it does; start with who it's for.
According to FDA, all design controls should start with user needs and cascade down into the other stages of the process.
Even if it seems simple to you, documenting the user's needs at the outset will help to ensure the whole team sees the same vision, and that you're all working toward the same goal. When you get to design validation, it's much easier to know if you've met your goals if the goals have been well-documented.
As you think through your end user's needs, here are eight of the most important questions to ask yourself.
FREE eBOOK: Click here to download your PDF copy of the Ultimate Guide to Design Controls for Medical Device Companies.
#1. What clinical need or problem is the device going to solve?
This is an excellent starting point in your pursuit of meeting those ever-important user needs. The clinical need or problem your device will solve should be rooted in your end users.
First, we need to think about the intended use and indications for use of your device. Think of the intended use as its general purpose—what the device does. Indications for use is described by FDA as, "the medical conditions your device will help diagnose, treat, prevent, cure, or mitigate."
Nailing down these definitions is deceptively tricky, and will require a great deal of focus. However, this question is a great starting point for identifying and defining these terms.
Remember, the intended use will play a major role in your regulatory pathway to market, so don't skimp on this portion.
#2. Who is going to use the device?
Building profiles or personas for end users of your device is incredibly helpful throughout a product lifecycle. The potential patients using this device all have one shared trait: they're living with the same condition or illness described in your indications for use.
Beyond that, however, are many mitigating demographic factors that need to be considered during its design. Some of these would include:
Average age

Biological sex

Related medical conditions

Patient ability levels

Geographic locations
While it's impossible to know the exact answers of supposed users, considering these mitigating factors will result in a medical device that's more effective and ready to use for the correct patient base. It also may prevent design teams from inadvertently precluding populations from using it.
#3. Will the device be used once, or repeatedly?
Establishing whether your product is a multi-use medical device or a disposable product can play a huge role in its design and the design controls needed to produce it. There are few factors to consider in this decision.
Disposable medical devices are used only once, and come clean or pre-sterilized, if required, and ready to use for patient care. Should your device fall into the one-time use category, your users' needs may involve more focus on the materials used to produce it, or the correct packaging so it may be safely disposed of.

Multi-use medical devices, such as surgical tools or endoscopes for visualizing areas of the body, become contaminated with blood, tissue, or biological waste. This requires reprocessing, the detailed and multi-step process of cleaning and resterilizing, if required, the device per packaging instructions.
Failing to fulfill these user needs may result in improper reprocessing, and raise the potential for Healthcare Associated Infections (HAI).
#4. What are the key attributes or features that should be considered?
This is the nitty-gritty part where you're really making sure you think through every possible way this device could be used by people. Much of this will tie back to the indications for use, which outline the very specific breadth of tasks the device will need to succeed.
A great example of this comes from the Internet of Medical Things (IoMT) market. Devices in this category are built with interoperability, which connects them to other devices or diagnostic tools using WiFi. While the benefits of this technology are vast, like improved patient care and more informed diagnoses, this kind of interoperability presents additional issues that must be considered.
What if the connection is interrupted? What kind of impact might that have on the performance of the device? If adding a connected element to a home-use medical device could interfere too greatly, it might be worth reconsidering if that feature should be included at all.
#5. Where will the device be used?
The user needs for medical devices extend to the environments and conditions under which it will be used. This is a great opportunity to discuss the needs of home-use devices. The rapid advance of Software as a Medical Device (SaMD) and the prevalence of smartphones has created the potential for patients to use diagnostic and therapeutic products at home.
However, this also presents an issue for designers and users. A product may be meticulously designed, built, and tested in a facility. But beyond the walls of that sterile facility, everything that you can imagine is possible as far as the user's concerned, as far as the environment's concerned.
My advice? Prioritize usability. Design your device in such a way that it's as intuitive to your user population as possible without having to read its manual or consult the label.
#6. How will the user interact with the device?
Usability engineering and human factors are major components in medical device development. This is especially true when it comes to designing the user interface (UI) of your device. The UI includes all components with which users interact while preparing the device for use (e.g., unpacking, set up, calibration), using the device, or performing maintenance (e.g., cleaning, replacing a battery, making repairs).
#7. What type of procedures will this device be used for?
Medical devices serve a wide range of purposes. In fact, the same kind of device can be designed to serve very different user needs. The categories involved in this answer may begin broad, such as procedures for:
Surgeries

Rehabilitation

In-patient care

Drug-delivery

Daily wellness
But beyond these, the presumed procedures must be connected back to user needs in a more specific way. What kinds of activities within the desired category are most likely to take place between your device and users? How can you build a product that prioritizes those needs before other, less likely, scenarios?
#8. Which other products might the device interact with?
You'll need to think through how to make your device compatible with all other medical equipment with which it will interface. Though you may not be able to determine exactly which ancillary products a user will use alongside it, considering the possible interactions that may occur is a key component of well defined user needs within your design controls.
Take a stent, for example. Stents are a common treatment for narrowed coronary arteries. However, a patient with a badly damaged heart may also need a pacemaker to control the electrical impulses of the heart muscles. Studies have shown that these two devices can coexist, but only with the greatest of care when it comes to exact placement.
FREE eBOOK: Click here to download your PDF copy of the Ultimate Guide to Design Controls for Medical Device Companies.
Kickstart your product development and address your user needs with Greenlight Guru
Once you've fully answered these questions, it's time to get to work on designing your dream medical device to improve the quality of life of your end users. But to do so, you'll need the right quality management solution to ensure you're documenting and fulfilling all the required design controls.
With Greenlight Guru, you can easily manage the design and development of your medical device as well as every lifecycle stage thereafter. The purpose-built solution features a multi-level design control matrix that provides you with the flexibility you need to manage an n-level hierarchical matrix of components and sub-components within an innovative and elegant user interface.
Ready to learn more? Get your free personalized demo now!
---