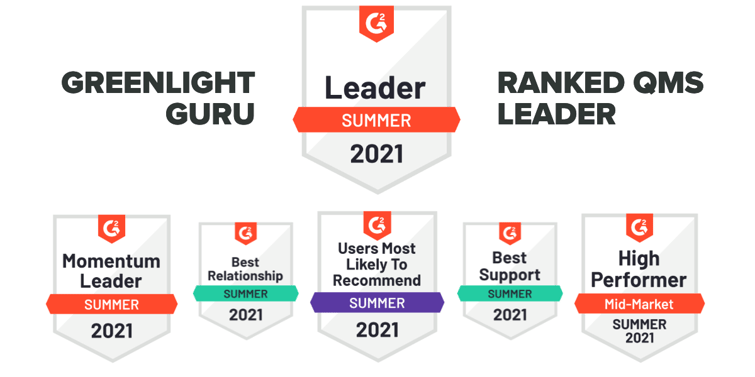 Greenlight Guru is excited to announce that we have been named a leader in G2's Summer 2021 Grid Reports for both QMS and Medical QMS categories.
Based on real, unsolicited feedback from Greenlight Guru users, these latest G2 reports highlighted high remarks for our customer support and direction of the product. Greenlight Guru was also awarded Users Most Likely to Recommend.
These rankings are based on reviews from customers who work at medical device companies either commercializing their first product or advancing the success of products already in the market.
Greenlight Guru has received more than 130 reviews (56 of those in the last six months alone) and scored a 96 for the quality of support offered by a dedicated team of industry experts, a full seven points above the average.
FREE REPORT: Click here for the full G2 grid report to see how users ranked Greenlight Guru.
Here's what some of Greenlight Guru customers had to say:
"We have moved our eQMS into the 2020s with a system that is built for medical devices. The ability to manage and link CAPA to quality events (Audits, customer feedback, deviations, etc.) is intuitive and easy to navigate." - VP RA/QA

"As a small business implementing a QMS for medical device design/manufacturing, it has proven to be an incredibly valuable tool." - Project Engineer

"With Greenlight Guru, I can follow all the steps of our quality management system and make sure all regulatory requirements are met. The most significant benefit is being able to accurately verify that all risks are managed and that all design checks are carried out. The software allows us an extremely rigorous follow-up which is and will be a big help for us." - Head of Regulatory Affairs

"The Greenlight Guru customer success team has helped us navigate the entire process so far, with no ask too large and no question left unanswered. It has by far been one of the best customer service experiences I've had to date." - Co-Founder/CTO

"Having come from one of the largest medical device companies globally to a start-up with no QMS, yet alone, an eQMS, the transition to Greenlight has saved my team countless hours and provided an ability, especially during COVID, to do remote approvals of documents, assign tasks, and give visibility to the appropriate team members of a variety of modules in order to collaborate and move forward with pre- and post-market activities." - Senior Regulatory Affairs Manager
"We appreciate our customers and love every time someone takes the time to give us feedback," says David DeRam, CEO. "Our users' input is critical while we continue to grow our medical device success platform for the specific needs of our customers throughout their journey from design to commercialization and beyond."
In addition to being named the Leader in both QMS and Medical QMS categories, Greenlight Guru proudly earned badges including:
Best Support (Medical QMS)

Users Most Likely to Recommend (Medical QMS)

Best Relationship (QMS, Medical QMS)

Momentum Leader (QMS, Medical QMS)

High Performer - Mid-Market (QMS, Medical QMS)
FREE REPORT: Click here for the full G2 grid report to see how users ranked Greenlight Guru.
How Does G2 Choose QMS Leaders?
In order to be placed in the Leader quadrant in the Grid® Report, solutions must be rated highly by G2 users and have substantial Satisfaction and Market Presence scores. Satisfaction scores consider multiple factors including product areas such as ease of use, ease of admin, ease of setup, and if a product meets user requirements as well as customer experience factors including ease of doing business with and quality of support.
This is Greenlight Guru's 11th consecutive quarter in the Leader position for the QMS category and our 2nd quarter named as a Leader for the Medical QMS category, a newer category created to recognize the specific needs of medical device companies and the growing market of solutions.
"We're honored that our customers rate our quality of support highly and consider us a partner they have a great relationship with," shares Fran Cruz, VP of Customer Success. "Our entire customer success team loves working with our customers to help them succeed through best practice approaches as they balance product innovation with compliance and regulatory requirements. It is great to see our core value of fanatical support to our users being felt by our customers."
We want to thank all of our customers for choosing Greenlight Guru and taking the time to share their experiences.
Read more customer feedback on G2's Greenlight Guru review page. See the methodology for G2's grid reports here.
---
Want to see why users rank Greenlight Guru as a leading QMS software? Click here to take a quick tour of our Medical Device QMS software