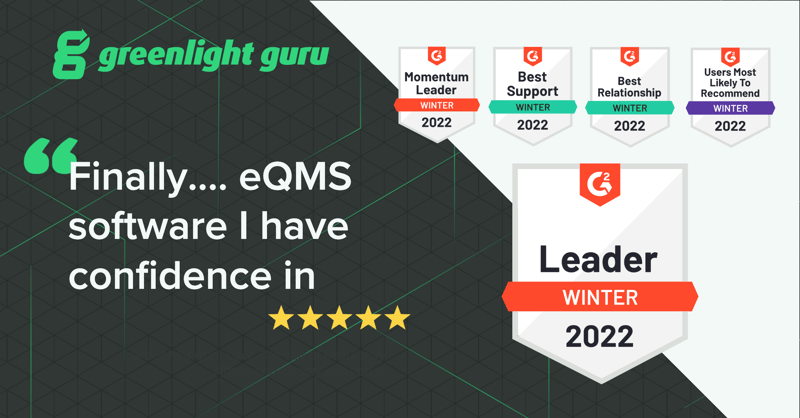 Greenlight Guru is proud to announce that it has been selected - by users - as the leading QMS for the thirteenth consecutive quarter in G2's Winter 2022 QMS Grid Report.
In addition, Greenlight Guru has been named a Leader in the Medical QMS category for the third consecutive quarter and ranks as the #1 software in both QMS and Medical QMS categories.
These quarterly reports are generated by organic feedback from customers at medical device companies that are bringing life-saving, innovative products to market or advancing the success of commercialized products. Users provide candid feedback on the software including the perceived pros and cons of the platform, their likelihood to recommend, and how the software is solving real business problems.
"These third-party reviews and rankings show that our customers trust us with an integral part of their business and shared mission to improve the quality of life," says David DeRam, CEO. "We are excited to share these achievements and the voices of our customers while we continue to grow a platform designed for medical device success."
Additional highlights from the report included the following satisfaction ratings:
97% of users believe the product is going in the right direction

Users rate our quality of support at 97% and ease of doing business with at 95%

92% of users are likely to recommend
FREE REPORT: Click here to access the full G2 grid report to see how users rank Greenlight Guru.
Here's what some of Greenlight Guru customers had to say:
"An efficient and controlled way of managing our documentation is now much more straightforward. I am confident that we are compliant with using GG" - Kelly, QA Supervisor
"Greenlight Guru is ahead of the game in terms of incorporating workflows which lead to compliance to ISO 13485:2016 and 21 CFR Part 820 regulations. The Change Management and Document Control functionalities make it easy to control records and document approvals especially in a world that is moving away from the traditional 'in-office' setting to remote working" - Jacob, Product Manager
"The software is user-friendly and customizable enough to meet your needs if you already have an existing QMS set up. But honestly, the best part is the team we work with for our transition process. They make the difference in this being a good experience. Their friendliness and wealth of knowledge about the medical device industry made the process so easy" - Cynthia
"We are thrilled to be ranked as the #1 QMS and Medical QMS by our customers for yet another quarter," shares Fran Cruz, VP of Customer Success. Our entire team's focus is on providing customers with the fanatical support they need throughout their commercialization journey and we appreciate every time someone takes the time to share their experience and provide us with valuable feedback. It's quite an honor to see our quality of support shine through these achievements."
In addition to being trusted category leaders in the QMS and Medical QMS categories, Greenlight Guru also earned numerous G2 badges that support the quality of our product:
Best Relationship (QMS, Medical QMS)

Momentum Leader (QMS, Medical QMS)

Leader: Mid-Market (QMS)

Momentum Leader (QMS, Medical QMS)

Best Support (Medical QMS)

Users Most Likely to Recommend (Medical QMS)

High Performer: Mid-Market (Medical QMS)
FREE REPORT: Click here to access the full G2 grid report to see how users rank Greenlight Guru.
How Does G2 Choose QMS Leaders?
In order to be placed in the Leader quadrant in the Grid® Report, solutions must be rated highly by G2 users and have substantial Satisfaction and Market Presence scores. Satisfaction scores consider multiple factors including product areas such as: ease of use, ease of admin, ease of setup, and if a product meets user requirements as well as customer experience factors including ease of doing business with and quality of support.
This is Greenlight Guru's 13th consecutive quarter in the Leader position for the QMS category and our 4th quarter named as a Leader for the Medical QMS category. In collaboration with the G2 research team, Greenlight Guru assisted in the creation of this new software category so that medical device companies seeking an eQMS platform could select a platform suited to industry needs.
We want to thank all of our customers for choosing Greenlight Guru and taking the time to share their experiences. Read more customer feedback on G2's Greenlight Guru review page. See the methodology for G2's grid reports here.
---
Want to see why users rank Greenlight Guru as a leading QMS software? Click here to take a quick tour of our Medical Device QMS software