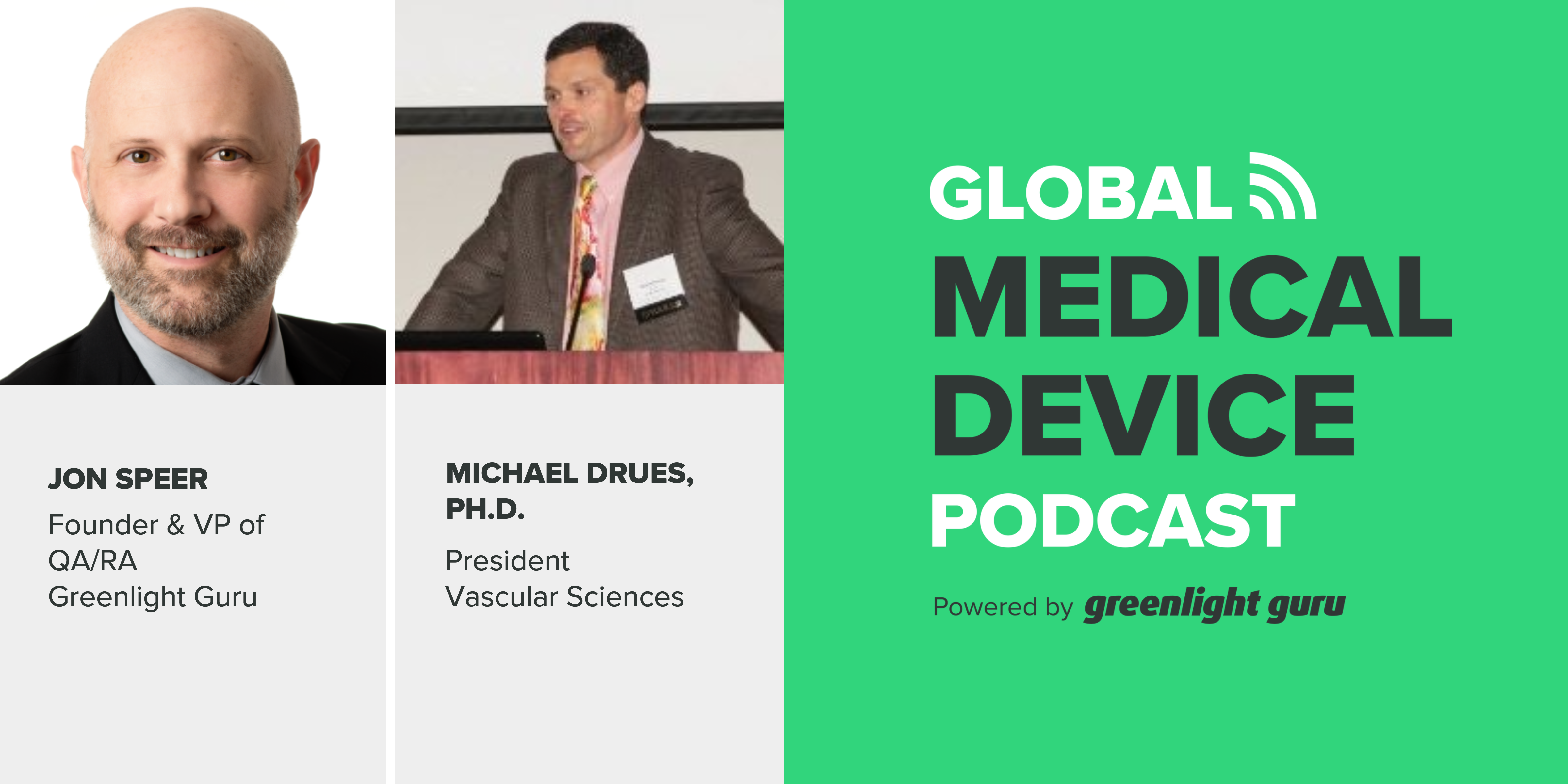 Have you ever considered the pros and cons of a PMA vs a 501(k)? Some of the considerations you must keep in mind are related to the path to market, but have you ever thought about competitive regulatory strategy? Going with the PMA approach might be a better business strategy than using the 510(k), despite the entrenched mentality that it's a longer, more difficult road.
Today we're going to talk to regulatory guru, Mike Drues. Mike is the president of Vascular Sciences and he is well-versed on the entire process medical device companies go through to get their products on the market. He's going to share his insight on competitive regulatory strategy and how it can help you make good business decisions.
Listen Now:
Like this episode? Subscribe today on iTunes or SoundCloud.
Some of the highlights of the show include:
The pitfall of seeing the regulatory process only as a matter of jumping through hoops and the importance of seeing the bigger picture.

What regulatory strategy is and how it differs from the path to market.

How competitive regulatory strategy differs from regular regulatory strategy and how you can use it to your advantage.

Some potential objections to using the PMA and how Mike responds.

Thoughts on how to use guidance documents as a competitive weapon.

Why one might consider a de novo classification as part of their regulatory strategy.

Why you should always be looking for a different, better way to get through the regulatory process.
Recommended Resources for more information:
Article: Competitive Regulatory Strategy: Using regulation to your tactical advantage (Journal of Medical Device Regulation, August, 2015 and abstract
Column: Is Your Boring Regulatory Strategy Costing You Business
Podcast: An Introduction To Competitive Regulatory Strategy
Podcast: Selecting The Best Regulatory Path For Your Medical Device
Article: How to Sharpen Your Regulatory Sword (MDDI, February, 2014
Presentation: Competitive Regulatory Strategy delivered at MDM/West, Anaheim, CA on Feb. 11, 2014 (audio only)
Quotes:
"Using regulation as a competitive weapon is a very unusual and uncommon way to think about regulation. This is what I call Competitive Regulatory Strategy. However, for those who truly understand it and implement it properly, Competitive Regulatory Strategy can be a very powerful advantage over your competition."
"The pathway to market is nothing more than the mechanism that you use to get your device to market…. The regulatory strategy is much broader; it's the whole process that you go through."
"Average regulatory experts know the rules but the best ones know the exceptions."
---
About The Global Medical Device Podcast:


The Global Medical Device Podcast powered by greenlight.guru is where today's brightest minds in the medical device industry go to get their most useful and actionable insider knowledge, direct from some of the world's leading medical device experts and companies.
Like this episode? Subscribe today on iTunes or SoundCloud.