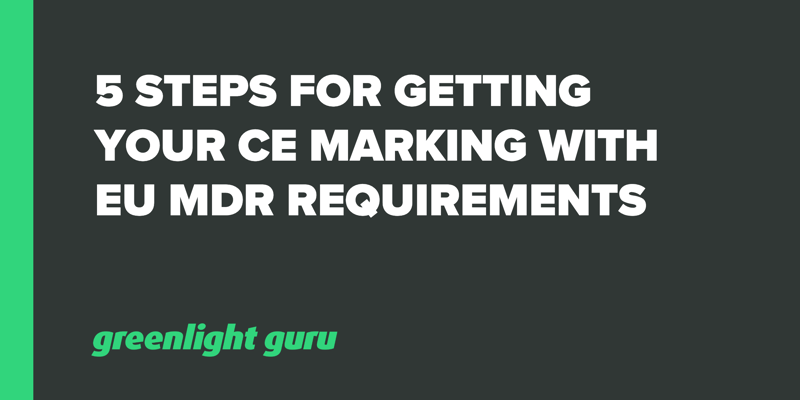 It has long been thought that the quickest path to market for medical device manufacturers is to access the European market by obtaining a CE marking instead of going through the US FDA.
Although the compliance requirements are similar in many ways, the European route is thought to be less bureaucratic, resulting in shorter times to market, greater acceptance rates of new devices, and lesser costs associated with obtaining conformity certification.
While the benefits of obtaining a CE marking are significant, regulations are always subject to change. New modifications to the European medical device requirements are making the process more similar to that of the FDA when it comes to establishing conformity.
By May 2020, a new Medical Device Regulation (MDR 2017/745) will go into effect throughout the European Union. Despite the changes, there still remains a clear path to establishing conformity and obtaining a CE marking that will allow your company to access European markets.
This article describes the path to compliance under European regulation and provides five key steps medical device companies must take in order to obtain a CE marking that allows product distribution into the EU marketplace.
FREE DOWNLOAD: Click here to get a free PDF of our 5 recommended tips to getting your CE marking.
Step #1: Classify and assess your medical device
The first step to obtaining a CE marking can be broadly described as an assessment and classification of your medical device.
You'll need to determine which set of regulations applies to your device based on the nature of the device itself. You'll either be subject to the Medical Device Regulation (MDR 1017/745) or the In Vitro Diagnostics Regulation (IVD 2017/746).
European regulations require that you consult Annex VIII of the Medical Device Regulation (MDR) to classify your medical device according to its risk profile. Classification criteria are based on the duration of contact with the patient, the degree of invasiveness of the device, and the parts of the body affected by use of the device, among other items.
A provided decision tree uses 22 descriptive rules to help you classify your device as either Class I, IIa, IIb, or Class III, according to the associated risks. Once this is completed, you'll understand exactly which regulations apply to your device.
Step #2: Establish a Quality System (QMS) to manage your medical device
Establishing a compliant quality management system is essentially a global requirement when it comes to entering the medical device market. The QMS standards set forth by the European Commission are similar to those of the FDA and other organizations, and many medical device companies use ISO 13485 as a guideline for building an effective quality management system.
Quality management systems are sets of policies and procedures that involve and affect everyone at your medical device company. This includes everyone from the document controller charged with oversight of your QMS to the workers that follow those policies and procedures daily to ensure that your design and manufacturing processes are safe and effective.
An eQMS designed for the medical device industry is the best means of ensuring that your efforts to guarantee product quality and effectiveness get the best results. You'll benefit from cloud-based document storage, document version control, enhanced data security, and superior organization that reduces your time to market.
Step #3: Produce a Technical File to Satisfy EU MDR Essential Requirements
Now that you've properly classified your device and implemented a quality management system at your organization, the next step is to ensure that your device meets the conformity requirements set out in European Commission regulations.
For most medical devices, you'll have to review the requirements of the Medical Device Regulation (MDR 2017/745), ensuring that your device is deemed acceptable across several dimensions, including its appropriateness for the intended use, safety, labeling and packaging, effects of transportation and storage, and risk versus benefit for the end user. Annex I of this document sets out the general safety and performance requirements for affixing the CE marking.
If your medical device is in risk classes I, IIa, or IIb, you'll be required to produce a technical file on your medical device that provides details on the conformity of the device and shows that you satisfy the Essential Requirements.
The technical file should include:
Product Description and Specifications
Manufacturing Information
Risk Management File
Design Verification and Validation Test Reports
Clinical Evaluation
Labeling
The requisite information for creating such a document should already be contained in your QMS and should be easy to source and assemble, provided your organization has implemented a software-based, searchable QMS.
For Class III devices, a Design Dossier should be compiled which contains the data of the technical file along with a description of the design process for the device.
Step #4: Undergo audit by notified body to prove device conformity
Now that you've identified and classified your device, implemented a QMS, and prepared the documentation to illustrate your conformity with EU regulations, you'll need to have your QMS and documentation audited by a notified body. One thing to note is some Class I devices can be self-certified and do not require an audit by a notified body.
A notified body is a third-party company that has been accredited by European competent authorities to conduct audits of medical device companies, and their products and systems. There are several large, international auditing and standards organizations that provide this service.
Step #5: declare conformity of medical device
Once you've successfully passed your audit, you should be issued a CE marking certificate for your product along with an ISO 13485 certificate that establishes that your QMS is compliant with European standards.
The final step is to create a Declaration of Conformity. This is a legally binding document which declares that your device meets all of the essential requirements as laid out by EU MDR and any other applicable regulatory standards.
You can now affix the CE marking to your product, having established compliance with European regulations.
Congratulations!
FREE DOWNLOAD: Click here to get a free PDF of our 5 recommended tips to getting your CE marking.
Understanding the Biggest Changes to ce marking under EU MDR
Overall, the actual process for obtaining a CE marking defined in MDR 1017/745 is similar to the previous process from MDD. However, there are some higher level changes to be aware of, such as:
Inclusion of New Devices - The MDR covers some categories of medical devices that are not currently intended for medical use, but that carries some of the same risks as medical devices that are covered under the new regulations. This change has seen items like contact lenses, dental filling material, and even breast implants subject to medical device safety requirements.
Focus on Post-Market Surveillance - The new MDR places more stringent requirements on medical device companies in regard to post-market surveillance, with the expectation that companies will gather information about the safety and effectiveness of their device in practice by conducting regular clinical evaluations.
New Traceability Requirements - Manufacturers are required to affix device and product numbers to the items they sell, in order to facilitate enhanced traceability and unique identification of devices.
---
Looking for a design control solution to help you bring safer medical devices to market faster with less risk? Click here to take a quick tour of Greenlight Guru's Medical Device QMS software →