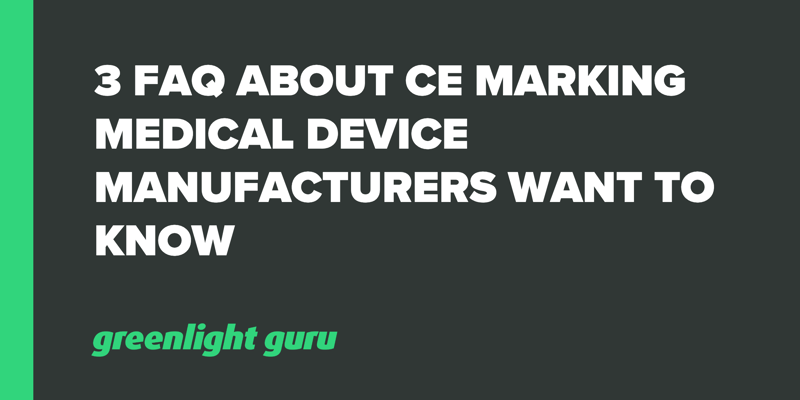 If you take a close look at many of the objects you use each day—keyboards, monitors, headphones, and more—you may notice they have a symbol on them that looks like this:

This is the CE marking, and it signifies that the product you're holding has been assessed and certified to meet safety, health, and environmental requirements in the European Economic Area (EEA). The EEA is simply the countries that make up the European Union (EU), plus a few additional European countries that are not formally part of the EU.
Even if you don't live within the EEA, you'll still find the CE marking on many of the products you purchase, as those products require the marking in order to be marketed in the EEA.
For our purposes, the most important point to keep in mind is that every medical device needs a CE marking in order to be sold in the EEA, even devices with the lowest-risk.
Before you begin the process of obtaining that CE marking, there are three questions commonly asked by medical device manufacturers that you should know the answers to if you want to fast-track your medical device onto the EU market:
FREE RESOURCE: Launching a medical device in the EU market? Click here to download a PDF with the steps you need to take for CE Marking to get there.
What is the purpose of a CE marking for medical devices?
Everyone wants to know that the products they use every day are safe and effective. And for certain product groups, like medical devices, there is too much riding on their performance to leave anything to chance. That's why the need for a CE marking and the process for obtaining it exist.
CE marking stands for "Conformité Européene" (which translates to European Conformity) and it serves as proof that the product has been assessed by its manufacturer and found to meet all applicable EU requirements.
Keep in mind, the CE marking is considered the manufacturer's declaration that their product meets all applicable legal requirements. However, while the manufacturer is technically responsible for declaring their device's conformity, this doesn't mean the European Commission isn't enforcing its own regulations.
Most medical device manufacturers will need to have their quality management system (QMS) audited by an independent notified body (NB) before they can obtain a CE marking for their device. A notified body is a private entity that a member state of the EU has given authority to assess the conformity of medical devices with all applicable regulatory requirements.
Once a manufacturer has passed their certification audit, declared conformity, and affixed their CE marking, consumers should have confidence that the product meets high health, safety, and environmental standards.
What is the process for obtaining a CE marking?
There are five basic steps you'll need to complete to obtain a CE marking for your medical device.
You must classify and assess your medical device. To do so, you'll need to consult Annex VIII of the EU Medical Device Regulation (EU MDR). There, you'll find a rule-based classification system that will help you identify which of the four risk classes (or subclasses) your device falls under. The classes are as follows:



Class I: Devices with lowest perceived risk

Class Is: Devices that must be provided sterile

Class Im: Devices with a measuring function

Class Ir: Reusable surgical instrument

Class IIa: Medium-risk devices

Class IIb: Medium- to high-risk devices

Class III: High-risk devices

Next you should establish a QMS for your device. The MDR is aligned (though still awaiting official harmonization) with ISO 13485:2016, the international standard for medical device quality management systems, so following ISO 13485:2016 is the best way to meet the QMS requirements for compliance with MDR.

After implementing a QMS, you'll need to produce a technical file that provides details on the conformity of your device and shows that you are satisfying requirements as set forth in the MDR.

However, if you have a class III device, you'll also need to produce a Design Dossier, which includes in-depth administrative and technical information that helps facilitate the design examination performed by your notified body.

You'll then need to certify conformity of your device with EU regulations. For Class I devices, you are allowed to self-certify your device.

However, Class IIa, Class IIb, and Class III devices must all undergo a certification audit by a notified body. Additionally, the three subclasses of Class I devices—Is, Im, and Ir—must also use a notified body.

Once you have self-certified or fully passed the certification audit by a notified body, your final step is to declare the conformity of your medical device and affix the CE marking to your product.
What requirements must my QMS meet to obtain a CE marking?
The MDR is clear: medical device manufacturers must have a QMS in place and it must include certain minimum requirements, which are outlined in Article 10 of the MDR, 'General obligations of manufacturers.'
The 12 QMS requirements listed in the MDR are:
A strategy for regulatory compliance, including procedures for conformity assessment and management of modification to the device

Identification and exploration of safety and performance requirements

Resource management

Risk management

Clinical evaluation

Product realization, which includes design, development, production, and service

Verification of Unique Device Identity (UDI) assignments

Creation and maintenance of a postmarket surveillance system

Communication with authorities, notified bodies, and other stakeholders

Process for serious incidents

Management of corrective and preventive actions (CAPAs) and verification of effectiveness

Processes for monitoring and measuring output, data analysis, and product improvement
Fortunately, ISO 13485:2016 covers all of these requirements. And while the MDR does not force manufacturers to use ISO 13485, this standard is the only QMS standard that has been added to the list of standards proposed for harmonization in the EU.
In other words, it is highly recommended you use ISO 13485:2016 to ensure you meet the MDR requirements for quality management systems.
FREE RESOURCE: Launching a medical device in the EU market? Click here to download a PDF with the steps you need to take for CE Marking to get there.

Stay compliant & get your CE marking faster with a QMS built for medical devices
With so much riding on obtaining your CE marking, it simply doesn't make sense to rely on legacy QMS tools that leave you vulnerable when your notified body shows up for an audit.
Greenlight Guru offers the world's only Medical Device Success Platform (MDSP) exclusively for medical devices with the latest regulatory best practices built into every feature. We work tirelessly to ensure our platform is always up-to-date with the latest standards and regulations so that you can bring safe, effective products to market faster—and keep them there longer.
Streamline the CE marking process with a QMS built specifically for medical devices. Get your free demo of Greenlight Guru today.
---
Looking for a design control solution to help you bring safer medical devices to market faster with less risk? Click here to take a quick tour of Greenlight Guru's Medical Device QMS software