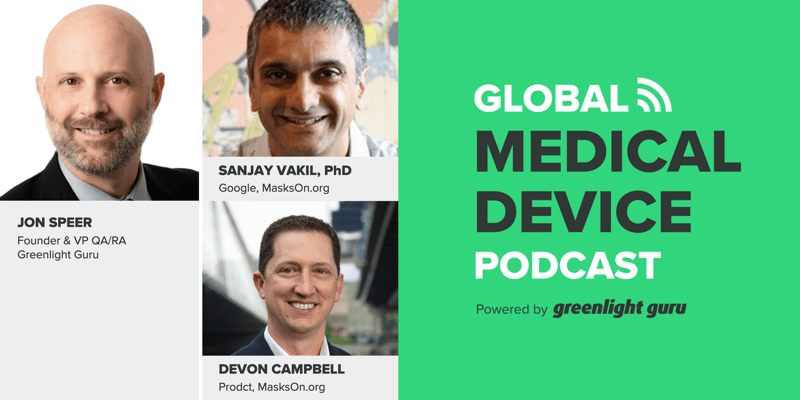 Are you a medical provider or caregiver unable to find facemasks as PPE for COVID-19? Get one for free.
In this episode of the Global Medical Device Podcast, Jon Speer talks to Sanjay Vakil and Devon Campbell from MasksOn.org to discuss the impactful efforts being made through the MasksOn initiative that's providing personal protective equipment and relief at no cost during the coronavirus pandemic.
MasksOn.org is a non-profit effort to mass-produce reusable, sanitizable emergency masks and distribute it to those clinicians who do not have access to FDA-approved equipment. Listen now to learn more about the project and how you can get involved to help protect clinicians and save countless lives.
LISTEN NOW:
Like this episode? Subscribe today on iTunes or Spotify.
Some of the highlights of the show include:
Medical Device Product Development: Devon and Sanjay share lessons learned about moving quickly or spending too much time on regulatory details.
User-forward Process: Put physicians and users first and foremost throughout design and development to create a solution that solves a problem.
MasksOn's level of investment included multiple design iterations, beta testing, tight timeline, user feedback, and quickly getting product developed and shipped.
If most masks make you feel claustrophobic, MasksOn's retrofitted scuba masks and valve mechanisms are simple, safe, and comfortable.
Regulatory Challenges: FDA's PPE guidance clearly describes labeling and emergency use authorization (EUA), such as for medical provider masks.
MasksOn's Distribution Strategy: Word of mouth went viral as a side effect to COVID hotspot map. Lots of little things make a big difference in people's lives.
Not-for-Profit Purpose: Raise in-kind and direct donations to keep clinicians safer. MasksOn is almost halfway there with about $2 million of its $5 million goal.
Lack of Ego Environment: Nothing gets in the way of progress because MasksOn is a non-profit organization, led by physicians, and run by volunteers.
Links:
Emergency Use Authorization (EUA)
MedTech True Quality Stories Podcast - Creating a Culture of Quality at your MedTech Company
MedTech True Quality Stories Podcast
Greenlight Guru True Quality Roadshow
Greenlight Guru YouTube Channel
Memorable Quotes from this episode:
"It was much more designing a solution to a problem rather than designing something and going out there and looking for a problem to solve with it." Devon Campbell
"They (MasksOn's masks) are designed to be used many, many times." Sanjay Vakil
"Our distribution strategy, which has been very, very simple, as a non-profit we wanted to basically give away masks to somebody that asked for them." Sanjay Vakil
"We are getting more and more orders out there. The need is real, and the demand is real." Devon Campbell
---
ABOUT THE GLOBAL MEDICAL DEVICE PODCAST: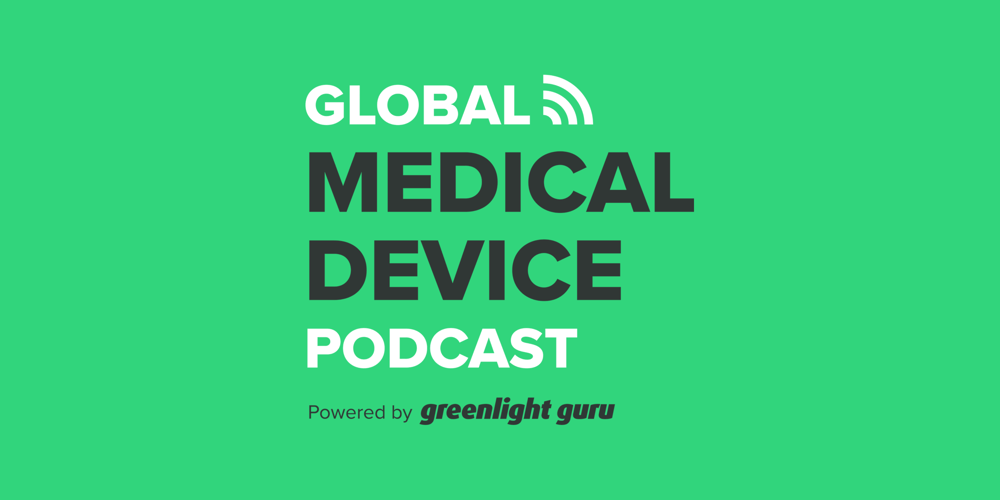 The Global Medical Device Podcast powered by Greenlight Guru is where today's brightest minds in the medical device industry go to get their most useful and actionable insider knowledge, direct from some of the world's leading medical device experts and companies.