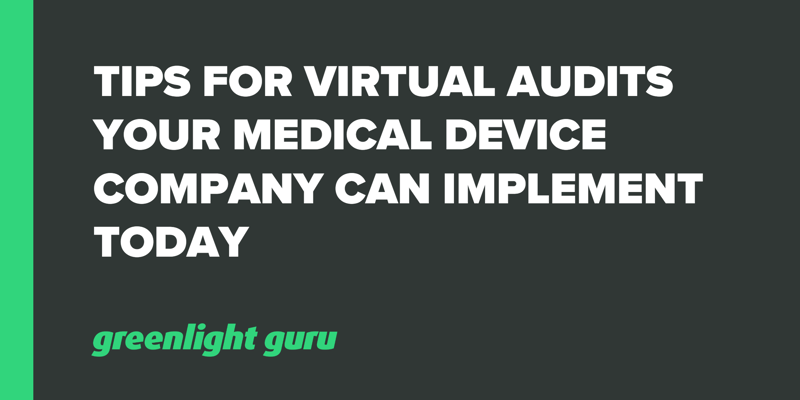 Auditing medical device manufacturers is one of the most important aspects of ensuring quality standards.
However, due to the COVID-19 pandemic, as well as related travel restrictions, concerns for personal safety, and financial issues, it's becoming increasingly popular to ditch in-person audits for the convenience of virtual audits.
While they cover the same breadth of information as traditional audits, these remote visits can pose some areas of question or concern for medical device organizations. With that in mind, let's take a close look at medical device virtual audits, what to expect, and how to plan ahead.
NEW COURSE OFFERING: Learn about remote audits, virtual Inspections, and other alternative tools/methods regulators have implemented during the Covid 19 pandemic in this free course from Greenlight Guru Academy.

How do virtual audits for medical devices work?
Virtual audits - also known as remote audits - are intended to resemble traditional audits as closely as possible. Auditing parties will be arriving on behalf of regulatory bodies to investigate organizational practices and ensure they're aligned with any industry or federal requirements.
During the virtual audit process, medical device organizations are expected to provide auditors with necessary paperwork, documentation, and insights according to the auditors' requests in the electronic manner as agreed upon by all parties.
Most activities in a virtual audit will be performed off-site, not only for an auditing party but also in some circumstances for members of the medical device company. That being said, some audits may require additional in-person visits to the facility as well.
Though virtual audits are becoming increasingly popular, especially with the new allowances given by FDA and EU MDR, they still may not be a great fit for all auditing scenarios. For instance, virtual audits may not be ideal for organizations seeking first-time certifications or for audits that focus on the workplace environment or infrastructure.
How to prepare for medical device virtual audits
For medical device companies who have yet to undergo a virtual audit, it's understandable to have some apprehension. One study of medical device companies found that 98% of participants perceived a lack of guidance as being a significant hurdle in the remote audit process.
However, with some preparation and organization, virtual audits can run much more smoothly. Here are some tips to help you navigate this process:
Plan ahead for logistical details
While virtual audits are meant to mirror traditional ones, the logistics of a non-face-to-face meeting can present some challenges. For one, auditors or notified bodies will likely be in a different city, or potentially different timezone, meaning that syncing up on scheduling will be a vital first step.
Discussing expectations with the auditing party is also a good idea. You may ask questions about how they'll handle lunch breaks or who needs to be available for interviews throughout the course of the audit.
Your auditor may not be able to give a precise answer on how long the audit will take, but they should be able to provide you with a general idea so that you can plan for any interruptions in day-to-day work.
Run a technical check to confirm all parties involved in virtual audit have the necessary technologies
In order to achieve a similarity to traditional in-person audits, the virtual audit process requires the use of information and communication technologies (ICT) to conduct interviews, securely exchange information and documentation, and even take tours of a facility. Additionally, documentation may be submitted via email or secure messaging.
In ISO 19011, Guidelines for Auditing Management Systems, the international standard outlines the basic requirements for using ICT during a virtual audit. Use of ICT hinges on whether or not it is "feasible."
To determine feasibility, the standard calls for determining what technology will be used, if auditors and auditees have competencies and that resources are available, and the quality of online connection. This also should include any team members who will be connecting from a home or remote audits. All of these questions should be answered prior to scheduling any virtual audit.
Once feasibility has been confirmed, it's important to run a technical check, in which both organizations conduct test runs on the chosen-ICT platform to ensure there are no issues with audio, video quality, software updates, or browser compatibility.
Give employees access to digital documentation ahead of audit
One of the primary aspects of any audit is reviewing relevant documentation, design files, internal audit records, and CAPA events. During traditional audits, providing these materials is as simple as sliding them across the table. However, virtual audits will require organizations to locate and share these documents digitally, which can slow down the process if your team is unfamiliar or unequipped to do so.
Completing a gap analysis on your documentation storage is a great way to avoid these issues. Make sure you know which documents and records are maintained digitally, and which ones you'll still need to digitize.
It may be helpful to index as many relevant documents as possible into a single desktop folder to avoid the uncomfortable experience of screen sharing a treasure hunt for the auditor's requested documentation.
Protect Both Parties with confidentiality, security and data protection
Another area of consideration is ensuring what ISO 19011 refers to as confidentiality, security and data protection (CSDP). Whereas traditional routes of auditing would see sensitive documents being stamped with privacy notices, the same expectation of security cannot be expected when doing so online.
With that in mind, ISO 19011 emphasizes how manufacturers should follow the safest and best practices, stating:
It is a good practice that when documented information is to be analysed in an asynchronous manner, it should be shared in a secure and agreed system, such as cloud based, Virtual Private Network or other file-sharing systems, utilizing CSDP guidelines.
Consult with your IT team to ensure that the necessary permissions and safety measures have been taken. Make note that ISO 19011 guidelines place the onus on the auditing organization when it comes to prevention and retention methods around audit documentation.
NEW COURSE OFFERING: Learn about remote audits, virtual Inspections, and other alternative tools/methods regulators have implemented during the Covid 19 pandemic in this free course from Greenlight Guru Academy.

How Greenlight Guru can help you pass your next virtual audit with flying colors
Having the right eQMS solution is paramount in passing any virtual audit, especially when it comes to organizing, connecting, and keeping track of all the necessary documentation.
With Greenlight Guru Visualize, you can say goodbye to the memory-driven, list compiling, worrisome period of time spent preparing for an audit or running a war room during one. Instead, Greenlight Guru provides its users with a centralized view of all quality system data, allowing you and your auditor to have instant access to any document with the click of a mouse.
Ready to get started? Contact us today to schedule your free demo!
---
Looking for a design control solution to help you bring safer medical devices to market faster with less risk? Click here to take a quick tour of Greenlight Guru's Medical Device QMS software