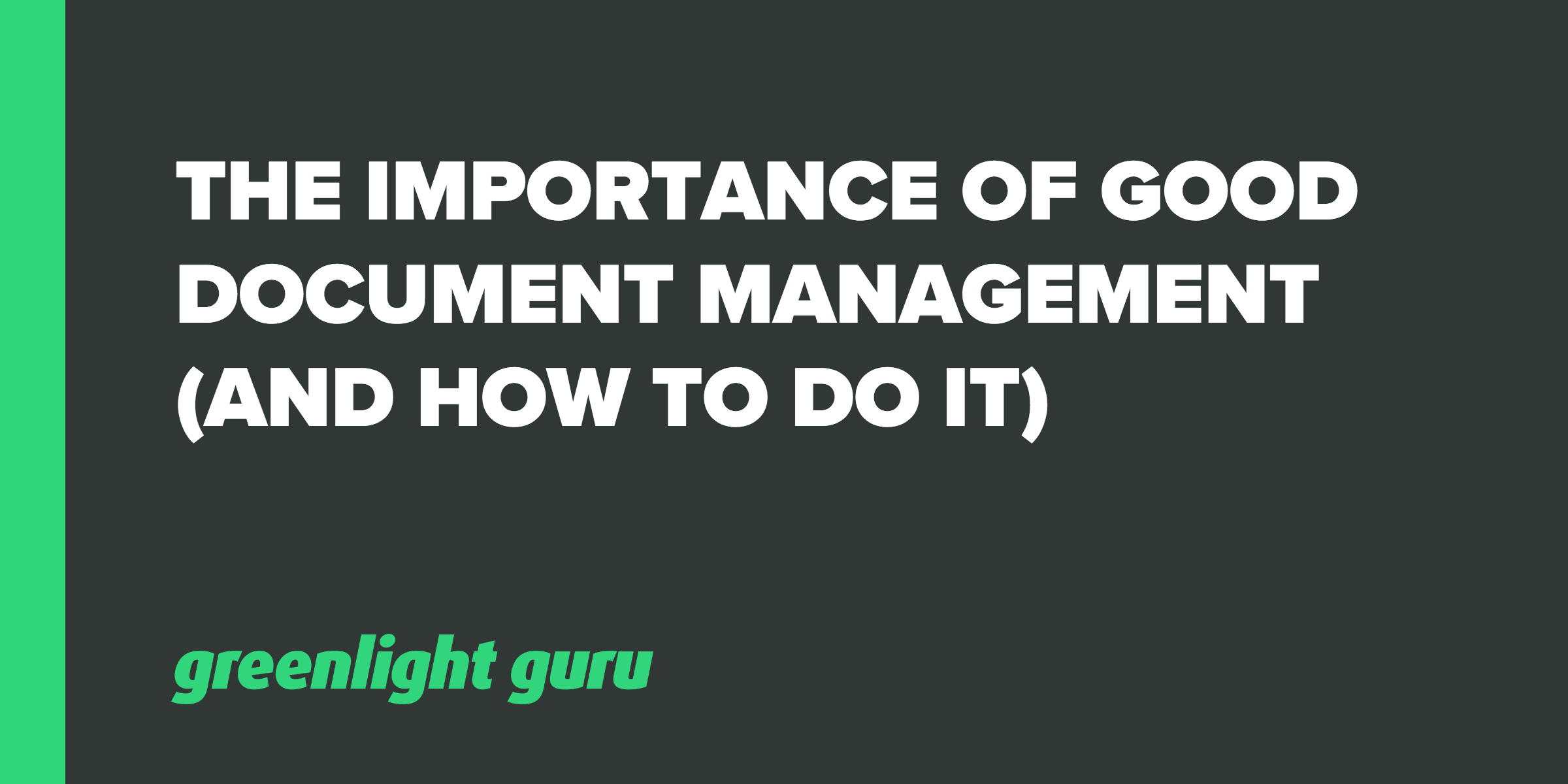 The long-term success of medical device companies depends on the strength of their foundation.
Good document management is a critical component of this foundation – and in fact, it might be the most important part – because it's the repository where all of the objective evidence and proof surrounding an organization's products are housed.
It should be the single source of truth that the right things took place, that the right people were involved, and that the right products were indeed developed. When a team's document management approach is ad-hoc in nature, i.e. housed in random file cabinets or in a Dropbox folder, the entire foundation of the business is unstable.
A powerful solution like the one we've built here at Greenlight Guru will not only make your foundation stronger, it will help your team operate on a higher level of quality.
Download Now: Free tips on how document management can benefit your organization
When organizations don't know when or how or what to do to formalize documentation practices, it can cause enormous amounts of confusion in the long run. Team members often end up housing and maintaining documents on their hard drives, or resort to setting up a cloud storage to share files, but those places just become dump stations for 'stuff' and 'random documents'. These methods don't provide any true formality, which is a key component to have present in any document management system. It's critical for companies during any stage of product development, to place a strict emphasis on improving the structure and order of their procedures.
I was recently on a call with an early-stage medical device company, and it was pretty clear they didn't know where to begin when it came down to building a document management strategy. With a functional prototype in production, and a looming goal to complete a regulatory submission within the next 6-9 months, they were at a loss when it came to understanding and formalizing their documentation process.
Although this happened at a start-up, this is an extremely common occurrence in the medical device industry, even for established companies. It's often a knee-jerk response to think that by having a formal document management process in place, it will 'stifle my innovation' or 'slow down processes'; however, this won't be the case as long as your document management system is built into the foundation of your business.
When document management systems are appropriately structured from the start, they in fact help to encourage innovation and growth, instead of impeding it. Strong document management processes ensure everyone in your organization, regardless of the department or team, knows exactly where a document is housed, which stage it's at in the review process, what still needs to be added, and whether any discourse actions might be needed. It fosters a collaborative environment amongst teams and helps push projects across the finish line in a more timely manner.
For any medical device company, certain situations can arise where the absence of a document management system can even hinder your business operations, resulting in the loss of precious time, money, and resources.
Let's say you're planning on purchasing a new order of tooling for a component that's being drafted. Without a formal document review process, you could end up spending tens of thousands of dollars on tooling that misaligns with your current specifications.
Without a formal review process, what assurances do you have that this purchasing decision was correct? I've seen numerous companies end up in this inadvertent situation and I just have to shake my head because the entire issue could have been avoided by having a more formal document management process in place. Imagine having the luxury of an autopilot system that can correct problems before they begin to rear their ugly head. You're in luck, this kind of system does exist -- read on to learn more.
How to Tell if Your Organization Needs a Modern Document Management Solution
Many medical device companies, both startups and established organizations -- and everything in between, aren't entirely sure whether or not they actually need a formal document management system. If your team doesn't have a formal process in place, it might mean re-tooling the entire foundation of your business. It's well worth your time to now (rather than later) implement stronger, longer-lasting processes that can help your team work smarter and operate leaner down the road.
Here are some common situations that you might find yourself in that warrant a closer look to consider adopting a formal document management process:
You're storing official documents and reports within various file folders in Google Drive. Many organizations start with paper-based management solutions because they fear validation of their system.
Unfortunately, this means that the 'master copy' of any important drawings, blueprints, or process orders are also in paper format. To mitigate risks associated with this process, companies will often build ad-hoc electronic 'solutions' that are set up in a folder structure.
In this structure, one folder is often called something along the lines of 'Drafts' and another is called 'In Review' and another folder might be called 'Published.' The problem here is that when a document is placed in one folder, it then has to be manually moved to other folders as the stage changes. These documents must also be printed out, manually edited, scanned, uploaded back to a new folder, and then removed from the original folder – all without any clear audit trail tracking this activity.
We know one thing for sure -- there's no way to track online reviews and approvals with this method. These manual edits, changes, and approvals will continue to compound over time, resulting in inevitable and surplus opportunities for error.
You're making purchase decisions based on outdated or incorrect documentation. The medical device industry is notoriously expensive in its operating costs, and even a small purchasing decision that is slightly off can become an incredibly costly mistake, both for companies' bottom line and time spent correcting the issue.
Let's say a company ordered four or five different tooling parts that took 12 weeks to come in. In that timeframe, the documentation had been updated, but the new design did not make it to the manufacturer in time. This hypothetical situation, albeit a harsh reality for some, would leave an organization with upwards of $100,000 in unusable, outdated materials.
You're facing an upcoming ISO audit or FDA inspection and you can't locate your most recent reports. If you're preparing for an upcoming ISO audit or an FDA inspection, the best way to demonstrate compliance is through formalized, timely documentation and records.
If your current processes include outdated documentation and records, and you deliver these to your auditor, your company could face serious retribution for noncompliance. If this happens, you'll have no choice but to dedicate resources (time and money that would be better spent elsewhere) to remedy the situation.
No one wants to be in damage control mode, and these short-term fixes only act as a bandaid to the bigger issue at hand, which is an insufficient document management process.
I personally have been a part of companies in the past who had outdated or ad-hoc systems in place, and I've had to be the person responsible for collating and organizing critical documents, under critical deadlines. This is a ton of pressure to put on a single person, and it puts your organization, as a whole, at risk. If your entire organization relies on one or two people to manage documentation and processes, the second they're no longer available, the entire foundation of your organization is in jeopardy.
How to Implement a Winning Document Management Process in Your Organization
When it comes to building a strong foundation for your document management processes in your organization, it's important to look for solutions that address issues and concerns across your entire organization. Everyone from engineering to product development to marketing relies on proper documentation to move projects forward, which means every department will have a hand in using and working with your new system. Here are a few platform must-haves to keep in mind when choosing a document management solution for your team:
The solution is 21 CFR Part 11 compliant and allows for near no effort validation
An easy-to-follow document routing process for reviews and approvals
The ability to do all reviews and approvals electronically without the need to print and/or scan
Offers complete revision control of all document and creates unimpeachable artifacts of records
A full audit trail that tracks all document, record, and procedure activity from each person involved in the process
Instant visibility into exactly where a document is at any given point in the review cycle, whether it's in review (and who it's with) or who has signed off
Has Part 11 compliant signatures and password protection built in
Document level permission to assure the right people have access to the right documents at the right time.
We're in an age where the latest and greatest in documentation and records must be readily available at the click of a button. The only way to achieve this is with technology and electronic solutions.
Organizations that continue to perpetuate the outdated belief that paper is still a viable option are going to fall behind.
With all the new regulatory changes that have come with ISO 13485:2016 and the EU MDR, it's now nearly impossible to comply with these regulations using a paper-based system.
Greenlight Guru's quality management software solution was designed specifically to meet the needs of the medical device industry, and the entire platform is optimized to keep you compliant with the ever changing medical device regulations allowing you to put the focus on the quality of your devices.
As you're looking for a formal document management solution to meet the needs of your team, keep the following best practices in mind:
You must have a system in place that is proven and validated to meet FDA and ISO requirements for electronic records. This means having an industry-specific platform that is custom built for the medical device industry. These requirements are well defined and outline a clear criteria checklist that your electronic platform must meet. At Greenlight Guru, because our software platform is built exclusively for the medical device industry and has a true multi-tenant architecture, we're able to provide our customers a pre-validated environment that allows for a near zero effort validation environment. LNS Research expanded on this concept in the piece, "The State of the Market: Software Validation in Life Sciences."
You must have the peace of mind knowing your documents and records are safe and secure. Medical device organizations should be able to set document permissions, granting access to the right people and preventing access to the wrong people. Document Sharing is a new feature of the latest release of the Greenlight Guru platform, giving you the ability to determine who has access to your confidential information.
You must have a single source of truth where you can manage, control, and maintain all activities associated with document review, approval, and version control. This means those piles of paper or multiple Dropbox folders are a thing of the past. Greenlight Guru allows teams to have a full chain of custody for a single document with a full audit trail. Full review, approval, and time stamp functionality – including secure electronic signatures – come fully equipped in this out of the box platform.
Greenlight Guru's newest product release, Advanced Document Management, combines an already superior functionality platform with targeted features to offer medical device companies an all-in-one document management system. Some of the most innovative new features include:
A platform that is source-file type agnostic. Documents and records often come in a variety of different file types, especially if you're working with product drawings or mock-ups. Greenlight Guru's platform works with any kind of file type and automatically creates a PDF version of every document for audit purposes. This non-editable PDF houses the electronic signature portion of the review process, ensuring complete compliance for all of your documents.
The ability to add multiple metadata elements for increased search functionality. When you add documents and records into the Greenlight Guru software, you'll now be able to identify several metadata elements (tags, categories, etc.) that help to sort documents into different filters. This adds a Google-like search element into the entire platform to help teams narrow down their documents and data to immediately find what you're looking for – increasing productivity and efficiency in the process.
Increased document sharing permissions to identify exactly who needs access to a particular document or record. Let's say, for example, that you have a supplier who needs access to your most recent print. If you're working with external vendors or manufacturers, you can share specific documents with these people to ensure they have access to the most recent version of your documents. You might also have end users or customers who, while you don't want them to see everything, might need access to certain documents or user manuals. Even within your own organization, roles and permissions might be different. You have the control of setting these permissions, granting or restricting access as you feel fit.
More in-depth document routing processes. In the medical device world, documents often relate to other documents, and Greenlight Guru has rolled out a routing feature to help companies gain better visibility into interconnected and related documents. If, for example, there is a product development procedure in your QMS, this procedure is probably connected to a product risk management procedure. While these are different workflows, there is a strong correlation between the two and they can be identified as 'related to each other' through new functionalities of the Advanced Document Management solution. If the product risk management procedure is updated and the person in charge sees other related workflows, it gives the entire team better visibility from a business standpoint to know whether further changes are necessary. This intuitive vantage point optimizes overall change management from a strategic business perspective all the way down to your development operations.
Free Resource: How can your Organization Benefit from a Formal Document Management Solution? Find out here!
so why document management?
Having a formal document management system in place is the next logical step for companies in the evolution of creating a single source of truth for all documents and records.
The content repository housing all internal documents and records is the foundation of a medical device company.
The more robust and usable a document management system is, the faster it will help move safer, higher-quality products to market and ultimately improve patient lives. Advanced Document Management from Greenlight Guru can help your team collaborate more effectively, better navigate audits/inspections and easily locate critical information, eliminating unnecessary costs, reducing manual work, and decreasing your overall business risk.
NEW: Click here to get a demo of Greenlight Guru's new Advanced Document Management Software.