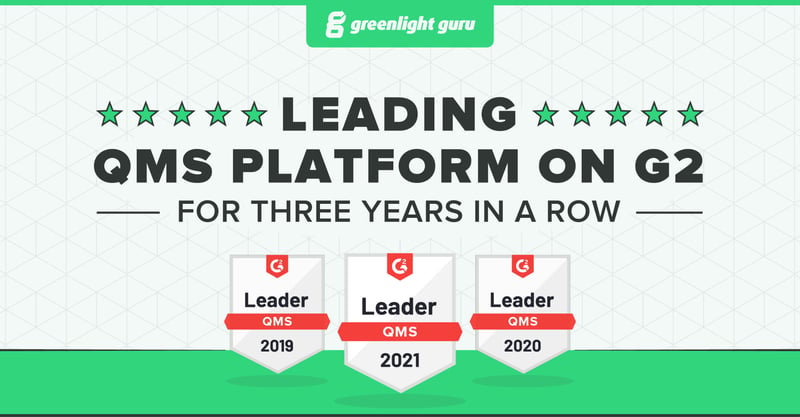 Greenlight Guru is proud to announce that for three years straight, we have been named the leader in G2's Quality Management (QMS) category, following the recent release of G2's 2021 Fall Grid Report.

Greenlight Guru has also been ranked #1 in the Medical Device QMS category for the third consecutive quarter, securing our position as the leading Medical Device QMS since G2 launched this category.
These rankings are based on reviews from customers who work at medical device companies either commercializing their first product or advancing the success of their products already in the market.
Other notable highlights from the Fall 2021 G2 Report include the following satisfaction rankings:
92% - Likelihood to Recommend Greenlight Guru

96% - Believe the product is going in the right direction, four points higher than next leading QMS solution

97% - Satisfied with the quality of Greenlight Guru support
FREE REPORT: Click here to access the full G2 grid report to see how users ranked Greenlight Guru.
Here's what some Greenlight Guru customers had to say:
"Greenlight Guru's quality management software is an excellent choice for those looking for an eQMS system catered towards medical devices. The system is an out-of-the-box solution that can save you a lot of time and frustration. We are now more confident than ever that we are fully compliant with all relevant ISO standards and regulatory requirements for the FDA and MDR." –Administrator

"My [company] has been using Greenlight Guru for our eQMS for the past 8 months and have been very impressed with its capabilities and ease of use. Its ability to streamline document review & approval as well as requirement and risk activities is fantastic." –Program Manager

"Deciding to go with the GG QM Software opens up access to a gold-standard level of support with Customer Success and Guru Services teams." –Administrator

"Greenlight Guru helps to create compliant documentation within all projects and to have every needed information in one place." –Regulatory Specialist
"Three years is a long time, an accomplishment our entire team is proud of ," says David DeRam, CEO. "We cannot thank our customers enough for sharing their feedback and providing input. We've been on a journey to provide medical device companies with a solution specific to their needs that ensures their success throughout their own journey of product innovation, commercialization, and beyond."
In addition to being named the Leader in both QMS and Medical QMS categories, Greenlight Guru proudly earned numerous G2 badges including:
Best Support (Medical QMS)

Users Most Likely to Recommend (Medical QMS)

Best Relationship (QMS, Medical QMS)

Momentum Leader (QMS, Medical QMS)

High Performer - Mid-Market (QMS, Medical QMS)
FREE REPORT: Click here to access the full G2 grid report to see how users ranked Greenlight Guru.
How Does G2 Choose QMS Leaders?
In order to be placed in the Leader quadrant in the Grid® Report, solutions must be rated highly by G2 users and have substantial Satisfaction and Market Presence scores. Satisfaction scores consider multiple factors including product areas such as ease of use, ease of admin, ease of setup, and if a product meets user requirements as well as customer experience factors including ease of doing business with and quality of support.
This is Greenlight Guru's 12th consecutive quarter in the Leader position for the QMS category and our 3rd quarter named as a Leader for the Medical QMS category. In collaboration with the G2 research team, Greenlight Guru assisted in the creation of this new software category so that medical device companies seeking an eQMS platform could select a platform suited to industry needs by referring to other medical device users' feedback.
"It's an honor to be continually recognized by our customers for the quality of support and relationships we build with them throughout our partnership,'' says Fran Cruz, VP of Customer Success. "I speak for the entire customer success team when I say that we love working closely with our customers on best practice approaches throughout their product's lifecycle and watching them succeed. It is great to see that our relentless focus and spirit of fanatical support is recognized by our customers."
We want to thank all of our customers for choosing Greenlight Guru and taking the time to share their experiences.
Read more customer feedback on G2's Greenlight Guru review page. See the methodology for G2's grid reports here.
---
Want to see why users rank Greenlight Guru as a leading QMS software? Click here to take a quick tour of our Medical Device QMS software