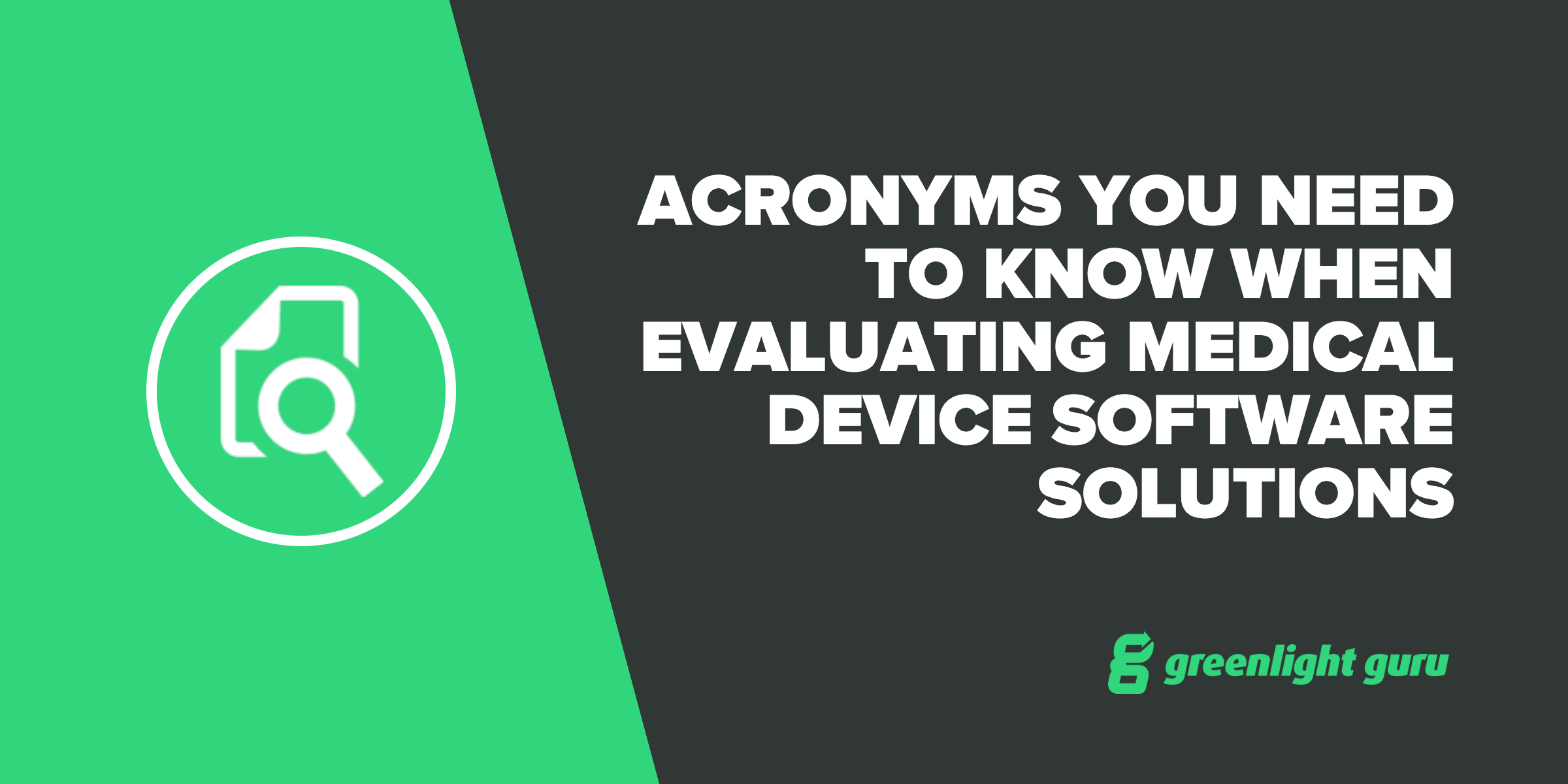 Ah, yes!
You aspire to run your device company in a paperless environment.
Allowing you to capture all the important data and information regarding your medical device in various software packages to help you better manage your business.Whether you are just beginning your research into all the options or have been evaluating the choices for a while, I want to share with you a few of the more common acronyms thrown around for various types of software solutions.
As you evaluate the choices, it is important for you to know what each of these options is intended to help you address.
It is important for you to evaluate the options that meet your specific business needs.
Without a little bit of knowledge about all these acronyms, many of these letters might seem like alphabet soup.
eQMS
Since you are a medical device company, establishing a QMS is a must.
A QMS is a collection of policies, manuals, procedures, forms, etc. which describe your business practices to ensure medical devices are designed, developed, and manufactured to meet customer needs and ensure safety and efficacy.
An eQMS is a system designed to store, manage, and maintain all of the items comprising your quality system. An eQMS should also store, manage, and maintain all quality records generated.
A key aspect of an eQMS solution is document control and records management. Refer to DMS section below.
DMS / EDM
Document Management System pertains to ability to control, manage, and maintain documents and records. This includes maintaining complete revision history of documents and records.
Many DMS / EDM solutions include electronic signature capabilities. Be sure the system meets requirements of 21 CFR part 11.
eDHF
Design controls are documented activities captured as part of medical device product development to demonstrate the device is safe, effective, and meets intended use. A Design History File is where design controls are managed and stored.
An eDHF should address and align with FDA 21 CFR part 820.30 design control regulations and ISO 13485, section 7.3 design & development requirements. An eDHF should also meet requirements of 21 CFR part 11.
PLM
Product Lifecycle Management
Product Lifecycle Management is about managing all aspects of a product, starting from inception, through design and development, during production, during post-production activities, and until the product is no longer in the market. A phrase often used to describe PLM is "cradle to grave".
A PLM system is generally more product-centric and will often tie into a bill of material (BOM), or listing of all materials and components that comprise a medical device.
A big part of a PLM is the idea of configuration management, or tracking materials, components, and parts and revisions. A PLM should include and manage drawings and specifications, including revision history of these items.
A PLM system is object-oriented, meaning there is a linkage between materials, components, and parts (often by assigning part numbers) and the corresponding document (i.e. CAD, prints, specifications).
PDM
Product Data Management
Product Data Management involves the use of software to manage and maintain data related to materials, components, and parts. Specifically, PDM include source files for CAD, schematics, etc. related to the product.
Most PLM systems either include PDM features or will integrate with a PDM system. Many CAD packages incorporate PDM as part of their feature set.
ERP
Enterprise Resource Planning
Enterprise Resource Planning relates to production planning. An ERP system is used to track and manage inventory of production-related goods and materials. ERP should include ability to issue and track production work orders.
A product bill of material (BOM) is incorporated into an ERP. An ERP should also incorporate costs associated with materials, lead times, and turn-over of materials and finished goods. Often times, an ERP will either include or provide linkage to accounting systems.
ERP is very much manufacturing centric and provides real-time data on good and materials associated with products. Most ERP's are overkill for early stage medical device companies.
Many ERP systems include the ability to link prints and specifications to specific components. Some ERP systems support vendor management.
MRP
Manufacturing Resource Planning
MRP includes master production schedule, product item master, bill of materials, purchasing, and materials planning.
Manufacturing Resource Planning is very similar to ERP. Generally, MRP is incorporated within ERP.
In Closing
Be cautious if a particular software package claims to do all of the items listed above. Chances are the software package will address only a few of these areas at most as a strength.
Be sure when you are evaluating systems, they address your specific business needs. For example, if you are in the market for an eQMS, then talking to providers of PLM or ERP solutions probably does not make much sense.