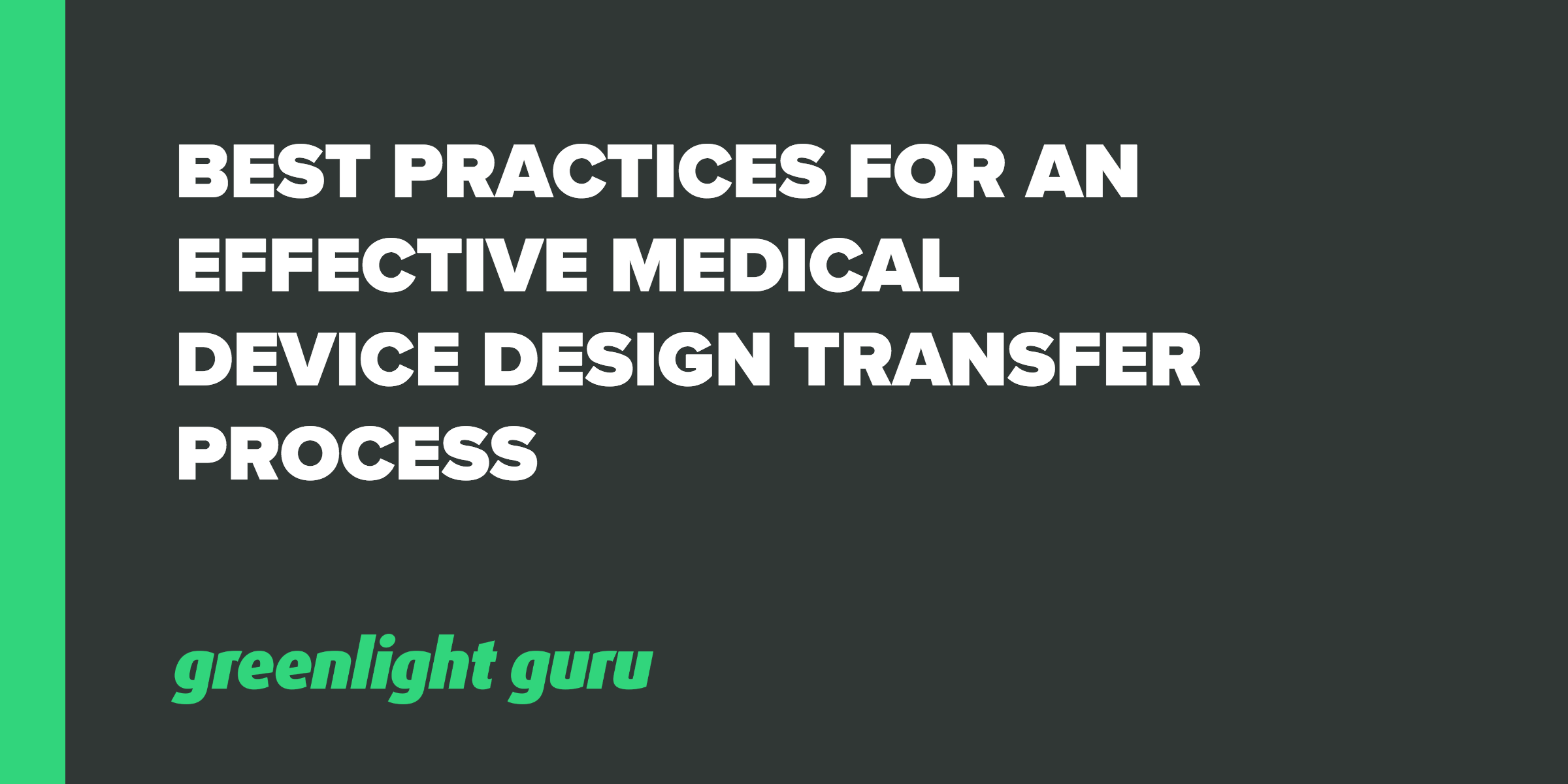 If you're looking for information on design controls and product development, you can find a practically endless number of articles, videos, and podcasts with a few quick online searches.

Yet with so much out there on these topics, there's a glaring omission of a closely related subject: design transfer.
Not only is design transfer left out of many guides and overviews of the product lifecycle, it's also relegated to just a single sentence in 21 CFR Part 820:
Each manufacturer shall establish and maintain procedures to ensure that the device design is correctly translated into production specifications.
If that sounds too vague to be of much help, you're not alone. With so much uncertainty around design transfer, let's take a closer look at the process, when it should happen, and what it should entail.
BONUS RESOURCE: Download your free copy of our Checklist for Design Transfer to Manufacturing by clicking here.
What happens during "design transfer"?
The basic definition of design transfer is the process by which a medical device's design is transferred to production. However, this is a deceptively simple way of explaining a much more complex and ongoing process.
Design transfer is not a single event; you're not handing off a baton to the manufacturing team and telling them to run with it. When it's done correctly, design transfer occurs throughout the entire design process.
Still, as per the FDA's statement on design transfer, your company must have procedures in place to ensure the transfer is successfully executed. These procedures are not just another box to check, either.
The design transfer process includes a number of activities—like demonstrating successful design verification and validation and ensuring your device master record (DMR) is complete and accurate—that must occur before manufacturing can begin.
Many medical device companies use a design transfer checklist to make sure that all the necessary activities have been completed and documented. A good design transfer checklist also includes all the documents, like the bill of materials, assembly drawings and finished product specifications, that need to be passed on to the manufacturing team.
When should you start the design transfer process?
The short answer is, at the very beginning of the design process.
This may seem like an exaggeration, but it's critical to the success of your design transfer process that you consider how the design will actually be produced. If your team never takes manufacturing into account, you can easily be saddled with expensive delays and design changes at the exact moment you'd like to be scaling production.
There are a couple common mistakes that keep medical device companies from starting their process early enough.
Don't wait until design validation testing to begin thinking about manufacturing
FDA regulations on design controls clearly state that product validation must be performed "on initial production units, lots, or batches, or their equivalents."
Companies often wait until they need these initial units to begin thinking about design transfer, but that's a mistake. For one thing, your units must be built in the production environment, using your design outputs (e.g., drawings and specifications).
You don't want to delay your validation process because a contract manufacturer tells you there's a problem with producing the device you've designed.
What's more, even if you produce a few units for testing, that doesn't necessarily guarantee you'll be able to manufacture full-scale production volumes the same way.
Don't assume that the product development team is thinking about design for manufacturing
The biggest mistake medical device companies make in the design transfer process is assuming that the product development team has manufacturing in mind as they design the device.
Your engineers will be focused on things like how the design outputs meet design inputs, but that doesn't mean they're always considering what it will be like to manufacture the product at scale.
The solution to this problem is simply to involve production team leaders or manufacturing engineers early in the design process—not when you're nearing the finish line.
Looping in manufacturing experts during design controls allows them to assist with the design transfer process from the very beginning. They can provide insight on manufacturing approaches and offer expert insight on the viability of proposed materials or design, ensuring that the design process is not siloed from production considerations.
BONUS RESOURCE: Download your free copy of our Checklist for Design Transfer to Manufacturing by clicking here.
Use Greenlight Guru's design control software for an airtight design transfer
With so many moving parts involved in a design transfer, all it takes is one slip-up to result in costly delays in production. And when you use a paper-based quality management system (QMS) you're almost certain to miss a signature, forget to update a document, or lose one entirely when you need it the most.
That's why at Greenlight Guru, we built our Medical Device Success Platform (MDSP) with design control software that provides a centralized workspace where everyone can see each other's updates in real time.
No more wasted time chasing signatures, searching through endless email threads, and dealing with messing design transfers. Everything you need is at your fingertips, in a single, centralized, and easily searchable system.
Get your entire team on the same page. Get your free demo of Greenlight Guru today.
---
Looking for a design control solution to help you bring safer medical devices to market faster with less risk? Click here to take a quick tour of Greenlight Guru's Medical Device QMS software →