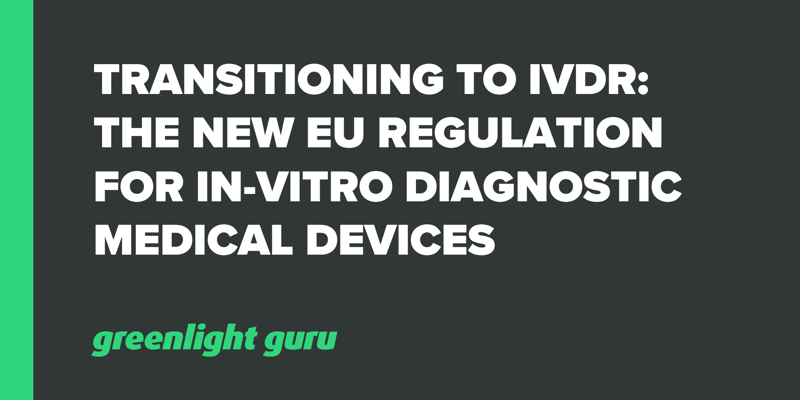 In the European Union, in vitro diagnostic (IVD) devices are governed by a specific set of regulations that distinguish them from other medical devices.
Currently, IVDs are subject to the In Vitro Diagnostic Medical Devices Directive (IVDD). However, in 2017, the European Commission (EC) published a new mandatory regulatory framework for IVDs, which was set to go into effect on May 26, 2022, but has since been delayed due to concerns about the feasibility of the initial timeline.
The new regulation is known as the European In Vitro Diagnostic Medical Device Regulation (EU IVDR), and it will repeal and replace the older IVDD.
The news of EU IVDR's delay is an added complication to an already complex situation. So, we thought it would be a good idea to break down what's changing and what to expect during the transition to compliance with the new IVDR regulation.
BONUS RESOURCE: Ready to begin your transition to IVDR compliance? Click here to download the free version of this gap analysis tool.
Overview of In Vitro Diagnostic Regulation (IVDR) in the EU
In vitro is a Latin term meaning "in glass." In a medical setting, in vitro is used to describe a process that takes place outside the body, e.g., in a test tube, culture dish, flask or other container. In other words, processes that happen "in glass" as opposed to within an organism.
Under the IVDD, in vitro devices have had a relatively relaxed regulatory framework within the EU. The vast majority of IVDs do not require the review of a Notified Body (NB), allowing IVD manufacturers to self-certify, instead.
That was all expected to come to an end in May of 2022. However, due to a shortage of Notified Bodies (NB) and concerns that a significant percentage of IVDs on the market would not be able to make the transition, the European Commission (EC) has proposed a delay in implementation of IVDR.
Technically, IVDR will still go into effect on May 26, 2022, but it will only apply to new IVDs not already on the market and Class A non-sterile devices (which do not require the involvement of a notified body).
For all other IVDs, the two-year transition period has been extended from 1-3 years, depending on device class. Class D devices will have until May 2025 to comply with IVDR, Class C devices will have until May 2026, and Class B and Class A sterile devices will have until May 2027.
Key differences between IVDD and IVDR
IVDR is approximately four times longer than the IVDD, which means we can't cover every change and new requirement in the IVDR regulation. However, there are a number of points that every IVD manufacturer should be aware of:
There are no "grandfathering" clauses in IVDR. Any moderate- to- high-risk device must be certified by the DoA. Low-risk devices have a longer timeline, but manufacturers must still be compliant with IVDR QMS requirements by the DoA.
The ratio of IVDs that will require a conformity assessment by a Notified Body is being flipped on its head. Only manufacturers of non-sterile Class A devices will be able to self-certify, meaning that anywhere from 80-90% of devices will require a conformity assessment by a Notified Body.
Provisions for software are included in the regulations of IVDR. Software as part of an IVD, software as a medical device (SaMD), and apps are all regulated under IVDR.
There are more postmarket surveillance requirements in IVDR and they are more rigorous than those in the IVDD.
There is a new rule-based risk classification system for IVDs with four classes.
How are in vitro diagnostic devices classified under IVDR?
In vitro devices are classified according to both patient and public health risk under the new IVDR regulations. There are four classes of risk—Class A, B, C, and D.
Class A - Low public health and personal risk: This class contains laboratory instruments, devices, and receptacles that pose very low risk to users or patients.
Class B - Low public health risk; low to moderate personal health risk: This class includes many assays and tests, such as thyroid function tests, fertility tests, and clinical chemistry tests. Class B is also the default classification when no other rule applies.
Class C - Low to moderate public health risk; high personal risk: Examples of Class C IVDs include genetic tests, tests for compatibility for transfusion or transplants, and testing for life-threatening transmissible diseases.
Class D - High public and personal health risks: This class includes testing for transmissible agents in blood or other biological materials that may also present a high risk to the greater population.
To determine classification of in vitro diagnostic devices, IVD manufacturers must use the seven rules listed in Annex VIII of IVDR. You can find a summary of those seven rules and learn more in our blog post about IVDR classification.
What are the IVDR quality management system (QMS) requirements?
One of the most important aspects of IVDR is its focus on IVD manufacturers' quality management systems (QMS). The new regulations state that all IVD manufacturers must implement and maintain a QMS, even if they are manufacturing Class A devices.
It's important to note here that the EU already uses ISO 13485 as its standard for a QMS of medical devices. Adherence to ISO 13485 requirements will help ensure you are in compliance with most of IVDR's requirements for quality management systems.
However, there are also new post-market surveillance (PMS) regulations under IVDR which manufacturers should be aware of. The new regulations require manufacturers to establish a PMS system and create a plan to guide that system. There are also new documentation requirements, like Periodic Safety Update Reports (PSURs) that manufacturers will need to create and update as part of a proactive approach to PMS.
In fact, IVDR states that the following areas will need to be updated or informed using PMS data:
The benefit-risk determination

Design and manufacturing information, including instructions for use and labeling

The performance evaluation

The summary of safety and performance

Identification of need for preventative, corrective, or field safety corrective action

Identification of options to improve usability, performance, or safety

Contribution to PMS of other devices, when relevant

Detection and reporting of trends
The new PMS requirements—detailed in Chapter VII of IVDR—are some of the more noteworthy changes under the new regulation, but they are not the only ones. You can find all of the QMS requirements and other general obligations for manufacturers in Chapter II, Article 10 of IVDR.
BONUS RESOURCE: Ready to begin your transition to IVDR compliance? Click here to download the free version of this gap analysis tool.
Simplify your transition to IVDR compliance with a purpose-built solution for device manufacturers
With so many changes regarding the new, stringent regulations of IVDR that are set to go into effect in less than a year, it's essential that IVD manufacturers both understand how to be compliant and have the tools to do so.
Greenlight Guru's Medical Device Success Platform (MDSP) is the only QMS built specifically for IVD and medical device manufacturers. Featuring intelligent document management powered by AI/ML technologies, our software helps ensure that everything you need for a seamless transition to IVDR can be done within one secure, easily navigable system.
Get your free demo of Greenlight Guru today, and see how a purpose-built QMS can simplify compliance with IVDR—and let you focus on building high-quality products.
---
Looking for a design control solution to help you bring safer medical devices to market faster with less risk? Click here to take a quick tour of Greenlight Guru's Medical Device QMS software