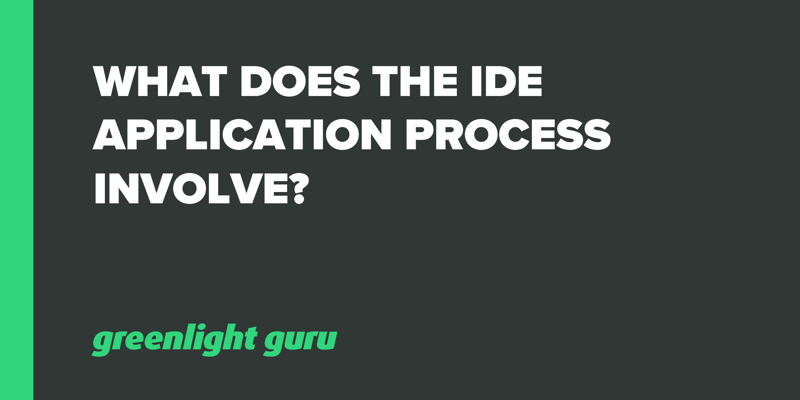 When medical device manufacturers hope to bring a new and perhaps revolutionary medical device to market, they face a dilemma. A device that may have the chance to improve the quality of life for patients first has to prove its clinical benefits—and that requires testing it on actual patients.

Regulatory bodies like the Food and Drug Administration (FDA) understand that this is a delicate balance. They also want new devices to make it to market, so they've created regulations that guide medical device manufacturers as they attempt to gather clinical data from trials.
The linchpin of these regulations is the FDA's Investigational Device Exemption (IDE), which allows a device to be tested on human subjects.
Here's what medical device manufacturers need to know about the IDE application process:
BONUS RESOURCE: Make sure your IDE application contains all the elements that FDA is looking for with this free checklist. Click here to download your copy for free!
What is an investigational device exemption (IDE) and its application process?
An IDE is a regulatory submission that allows medical device manufacturers to begin a clinical investigation of their device. Once approved, the IDE permits a device that has not yet received market approval to be tested on human subjects.
Given the serious nature of clinical trials, an IDE application must demonstrate that any risks to human subjects are outweighed by the study's benefits. The IDE application process is the avenue for medical device manufacturers to prove the benefit-risk profile of their device is acceptable and that the investigation is scientifically sound.
What must be included in an IDE application?
FDA has clearly outlined what it expects to see in an IDE application:
The name and address of the sponsor.

A comprehensive report of all prior investigations into the device—whether clinical, animal, or laboratory testing. This will provide the justification for the proposed investigation.

An investigational plan that includes the purpose, protocol risk analysis, device description, monitoring procedures and any additional records and reports.

A description of where and how the study will be performed: the methods, facilities, and controls, as well as the handling and installation of the device.

The names and addresses of all investigators involved in the study, as well as an example of the agreement they will sign.

Proof that all investigators have signed the agreement.

Names and addresses of every Institutional Review Board (IRB) that will be asked to review the study, as well as the name of the chairpersons for each IRB. Once the IRB has certified the study, it should be added in this section.

The name and address of all institutions, aside from those previously mentioned, where some part of the investigation may take place.

If the manufacturer is charging for the device, the amount charged should be listed here, as well as an explanation for why this sale does not constitute commercialization.

A copy of all the labeling for the device.

Copies of informed consent and information to be provided to subjects.

Any other relevant documentation FDA requests to help review the IDE application.
Which devices must submit an IDE application to FDA?
The vast number and types of medical devices means that a one-size fits all approach to clinical studies would be inefficient and unreasonable.
For instance, some studies are exempt entirely from the IDE regulation. These include diagnostic devices that:
Are non-invasive.

Do not need an invasive sampling procedure.

Do not introduce energy into a subject.

Are not used as a diagnostic procedure without confirmation by another medically established diagnostic product or procedure.

Are not used to predict therapeutic outcomes to stratify patients in a clinical trial.
If a medical device does not fall into an exempt category, then the next step in the IDE process is to determine whether the device poses Significant Risk (SR) or Non-significant Risk (NSR).
If a device is determined to pose NSR, then an IDE application is not necessary. However, if a device is deemed to pose SR, the study cannot begin until the IDE application has been approved by FDA.
Significant risk devices have the potential for serious effects on the health, safety, or welfare of a patient, and include:
Implants

Devices used in supporting or sustaining human life

Devices with substantial importance in curing, mitigating, treating, or diagnosing disease or preventing impairment of human health

Device that otherwise pose a risk
Studies involving devices with significant risk must be reviewed by both FDA and an IRB before they may begin. Clinical studies are generally performed within an institution, such as a hospital, and an IRB is an additional layer of scrutiny that the institution provides to ensure the study meets its standards. The study may begin only once the IRB has approved it and FDA has approved the IDE application.
The IDE process can be complicated for manufacturers, so I'd encourage you to listen to this episode of the Global Medical Device Podcast with Greenlight Guru founder Jon Speer and "Mr. Regulatory" David Pudwill to learn more.
BONUS RESOURCE: Make sure your IDE application contains all the elements that FDA is looking for with this free checklist. Click here to download your copy for free!
Compile a flawless IDE application with Intelligent Document Management from Greenlight Guru
An IDE application requires extensive documentation of everything from prior clinical investigations to the labeling of the device. Presenting all of this to FDA in a clear, intelligible form is crucial to receiving the IDE that allows you to begin a clinical study of your device.
Fortunately, Greenlight Guru's Medical Device Success Platform (MDSP) helps speed up reviews and approvals by keeping your documents, records and procedures organized, up-to-date and always accessible to the right people with role-based security. Our software saves you time with Part 11-compliant e-signatures, flexible review & approval workflows, revision control and more.
Get your free demo of Greenlight Guru today!
---
Looking for a design control solution to help you bring safer medical devices to market faster with less risk? Click here to take a quick tour of Greenlight Guru's Medical Device QMS software