David DeRam, CEO of Greenlight Guru, credits mindset techniques such as autohypnosis for both rowing and business success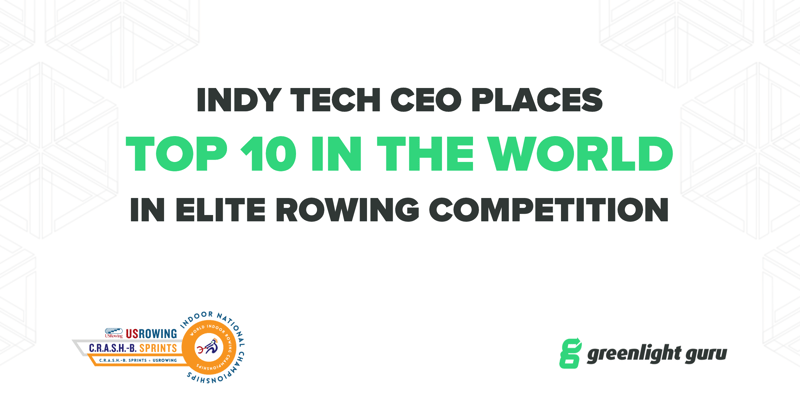 INDIANAPOLIS — August 24, 2021 — Greenlight Guru, pioneer of the only dedicated Medical Device Success Platform (MDSP), today announced CEO David DeRam's success at the C.R.A.S.H.-B. World Indoor Rowing Championships, where he placed tenth in the world for ages 50-54 in the 2,000 meter race.
The 2,000 meter row is considered one of the most grueling events in sports because it requires elite physical and mental performance from competitors. DeRam achieved his goal of placing in the top ten by focusing on both his physical and mental conditioning while he trained.
DeRam had a meticulously planned, grueling training schedule that included training six days a week over twelve weeks. But that was only half the battle. DeRam was also training his mindset to get him through the mental challenge of the 2,000 meter row. He worked with Greenlight Guru's mindset coach and Dreamfuel founder and CEO, Kevin Bailey, who helped him program his subconscious mind via autohypnosis, a technique used by many high-performing athletes, including Michael Phelps. Training his subconscious mind to internalize the feeling that the race was getting easier during a critical moment, helped him push through the most challenging parts of the race, leading him to success.
"Competing in this race was an opportunity for me to demonstrate the values we have established at Greenlight Guru in a personal accomplishment," said David DeRam, CEO at Greenlight Guru, "Our team works hard and embraces difficult tasks. Sometimes they even surprise themselves when they learn just how capable they are to tackle the emotional hurdles of large challenges. We strive for excellence within our organization, and we do not settle for anything less. Training for and competing in an event like the 2,000 meter row is something that will expand your comfort zone. If you choose to never stretch your comfort zone, there will never be any growth."
DeRam cites "alligator blood," the ability to stay cool and perform under pressure—and a core feature of Greenlight Guru's culture—as key to his success. By valuing resilience and grit, his team has been able to raise $120 million, which will allow for rapid expansion of product capabilities and significant global growth. Greenlight Guru has experienced an increase in demand over the past year, now serving over 500 medical device customers globally and nearly doubling their headcount.
These same mindset techniques and core values have helped Greenlight Guru achieve recognition from Inc. Magazine as a top employer in America and as a top workplace in Indiana, underscoring the organization's commitment to building a quality culture.