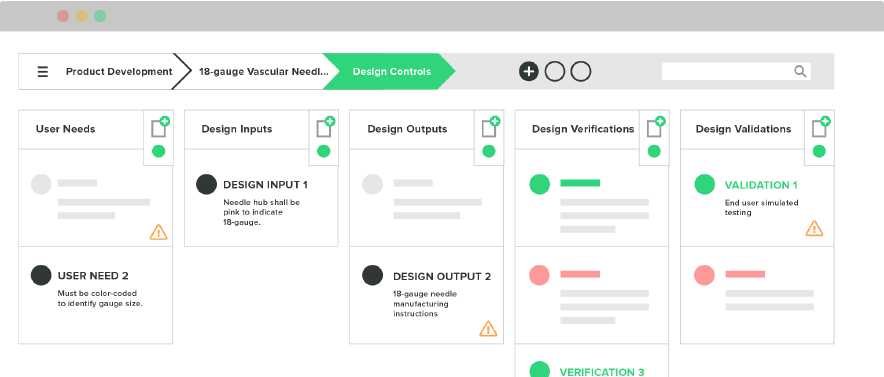 What do you know about Greenlight Guru?
Your first thought may be that Greenlight Guru is a software company that develops solutions to help medical device companies manage their QMS, Design Controls, and Risk Management.And, you would be correct.
But, what you might not know is that Greenlight Guru provides so much more than just software.
We provide first-hand knowledge and experience of medical device product development, manufacturing, regulatory submissions, and quality systems to our customers every day.
The Greenlight Guru mission is to improve the quality of lives.
We make it our business to help you bring safer medical devices to market faster, all while ensuring quality and regulatory compliance.
We know that our software plus fanatical customer support are going to make a difference for you. And through our approach, we have an impact on the quality of life.
Greenlight Guru makes life better for medical device professionals by providing a solution that is actually enjoyable to use while improving team collaboration.
Greenlight Guru helps get life-sustaining and saving products to market quicker by providing a solution that can be implemented in under a week and can include all the required QMS procedures, forms, and templates.
You read that correct. Greenlight Guru not only provides you the software to manage your Quality System, Design Controls, and Risk Management but also can provide you all the required QMS procedures, forms, and templates.
Just ask some of our customers like Dan Holton, CEO & Co-founder of Cypris Medical, how impactful the full the Greenlight Guru advantage is.
Or read some of our customers' case studies to learn more about the positive impact Greenlight Guru is having on their efforts.
Greenlight Guru didn't create medical device regulations. However, Greenlight Guru is specifically focused on providing solutions to make following these regulations as easy and painless as possible.
Let me explain.
Do you love medical device regulations, Quality Systems, Design Controls, and Risk Management? Chances are, you do not.
Good news -- we do! And you can leverage our team's decades of experience in the medical device industry.
Like many in the medical device industry, early in my career was all about learning the "rules." It was during these formative years in my medical device journey when I started to make some key observations. As my career expanded, these observations become more and more obvious.
They can be summed up in one simple statement:
Medical device companies struggle keeping up with regulations and ensuring their practices are streamlined and compliant.
To combat this, Greenlight Guru provides software plus expertise to all our customers. It's a powerful combination.
QMS Should Be Simple and Scalable
Medical device companies generally struggle with their quality management system. The struggle is often on one of two extremes.
QMS is deficient and does not address regulations

QMS meets regulations but is overly complicated
Both of these scenarios are potentially problematic.
A QMS that does not fully address applicable regulations is a compliance risk that must be avoided. Time and time again, I talk to early stage medical device companies who are about to enter the marketplace yet lack a defined QMS. If this happens to be you, know this: a QMS is a requirement for a medical device company. It is not optional.
Another big mistake I see time and time again is that companies make their QMS too complicated to realistically follow. When your QMS is hard to follow, you might not follow everything that is prescribed in your procedures. While your QMS may align with regulations, not following it means you are not in compliance.
Realize that either QMS scenario described above will lead to FDA 483 observations and nonconformities during ISO audits.
You need a QMS that is right-sized and flexible. One that is as simple as possible and scalable.
You already know Greenlight Guru provides all the required QMS procedures, forms, and templates to our customers.
And we can provide QMS training and guidance to you and your team.
Capturing Design Controls Should Be Easy
Over my career, I've witnessed that medical device companies have a very difficult time understanding how and what to do to document Design Controls during product development.
More often than not, they end up having to hire outside help to come clean up and optimize their processes and DHFs.
Medical device companies make Design Controls way too complicated.
Keep it simple! Follow FDA 21 CFR part 820.30 and ISO 13485 section 7.3.
The Design Control struggles I'm describing is actually the number one reason we started Greenlight Guru.
We designed a solution to streamline the Design Controls process, to focus on the actual content, and ensure complete traceability.
Design Controls should be easy. Greenlight Guru makes Design Controls easy.
Risk Management is a Top Regulatory Focus
You can no longer ignore ISO 14971 Medical Device Risk Management. FDA and other regulatory bodies expect your product risk management practices to align with this standard.
And no, your FMEA approach probably does not align with ISO 14971.
ISO 13485 was revised in early 2016. The revision puts a significant focus on risk management, requiring your QMS to implement risk-based approaches.
Right now, the medical device regulatory world is shifting and making risk management a top priority and focal point.
No need to worry. Greenlight Guru is at the forefront of this movement and ensuring our solutions are up to speed with current and future regulatory viewpoints.
In addition to focus on ISO 14971 and risk-based QMS, there is an expectation that your risk management efforts fully integrate with your Design Controls and product development practices.
There is only one solution that actually allows you to do this easily and seamlessly. Yep, that's right--Greenlight Guru.
Building an Ecosystem and Community in the Medical Device Industry
The Greenlight Guru team is obsessed about improving the medical device industry. So much so that we have developed beautifully simple software, while providing the best guidance and support to all our customers.
All these efforts have led to another interesting outcome. We are building an ecosystem and community, consisting of medical device professionals who want to help peers and colleagues also improve the quality of lives. As of this moment, over 65,000 of them already subscribe to our newsletter.
You see, our customers understand our passion and approach and enjoy being part of our family.