New on-demand assistance functionality offers a flexible way to leverage expert medical device support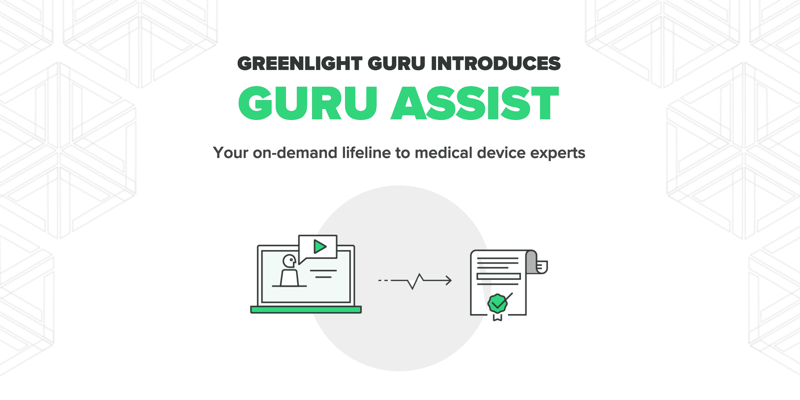 INDIANAPOLIS — November 17, 2021 — Greenlight Guru, pioneer of the only dedicated Medical Device Success Platform (MDSP), today announced the launch of Guru Assist, a flexible way to leverage medical device expert assistance. This new service offering provides Greenlight Guru expert help exactly when and where customers need it with on-demand assistance accessed from where people are working—the Greenlight Guru platform.
With Guru Assist, customers contact Greenlight Guru's customer success team real-time from within the software and have an industry sounding board on best practices right when they need it, in addition to expedited software support.
"It is our company's mission to improve the quality of life by helping our customers deliver safe and effective medical devices to patients and clinicians around the world," said Francesca Cruz, Vice President of Customer Success at Greenlight Guru, "To do this, we believe we must democratize access to best practices and knowledge around the ever-changing medical device industry. Our team of Gurus, who are tenured medical device experts, have proven invaluable to our customers throughout their commercialization journey. Now, we're excited to be the first to offer truly on-demand access to these Gurus. With Guru Assist, our customers have a lifeline to our expert team, and they can engage those Gurus directly in our application using live chat. This will help our customers get the answers they need, when they need them, from a trusted source they can rely on."
This service offering will allow medical device professionals to receive context-rich answers to their most timely questions. Example Guru Assist queries include:
What standard operating procedure templates are most important for our company's stage?

Can you recommend a naming schema for the documents in my QMS?

How should I run an effective design review using Greenlight Guru

How often should we run internal audits?

Can you give me a few examples of design inputs?
This launch follows the release of Intelligent Document Management powered by Halo℠ — a revolutionary technology that will transform the way you manage change by embedding new artificial intelligence (AI) and machine learning (ML) capabilities into your workflow to create efficiencies and improve quality across your change management process. To get your free demo of Guru Assist by Greenlight Guru, please visit https://www.greenlight.guru/services-overview