New partnership with training experts will allow the medical device industry's leading software platform to provide extended value to learners by offering additional courses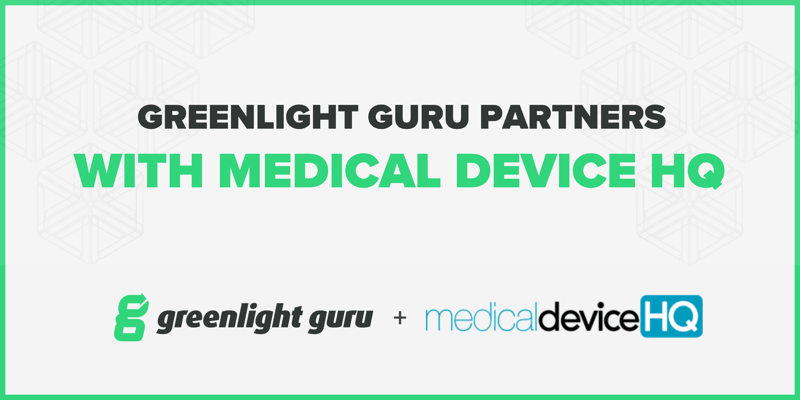 INDIANAPOLIS — June 16, 2021 — Greenlight Guru, pioneer of the only dedicated Medical Device Success Platform (MDSP), today announced its partnership with Medical Device HQ, a training platform founded by industry titan Peter Sebelius. Together, this partnership will allow Greenlight Guru Academy users to have access to premium content and certifications along with free academy courses.
Traditionally, training materials specifically developed for medical device professionals have been very expensive, and finding trusted, comprehensive, and actionable content is difficult. This slows down the process of getting life-changing medical devices to market. Greenlight Guru remains committed to helping medical device professionals navigate the ever-changing regulations and challenges of the industry, which is why selecting a partner like Medical Device HQ is critical for continuing to offer actionable training from industry experts.
"This partnership is an opportunity for us to meet yet another need of the medical device industry by continuing to make additions to our industry leading suite of software solutions designed to help medical device professionals," said Jon Speer, Founder of Greenlight Guru, "Providing easily accessible resources that cover extensive industry-related topics is critical for us to achieve our mission of improving the quality of life."
This content partnership will allow Greenlight Guru Academy to serve as a one-stop destination for advancing medical device knowledge and professional development. Specific features include:
On-demand courses that allow users to move at their own pace

Industry best practices and actionable training from industry experts

Comprehensive certifications to effectively train employees and satisfy regulatory requirements
"I have always felt extremely aligned with Jon and the Greenlight Guru team on many of the best practices and processes necessary to create safe and effective medical devices," said Peter Sebelius, Founder of Medical Device HQ, "This partnership will allow us both to realize our common vision to improve the quality of life by sharing those common views with the industry."
This partnership follows the announcement of Greenlight Guru's Strategic Growth Investment from JMI Equity, which will enable Greenlight Guru to accelerate product development efforts, rapidly expand its product capabilities across the patient-centric value chain, and support significant global growth.
For more information about Greenlight Guru Academy and these new certification courses, visit https://www.greenlight.guru/academy