Customers benefit from leveraging industry medical specific eQMS and 3D printing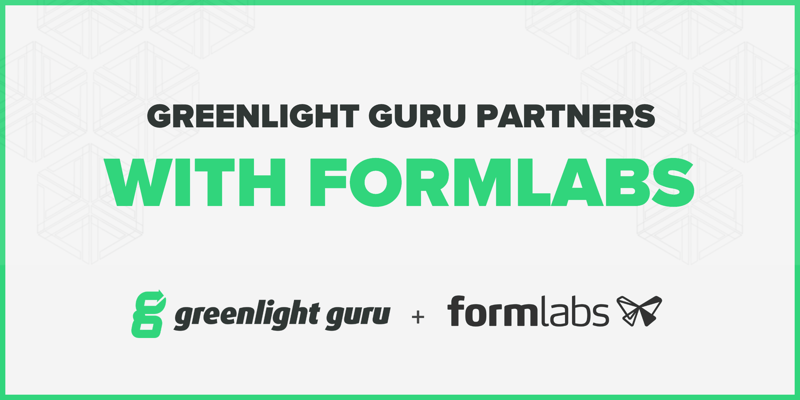 Greenlight Guru, pioneer of the only dedicated Medical Device Success Platform (MDSP), now partners with Formlabs, a leading 3D printing company, to accelerate the delivery of life-changing medical devices. Through this partnership, two of the industry's most trusted brands will create a supportive network of information, expertise, and technology for medical device companies that will educate and provide services to accelerate medical device product development efforts while staying in compliance.
Greenlight Guru's industry-dedicated quality and product development platform enables teams to document design controls and automatically maintain full traceability with integrated risk management. The two organizations aim to streamline the development process by leveraging Formlabs' pre-validated 3D printing hardware and materials paired with the use of Greenlight Gurus's purpose-built quality management system. Formlabs users can leverage its range of biocompatible, sterilizable materials that are made in an ISO 13485 certified facility, and receive an exclusive offer from Greenlight Guru's validated and fully-traceable platform to ensure compliance from design to development to production.
"Our partnership with Formlabs introduces our customers to emerging, innovative 3D printing technology that can further accelerate their time to market while cutting costs during research and development without compromising quality," said David DeRam, CEO of Greenlight Guru. "Our partner program is designed to educate and increase value for our customers by adding partners like Formlabs to our global ecosystem of industry relationships."
Furthermore, the joint offering will help organizations:
Streamline design and development efforts with Formlabs' 3D printing solutions for cost-effective design iterations and Greenlight Guru's multi-level traceability matrix and integrated risk management.

Maintain compliance with biocompatible materials made in U.S.-based, FDA-registered, ISO 13485 certified facilities and a solution with built-in QMS controls that align with 21 CFR Part 820 and ISO 13485:2016.

Increase return-on-investment with quality and accuracy throughout development through high-accuracy printers and a quality system that supports auto compilation of design records.

Decrease time to market and accelerate scaling from prototype to production with a single printing platform alongside leveraging a single source of truth for all product development, regulatory, quality, and manufacturing processes.
"This alliance enables medical device companies to seamlessly establish their quality system and maintain compliance while using additive manufacturing to produce a wide range of medical devices," said Gaurav Manchanda, director of medical market development at Formlabs. "Dozens of commercialized medical devices, 250,000 surgical instruments, and 70 million medical supplies have been printed with Formlabs technology to date. We are excited about this partnership leading to even more medical device innovation and novel tools that improve patient care."
This announcement comes on the heels of Formlabs' publication of the Ultimate Guide to QA & RA in Medical Device 3D Printing and associated webinar, cosponsored by Greenlight Guru, focusing on Regulatory Strategies and Quality Recommendations for Additive Manufacturing. These initiatives are a precursor to many collaborations in the future. It also follows the release of Formlabs BioMed Clear resin, which is a biocompatible, sterilizable material made in its ISO 13485 facility and supported by an FDA Master File and USP Class VI certification.