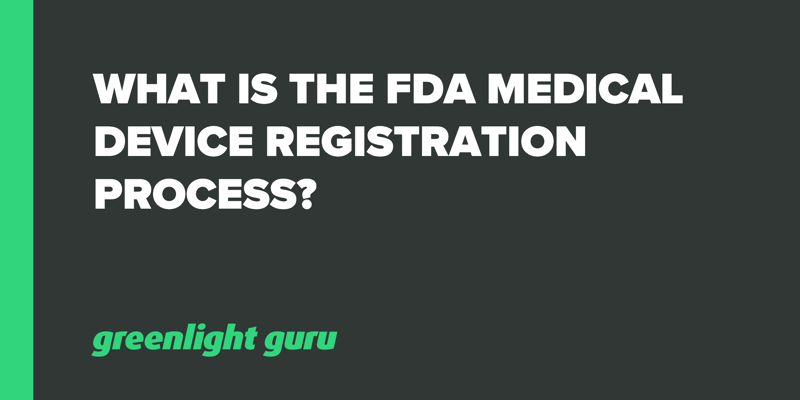 To patients and providers, medical devices are more than a product. They serve as the conduit to better quality of life for patients, improve diagnostic speed and accuracy, and make life-saving miracles possible.

So, when it comes to the high quality standards and stringent regulatory protocols of FDA, we won't fault them for taking any and all of the extra steps necessary to ensure that each device marketed in the US is safe and effective for the public.
Once a product has made it through the product submission process, there's still the matter of medical device registration. This additional set of regulatory steps ensures proper recording and documentation of devices sold and/or distributed in the US.
Here at Greenlight Guru, we are all about helping companies leverage regulatory processes to get to market faster and produce safe and effective devices that improve the quality of life. Having a clear understanding of the FDA medical device registration requirements you will be expected to meet will allow you to expedite the medical device registration process and simplify compliance efforts.
With that in mind, here's what you should know about the FDA medical device registration process, who is required to register, what documentation is needed, and any and all fees and resources you must budget for.
FREE ON-DEMAND WEBINAR: Learn how to build and manage your go-to-market regulatory strategy from this webinar's video recording and presentation slides.
What are the FDA medical device registration and listing requirements?
The purpose of registering and listing a medical device is to provide FDA with the location of all facilities involved in the manufacture of a medical device, including what is being manufactured and where. This system ensures the agency has the information it needs when it needs to respond accordingly to public health needs, such as the recent COVID-19 pandemic.
Before we dive too deep into the actual registration process itself, though, it's a good idea to first define who must register a medical device with FDA. According to FDA, registration is legally required for any establishment involved in the production or distribution of medical devices sold on the US market. This includes products that are imported for export only.
The full requirements for medical device registration with FDA are listed under 21 CFR Part 807. This is split into the following parts:
Subpart A - General Provisions

Subpart B - Procedures for Device Establishments

Subpart C - Procedures for Foreign Device Establishments

Subpart D - Exemptions

Subpart E - Premarket Notification Procedures
In most cases, establishments that are required to register with FDA are also required to list all devices that are made in their facilities and the activities that are performed on those devices. All registration and listing information is required to be submitted to FDA electronically, unless you have obtained a waiver.
FDA provides the public with helpful guidance on the medical device registration process with a readily updated chart that lists the requirements for registration, listing, and fee based on the activity of the establishment. Pay close attention, here, as there are numerous examples in which one product requires all, some, or none of these steps.
Paying close attention to these guidelines is paramount to any successful product launch by a medical device manufacturer or distributor. If there is incorrect documentation submitted, missed deadlines, or any other errors made during the registration process, FDA may require an audit or further penalties.
When and how do I register and list a medical device with FDA?
If you have a medical device that is required to meet the registration requirements of FDA, you must proceed with an initial registration of your device. Registrations not requiring premarket notification clearance or premarket approval must be submitted within 30 days of putting your device into commercial distribution if you are based out of the US.
Foreign establishments must register with FDA before exporting products to the US, and domestic importers must register before importing products. Additionally, if your device requires any form of premarket notification clearance or premarket approval, such as a 510(k) or PMA, respectively, your submission must first be reviewed and accepted by FDA before you register.
After your initial registration, you are required to complete an annual registration with FDA for each fiscal year between October 1 and December 31. If you need to make any updates to your device listing outside of that designated period, you're encouraged to do so via the same online portal.
FDA lists a few examples of reasons why you might need to update your medical device registration listing, which include:
another device being introduced into commercial distribution,

a change to a previously listed device, such as where it is being manufactured,

a previously-listed device is removed from commercial distribution or commercial distribution is resumed.
A common question asked by manufacturers is, how much will this cost? Registration fees are re-assessed annually, so it's important to check for the most current rate information. At the time of writing this (2021), FDA is charging an annual registration user fee of $5546.
A comprehensive list of all information you are required to provide when registering and listing your medical device can be found in Part 807.25 of the FDA quality system regulation.
FREE ON-DEMAND WEBINAR: Learn how to build and manage your go-to-market regulatory strategy from this webinar's video recording and presentation slides.
Simplify and streamline your medical device registration with FDA
When registering and listing your device, there are some key documents you must have readily available in your QMS if you want to make this process as quick and easy as possible. These include:
Product descriptions,

Labeling information,

Regulatory certificates, and in some cases

Specific test information.
All documentation must be kept up-to-date and serve as proof that all prerequisites have been met. You also need to be able to show objective evidence that your documentation has been generated, reviewed, and approved using a quality system.
How can you easily and reliably satisfy this regulatory request? With the only QMS solution built exclusively for medical devices, Greenlight Guru. See how our medical device success platform can help you manage documents in such a way that lets you breeze through the registration process, the first time and every time after, by getting your free demo today →.
---
Looking for a design control solution to help you bring safer medical devices to market faster with less risk? Click here to take a quick tour of Greenlight Guru's Medical Device QMS software