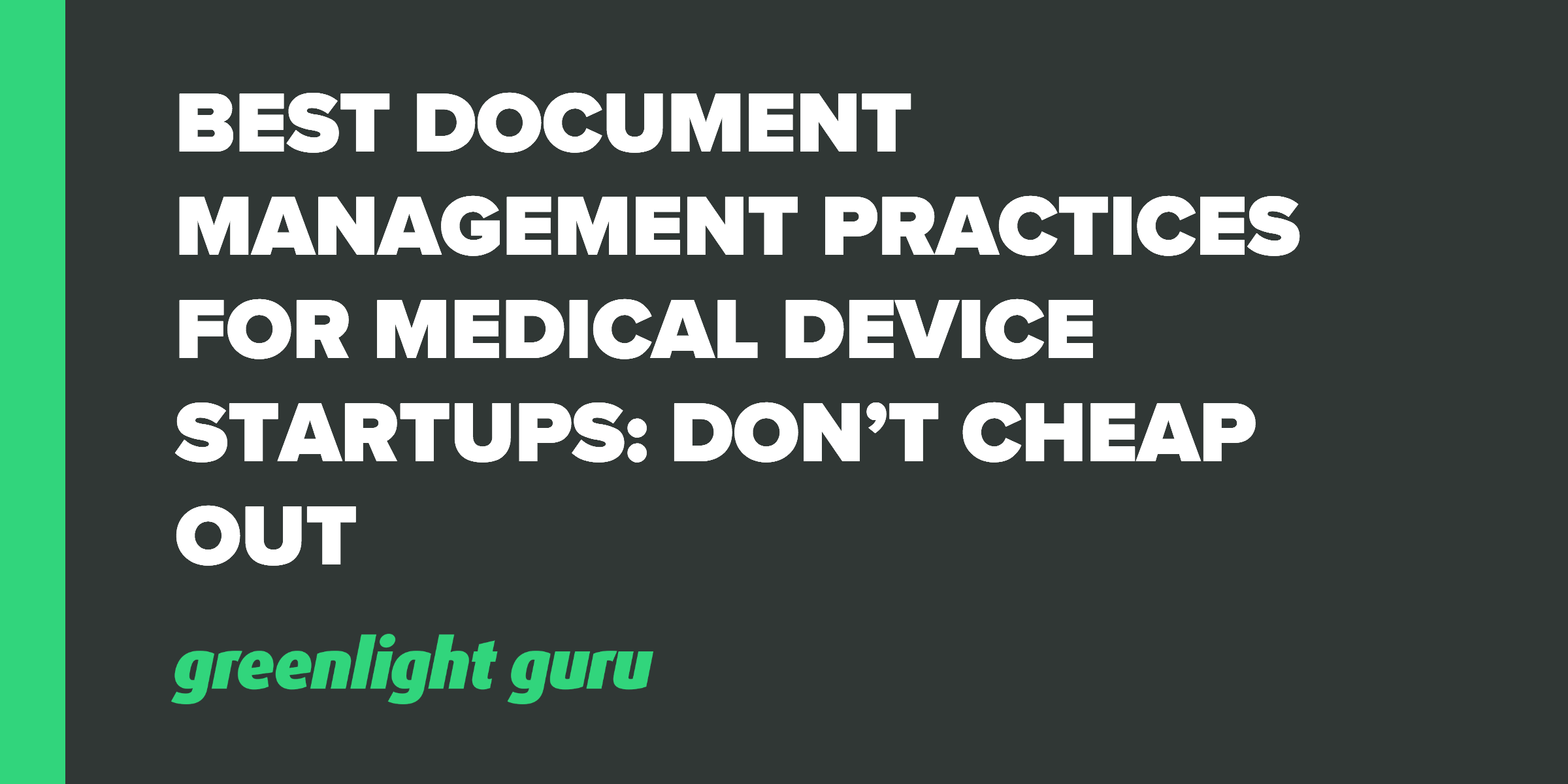 This guest post by Alex Morris, Founder of Frontline Health Consulting, originally appeared on his personal blog.
The Cost of Cheaping Out
Vendor-supplied document management systems have loads of advantages that even the youngest startup can appreciate. They can be configured to automate most if not all of your company's document control processes in accordance with the range of regulatory frameworks it's obligated to abide by, whether 21 CFR Part 11, 21 CFR Part 820, Annex 11, ISO 13485 or HIPAA.
So why are so many young companies still struggling with Dropbox and Google Drive to "meet" their document management needs?
Simply put: $$$
OK, I admit most document management systems aren't exactly being given away. You're looking at $8,500 USD give or take for a system with only 20 or so users.
But look at it this way:
If your document controller earns, say, $60k a year, yet spends 20% of her time wrestling with nonconforming documents and unintuitive management software only to have the pile of CAPAs that emerge from the next surveillance audit be devoted to document and record management issues, well, it doesn't take a genius to see that document management systems:
1. Very quickly pay for themselves (the math is easy to do so do it.)
2. Boost employee morale ("What? I don't have to spend my afternoon chasing people for approval signatures??? YEAH!")
3. Increase regulatory conformity (not just on the documentation front. With less time spent fixing documents you have more time to spend addressing other areas of weakness when preparing for audits)
4. Free employees up to use their minds for tackling the challenges that actually matter (chasing missing records doesn't meet this criteria)
5. Are the best way to address most document and record-oriented nonconformities ("A previous version went missing? Hmmm, maybe the quiz in our "Document Control Made Easy in 1.5 Billion steps" training module needs to be re-validated. Yeaaah no)
6. Increase security (think audit trails, electronic signatures, access logs)
Of course there are always exceptions. Despite boasting all of the bells and whistles, the document management system you land on may turn out to be a dud. So Make sure that when you're on the hunt for the right document management system, you bring along the right person with the right knowledge base to ask the right questions. And demo demo demo. Pre-recorded video recordings demonstrating the product are a good start but don't rely on them. Get in there and get your hands dirty.
---
Is your medical device company still managing documents with paper, dropbox or shared folder trees? If so, Greenlight Guru can help. Click here to schedule a demo.
---
Written by Alex Morris

Based in Toronto, Canada, Alex Morris, MA, RAC, is a dedicated regulatory affairs and quality assurance consultant within the medical device industry. He designs, authors, implements and trains to 13485-compatible quality management systems. Regulatory and quality issues affecting software medical devices are his specialty. He is versed in several standards and regulatory frameworks such as ISO 13485, EN ISO/ISO 14971, ISO 9001, ISO 27001, ISO 27002, IEC 62304, IEC 62366-1, IEC 60601-1 3rd Ed., ISO 14001, HIPAA, CMDR, 21 CFR Part 820 and MDD 93/42/EEC. Alex has assisted multiple medtech companies succeed at using regulatory and quality as tools for driving compliance and profit.
He founded and leads Frontline Health Consulting, a boutique consulting firm laser-focused on assisting small to medium-sized medical device companies achieve their quality, regulatory and information security goals.
When he's not assisting clients you can find him powering up dirt trails that hug the local escarpment on his trusty mountain bike.
Alex is an ISO 9001 IRCA-certificated Lead Auditor and holds a Regulatory Affairs Certification (RAC) from the Regulatory Affairs Professionals Society (RAPS).
---