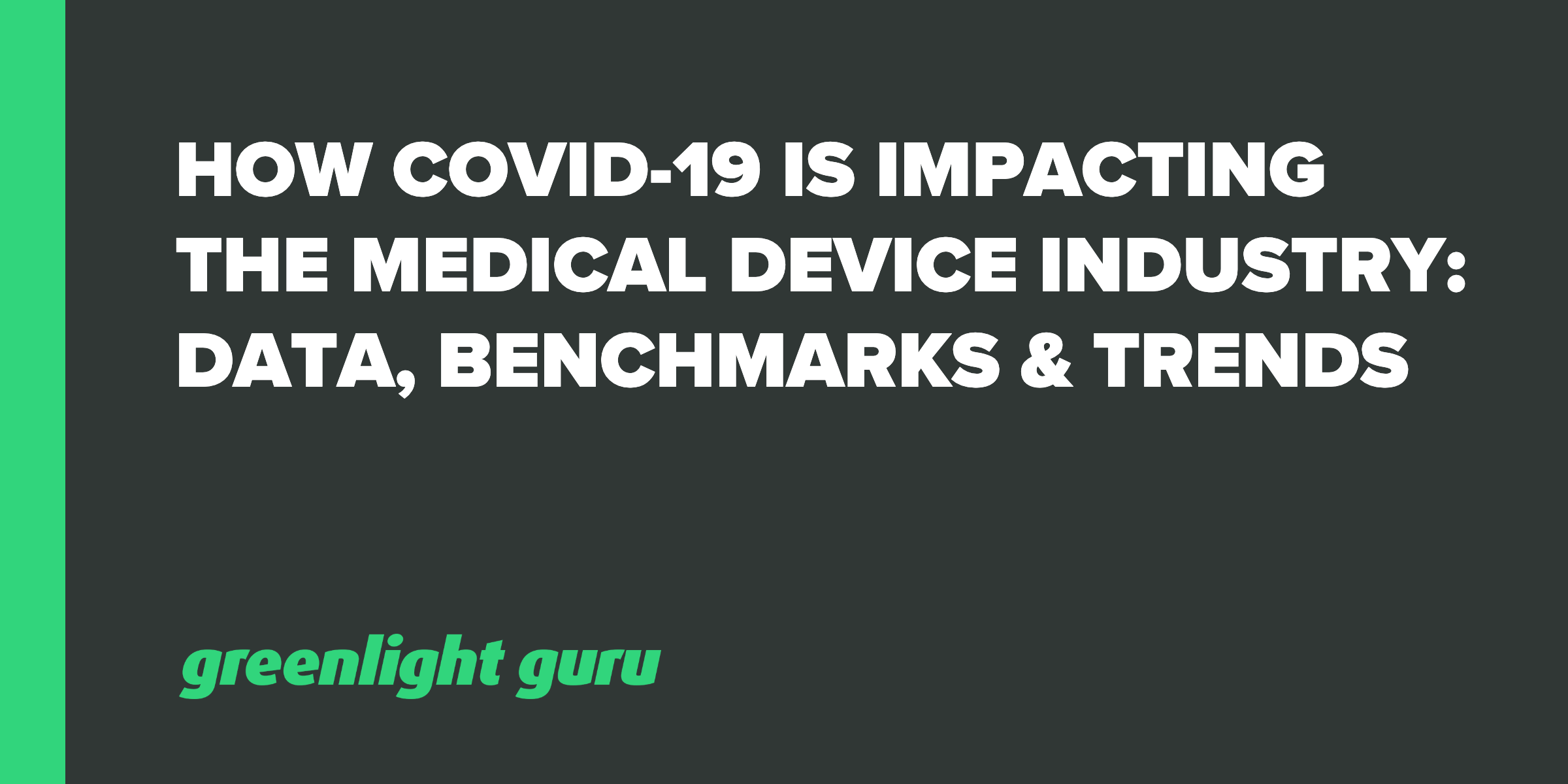 Medical device companies are among the most important players in the world's response to COVID-19.
Dozens, if not hundreds, of articles have been written about ventilator shortages, cutting edge tests, and innovative diagnostic and treatment technologies. Little attention, however, has been spent on the companies developing these technologies.
Greenlight Guru surveyed over 120 medical device professionals to analyze the scale of impact on the industry and identify the ways in which companies are reacting to and planning around the coronavirus pandemic. We've aggregated the data and established benchmarks for the most important metrics. We'll survey participants every week to see how their plans are evolving.
Subscribe to our newsletter to get updates on new findings.
Why we are conducting this research
COVID-19 is a polarizing topic. It's had wide-reaching effects on the industry as a whole, but the effects it has on specific verticals, companies, and individuals within the industry are unique. Your ability to respond to the pandemic is dependent on your role, your company's location, and the device type(s) your company offers.
If you work in the medical device industry, coronavirus is affecting you in some way. You might be on the frontlines, manufacturing new ventilators to help fulfill shortages. You might be designing products around regulations and standards that are shifting dramatically. You might be redirecting resources from one active project to another.
We're conducting this research because, as the pandemic unfolds, and the many different effects spool further out, we want to enable collaboration and support amongst your peers to help you keep a pulse on how the industry is responding and understand where things are heading. This initiative aims to provide valuable information, but it's our hope that it will also provide solidarity. We're in this together.
How the COVID-19 Impact Survey Works
We sent the survey out Monday, April 20, 2020 and on Monday, April 27th, 2020. We've compiled our initial findings here for you to see where the industry stands with the impact of COVID-19.
These Impact Insights dig into the results we've collected and summarize how medical device companies are being affected by COVID-19. After several weeks, we'll conduct another round of surveying to see where the industry stands and if things have shifted.
We will then update this post with new results and analysis benchmarks covering the effect of COVID-19 and how those effects have evolved.
Our goal is to get a pulse on the industry and track reactions over time. With this information, medical device industry professionals can identify what their colleagues are doing and how their own efforts fit into the industry as a whole.
How Your Participation Gives Back
The information we're compiling is valuable to you, us, and the industry at large. Showing gratitude for that value is important to us.
With each survey we will randomly select the name of one company that has responded to the most recent survey and feature them in our weekly newsletter, as well as make a donation of $100 to the United Way's COVID-19 Worldwide Recovery Fund on their behalf.
Once COVID-19 subsides, Greenlight Guru will make a final donation matching the dollar amount with the total number of companies that participated in this survey. We will also publish a special thank you highlighting the names and logos of all the companies that contributed to these industry insights.
Initial Insights: COVID-19 Medical Device Industry Impact
Medical device professionals have a massive task ahead of them. Between device shortages and an unprecedented need for testing and treatment, people are trying their best to keep up with the demand COVID-19 has created.
Our research shows medical device professionals making difficult decisions to support public health and to ensure the future sustainability of their companies. Revenue targets are being reassessed, working environments are changing, and product development is charging ahead. Below are the most important takeaways from this week's results.
Medical device companies are feeling the sting, but most don't expect the pain to last
In week 1 we found that among the more than 120 professionals surveyed, nearly 3 out of 4 respondents reported that COVID-19 has had a negative impact on their businesses. A small minority of these companies reported a positive impact, which likely indicates the ability for those companies to serve urgent, pandemic-related needs.

As the weeks go on, we'll measure whether this negative impact increases or decreases over time.
In week two, we found that the expected duration of impact that COVID-19 has on businesses is six months or more stayed consistent with week one's findings at nearly 60% of respondents. We still found that only a small proportion expect to feel an impact for more than a year.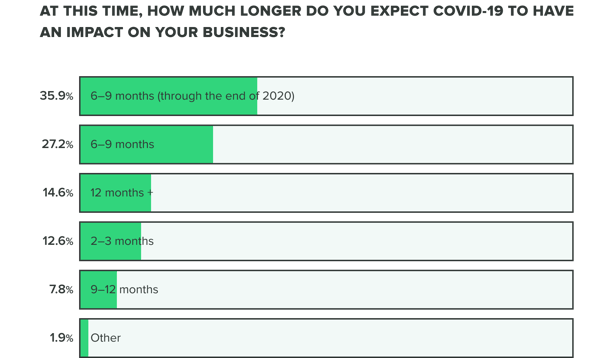 As companies adjust to new working environments, supply chains recover, and teams regain their confidence, we'll have better visibility into how long these impacts - positive and negative - last.
Companies are shifting their revenue targets and reassessing budgets
Unsurprisingly, the coronavirus pandemic has forced many companies to change their revenue targets and budgets that are allocated to reach those goals.
Our week 1 findings showed that 50% of people reported effects on their sales and revenue. A similar proportion of about 50% reported general financial strain.

Onlookers might be surprised to know that some medical device companies are in fact experiencing certain financial strains. The general assumption being, don't we need medical devices now more than ever?
Analysts, however, expect revenues to go down across the board. Though there's increased demand for products like ventilators, there's decreased demand for most elective procedures and the devices associated with them.
This bears out in our research so far, as effects on revenue and the commercial pipeline have stayed consistent thus far with 70% of respondents saying they have reduced revenue targets or intend to. Our week 2 findings show that more people are at a standstill choosing to not reduce revenue targets, opposed to increasing forecasts.
WEEK ONE: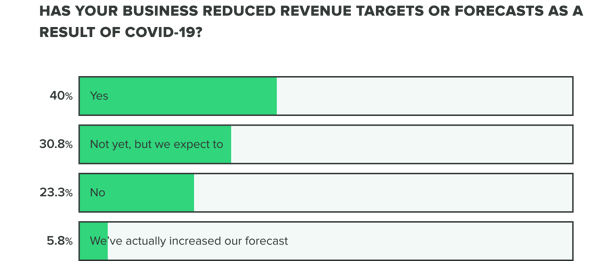 WEEK TWO:

Budget, however, is more divisive. Individuals stayed consistent in week 2 at a near 50:50 split reporting that they have or haven't reduced budgets as a result of COVID-19.

These cuts have shown consistency as well, affecting budgets most commonly associated with business travel and events, consulting, and training. Social distancing and quarantine requirements have likely made most of these budgets impossible or impractical to deploy.
Most teams are working remotely and their feelings are split
In week one we found that most medical device companies are adapting to some of the same demands felt across the workforce with nearly 8 out of 10 teams now working remotely. As we expect this not to change now, we will continue to monitor when medical device companies will begin making their move back to the office.

Meanwhile companies and teams are still adjusting, and headcount reductions have rarely been necessary so far. Our survey showed consistent results into week 2 that 75% of companies haven't had to reduce headcount in any way as a result of COVID-19. As of now, current budget reallocations and revenue shifts have been able to help companies stay sustainable without layoffs or workforce reductions.

We could only expect that the mix of these factors would produce stress on teams, but as teams continue to adjust we are seeing their optimism evolve. Of the week 2 respondents, we saw an increase to 13% of those who feel very optimistic, while zero reported feeling very pessimistic about the industry impact of COVID-19. Most respondents fell somewhere in the middle.
WEEK ONE:


WEEK TWO:



Week one respondents showed us that roles within operations, engineering, and quality departments reported feeling the most optimistic and people in manufacturing and corporate management reported feeling the most pessimistic.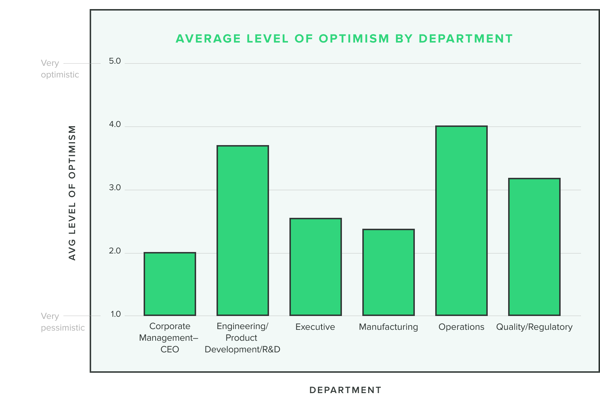 Corporate managers are most likely shouldering the burden of their companies' long-term sustainability, whereas those in manufacturing are likely working most directly to fulfill the frustrating supply shortage problems that are plaguing healthcare providers across the world.
Product development efforts continue in the midst of supply chain challenges
Last week we saw that respondents were split on whether or not COVID-19 has negatively affected product development efforts. This week we saw a shift to over half (56%) of product developers believe that COVID-19 has caused a negative impact, whereas the remaining (44%) reported it hasn't.
WEEK ONE:

WEEK TWO:

This comes as a likely result that more companies are deciding to adapt their product development efforts to serve COVID-19 related needs and shortages. Many shared that delays, holds, and pushed out application timelines are responsible for these negative impacts.
Those who's product development efforts are not feeling the impact of COVID-19 share that between their team's increased focus while working remote or with limited staff in the facility, they are continuing forward at a slow, yet promising pace.
As of now, we are seeing a growing increase to over half of companies having already pivoted their product development efforts.
WEEK ONE:

WEEK TWO:

We also saw over a third of companies experiencing supply chain issues and over half experiencing financial strain, likely making these renewed product development efforts difficult to complete. That said, only 1/4 or fewer companies are reporting delay issues, specifically with product testing delays, clinical trials delays, production issues or stoppage, or regulatory delays.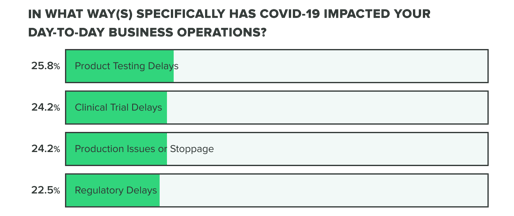 As we continue to monitor situations surrounding COVID-19, we will continue to keep a pulse on how the medical device industry is evolving in tandem.
Medical Device Companies are Finding their Pace
To see more of what we are measuring, check out the slides below.
COVID-19 Industry Impact Benchmarks
In the coming weeks, we'll conduct the same survey to gather ongoing responses from medical device professionals. You'll be able to see, over time, how your industry peers are responding to the crisis. These trends will demonstrate the industry's progress, as well as opportunities other companies can leverage.
These metrics are all important and we expect most of them to shift, some in relation to each other. If most companies are reporting a slow down in budget cuts and headcount reductions, for instance, we might see an increase in optimism.
This research demonstrates the scale of the crisis and its effects, as well as the scale of the work underway to confront it. Our goal, in part, is to investigate the astounding effort that medical device professionals are putting into addressing the pandemic. We want to provide an opportunity for you to collaborate, commiserate, and get a sense of solidarity. This crisis is unprecedented, but it's being matched by equally significant work.
Check back next week to see how these trends evolve.
Featured Survey Participant of the week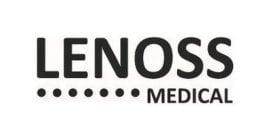 This week's company survey winner for our COVID-19 donation drive is Lenoss Medical.
Lenoss is currently developing an entirely natural treatment for osteoporotic vertebral compression fractures, and the company happens to be a Greenlight Guru customer as well!
If you get a chance, check out the advice offered by Lenoss Medical's Founder and CEO to other medtech entrepreneurs in this blog post.
We appreciate your participation in this survey by providing meaningful insights to the medical device industry. A donation of $100 has been made on your behalf to the COVID-19 Worldwide Recovery Fund through United Way.
---