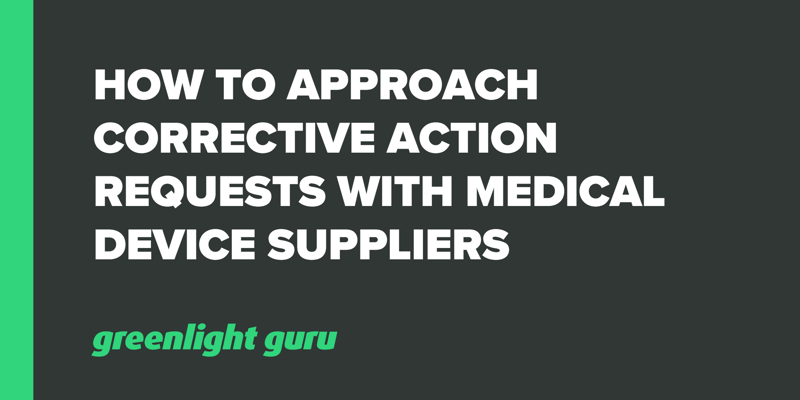 For medical device manufacturers, finding success means setting ourselves up for success with repeatable processes that not only ensure quality, but also mitigate future risk.
This drive for quality is the reason we have such hyper-specific language in our standards. It's what demands the stringent expectations from our regulatory bodies before products hit the market. It's also why examining our internal processes in our quality management systems are imbued with the idea of continuous improvement.
Correcting mistakes means more than meets the eye. We're not only undoing a wrong when it comes to an internal error; we also are preventing this or other similar mistakes from occurring again. This spirit is paramount to achieving quality, reliability, and success in an industry that demands all three as a bare minimum for entry.
The same can be said for our relationships with suppliers. Whether they're manufacturing our devices, creating speciality parts, or just helping deliver the raw materials used in our manufacturing processes, a mistake on their side has the same effect as one on ours.
Luckily, we have a documented method of dealing with these kinds of issues thanks to the corrective action request process. Let's take a look at how this is put into practice, as well as some high level tips about how to approach corrective action requests with your external suppliers.
BONUS RESOURCE: Click here to download a free CAPA workflow template that's easy to use and will save you a ton of time.
What is a corrective action request?
A corrective action request (CAR) is a formal change request regarding a nonconformity issue within an organization. These generally occur following an audit of a quality management system (QMS), with the CAR used as a method for notification of the nonconformity and documentation of the action used to correct it.
Corrective action requests are part of a Corrective and Preventive Action (CAPA) system. They are considered to be "reactive," as they occur after a compliance issue is discovered. However, the intent of a corrective action request is to prevent it from happening again in the future. It's all about finding ways to be proactive while tackling a reactive issue.
Although corrective action requests are rooted in the requirements of ISO 13485:2016, the international standard for medical device quality management systems, a CAR can also represent the need for further risk assessment. This is particularly true when nonconformities occur with suppliers, resulting in a supplier corrective action request.
How does the supplier corrective action request (SCAR) process work?
When a nonconformity requires a supplier corrective action request (SCAR), there are specific steps that must be taken. SCAR resolution requires that the supplier not only correct the issue, but also document how they will prevent it from happening again.
There are four phases of a SCAR process:
Request Phase

Supplier Collaboration and Response Phase

Disposition Phase

Supplier Review Board Approval Phase
The Request Phase establishes the importance of documentation with a formal notice that captures vendor and product information as well as a clear description of the nonconformity and expected response. The response may include documentation requirements and due dates.
Once the supplier corrective action request has been issued, the real work begins with the Supplier Collaboration and Response Phase. Collaborating with a supplier incorporates all the main elements of the CAPA process. These include:
Containment of issue

Investigation of issue

Root cause analysis

Corrective and preventive actions

Verification of completion
After these steps are taken, it is time for the Disposition Phase, in which internal personnel assess whether the vendor's responses are sufficient. If not, the SCAR may be sent back for clarifications and further responses. If the response is unacceptable or determined to be irreparable, disciplinary action may be taken against the vendor, like removing it from a manufacturer's Approved Supplier List (ASL).
Hopefully, the request is handled efficiently and is then passed on for the final stage of the SCAR process, the Supplier Review Board Approval Phase. Once approved, each SCAR should be documented within its respective CAPA workflow within the QMS for the medical device.
An eQMS is beneficial in documenting the SCAR process and ensuring documentation is reviewed and records are maintained. The interconnectivity of an eQMS like Greenlight Guru will help manufacturers demonstrate the cause of the SCAR (nonconformances, audit findings) to the effect (updated procedures, removal from the ASL).
Corrective action request (CAR) vs. supplier corrective action request (SCAR)
Though CAR and SCAR are often used interchangeably, a supplier corrective action request refers specifically to nonconformance issues with an external supplier. Much like with an internal or regulatory CAPA investigation, SCARs should be taken seriously by all parties involved.
This is when it really pays off to have a good system for managing supplier relationships. Ultimately, medical device manufacturers are responsible for quality issues related to a product; that extends to the steps taken in qualifying, choosing, evaluating, and monitoring the performance of suppliers.
When nonconformities from external sources are found, a medical device company has two choices: to SCAR or not-to SCAR. If the nonconformity causes major manufacturing interruptions or has to do with a larger, more systemic issue, it certainly warrants a formal supplier corrective action request.
However, if the issue is minor or appears to be a one-off occurrence, you may choose to first speak directly with the supplier about the issue before escalating it into a formal SCAR. If this is sufficient, it may very well be a sign you've found a trusted supply partner. That being said, a true partner in quality should never balk at the need for a formal SCAR either.
BONUS RESOURCE: Click here to download a free CAPA workflow template that's easy to use and will save you a ton of time.

Reduce the need for corrective action by addressing and preventing issues early on
Many medical device companies make the mistake of focusing their efforts on corrective actions first, rather than taking preventive actions as a starting point.
This is to no fault of their own, as most quality systems aren't capable of the reverse method. As a result, manufacturers are forced to be reactive, since they simply don't have the tools to gather the data they need to make more informed decisions. That's where Greenlight Guru comes in.
The Medical Device Success Platform (MDSP) from Greenlight Guru is the only medical device-specific QMS solution on the market. The MDSP software integrates a risk-based approach throughout the entire quality ecosystem.
The CAPA Management Software offers a dedicated workflow that lets you easily manage your risk-based CAPA process in a fully traceable system, giving you the visibility and ability to assess and identify quality issue trends in real-time and prevent them from manifesting into systemic problems.
Start making proactive quality decisions instead of reacting to situations. Get your free demo now →
---
Looking for a design control solution to help you bring safer medical devices to market faster with less risk? Click here to take a quick tour of Greenlight Guru's Medical Device QMS software