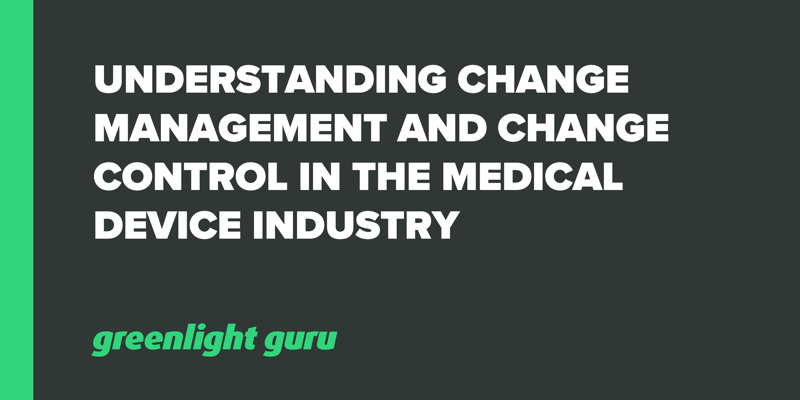 Change is inevitable in the medical device industry. Innovative device companies are at the constant forefront of new technological advancements, regulations and standards change and new requirements are enforced, and every document, process, and product is subject to change either related to or separate from those external sources of change.
To stay afloat, your medical device company needs methods for reviewing, approving and managing change. With effective change management and change control systems in place, you can smoothly navigate any planned and unplanned scenario that may take place throughout the lifecycle of your medical device.
Without good processes in place, you risk becoming overwhelmed by unorganized change requests and may act based on subjective response versus objective need. Even worse, you can face damaging regulatory recourse or harm the viability of your device.
This article will explain how you can put solid change control and change management practices into action so your medical device company can be equipped to handle rapid, frequent shifts at a moment's notice.
Free Download: Streamline your change management process with this free Change Order Template.
Change management vs. change control
The medical device lifecycle consists of several stages with many moving parts, all of which need to operate in sync. Change control and change management ensure they do. Before we break down the process of how this happens, let's examine the parts of change to better understand the interplay between them.
Triggers for change
There are numerous types of events that can be classified as triggers for change, but the most common ones include:
Product changes: Medical device revisions are likely to occur, whether you're prototyping your first device or making improvements to an existing one. Anytime a product revision occurs—like using substitute materials, updating process documents, or adding a new or altered feature to your device—you're encountering a trigger for change.
Updated regulations or standards: Regulation updates happen regularly, while new versions of standards are released more gradually. In either event, these triggers may require you to alter your product to fit the latest regulation or standard requirements.
Control document changes: Order form updates, work order adjustments, template changes—these all require you to make sure your device continues to meet regulatory best practices and requirements, as well as the requirements of your own QMS.
Change control
When a trigger for change occurs, the person responsible for the proposed change must first document it, then make a proposal for change to the quality team. Change control is the practice of reviewing those proposed changes and determining the appropriate next steps for either creating a plan to implement the change or denying the change request entirely.
Typically, a member of the quality team is responsible for initiating the change control process by examining the scope of the change to determine the resources necessary to manage the project.
Next, the quality team will provide a detailed explanation of the proposed solution or process for handling the change. Of course, the quality team can involve the change initiator and various subject matter experts in order to develop the plan.
Especially for larger changes, such as new product features, a justification for the change may be needed to make the case for any financial or safety benefits (or both) as an expected outcome.
After you've justified the reasons for change, all risks and regulatory impacts from the change must be assessed to identify the potential need for a modified product submission to FDA or other regulating authority.
Change management
If your team green lights a change, change management activities will go full steam ahead. Where change control is the act of reviewing a proposed change, change management refers to the entire implementation and handling of that change.
There are numerous elements that make up a well functioning change management system: documented processes, clear communication and coordination, traceability, and accountability.
Each element of the change management process should work in tandem to provide full visibility of all related activities for the quality team, product managers, and executive level stakeholders.
Complete oversight allows the business to function properly to accurately scope the project details, address the changes in a timely manner, and manage the changes effectively and accordingly.
Handling change control for medical device design
Products undergo design changes for various reasons. Anytime a regulation is updated, standards shift, or your device goes through a redesign, you need to update your procedures and work instructions as well as train employees on whatever was updated.
No matter the reason for the change, product design changes—which take place in both pre-market and post-market—require nuanced change management and change control to keep things running smoothly and avoid costly mistakes.
Pre-market product design changes
Pre-market changes often occur during design or development for a number of reasons: innovations made to an existing device, a material supplier changes, updates to regulations or standards go into effect, and so on.
No matter the reason for the change, you will need to update your device master record (DMR).
The DMR tells your manufacturer exactly how to make the device, so without an updated DMR, the manufacturer will be unable to accurately produce the latest version of your product. To ensure the DMR is always up to date, use design reviews to handle pre-market changes.
As discussed earlier, if your team is properly documenting proposed changes, the design review process should be fairly straightforward and allow you to easily proceed onto change control activities. It's worth noting that the FDA requires an independent reviewer be present during design reviews as well.
Once your team determines a change is justified, it must then go through design validation. Next you should review the applicable regulatory requirements to confirm whether your device still complies. Lastly, be sure the change is being implemented as originally intended.
Post-market product design changes
Post-market product design changes occur once the device is distributed into the marketplace. End users will provide customer feedback on your device, resulting in opportunities for change with improvements or cost-saving modifications.
Much like pre-market design changes, post-market design changes must undergo a similar proposal, review and approval process. One major difference being that post-market changes require additional consideration by necessary stakeholders beyond the design review process. As a general rule of thumb, form, fit, and function should be considered when making any post-market changes.
Pre-market devices have the luxury of being changed behind the scenes without live recipients of the device being subject to the effects. Because post-market devices are being actively used in the market, any change that impacts the form, fit, or function of the device or a device part will require correcting before any production can continue.
Let's say someone on your team proposes an improvement to a single component of your ventilator. While this improvement makes that piece cheaper to manufacture, upon further review, you realize the proposed change impacts the fit of the piece.
You would then need to accommodate for this change by altering additional parts of the device, thus turning one change project into several. Ideally, a proposed change won't impact the form, fit, or function, so you can avoid this exact multi-change scenario, but it is important to be prepared for multi-change scenarios when they arise.
If a post-market design change passes the above criteria, you'll also need to verify whether or not the changes require FDA notification per FDA 21 CFR 820.30(i). Once your team finalizes the changes, make sure you update the DMR to keep your manufacturer up to date.
How to handle change control and management in the production process
Changes to production processes may occur due to a number of reasons: transition to new regulatory requirements, process adjustments to accommodate design changes, or even shifts in manufacturing or supply needs on account of scaling operations.
Every change begins with a request for change via a change order or form. Download this free change order template that's designed to help you improve your change management process. After this is initiated, there are a few next steps that must be completed to assess the impact of the change:
Conduct a design review
Once a change order is submitted, the quality team reviews the change to determine if it's necessary.
To further determine the necessity of a change, the anticipated benefits and scale of the change will also be reviewed. Minor benefits are usually found to be worth the effort it takes to adjust your production process, but keep in mind large-scale changes, especially those concerning multiple worksites, will entail more and more effort on your part.
Assess risk
Risk is always a consideration with any proposed change, especially those in production. If you find yourself considering any production-related changes, run a process risk assessment to determine the overall risk and impact of the proposed manufacturing change.
You should also run a process risk assessment when expanding into new markets or scaling operations. With growth comes the increased risk of error—whether it's a supplier or manufacturing oversight of an internal issue. A risk assessment will help you predict, catch, and account for growth-related risks.
Update Bill of Materials
Your bill of materials (BOM) is a key part of your production process. The BOM helps purchasing, investors, and your product team understand what your company needs to produce the medical device and how much materials cost.
Your BOM needs to be updated anytime there's a change to your production process, as outdated information can lead to communication errors, poor manufacturing processes, and shipment delays.
Because your BOM details the exact location for every material and part related to your device, you need to update this document even if device costs are not impacted as part of a manufacturing change.
The BOM isn't only about cost; it's about providing a complete rundown of everything that comprises your device and where each can be found.
Free Download: Streamline your change management process with this free Change Order Template.
Review and manage the impact of any change with the best QMS solution
Even the most minor changes have a ripple effect, requiring in-depth reviews, updates to documents, and complete synchronization across multiple stakeholders. Clear communication, organization, and efficiency are all key to effectively controlling and managing change, whether it's pre- or post-market.
The best QMS software will make handling any change an effortless task. Greenlight Guru offers the only QMS solution built specifically for medical devices. The purpose-built platform keeps all quality system data updated with the latest industry best practices, regulations, and standards.
The automated workflows function to provide closed-loop quality system traceability for total product lifecycle management of your medical device. With Greenlight Guru Visualize, a proprietary tool powered by machine learning and natural language processing, teams can achieve closed-loop traceability with valuable data-driven insight into any change and the impacted subsystem areas at any stage throughout the device lifecycle.
Get your free personalized demo of Greenlight Guru Change Management software today →
---
Looking for an all-in-one QMS solution to advance the success of your in-market devices and integrates your quality processes with product development efforts? Click here to take a quick tour of Greenlight Guru's Medical Device QMS software →