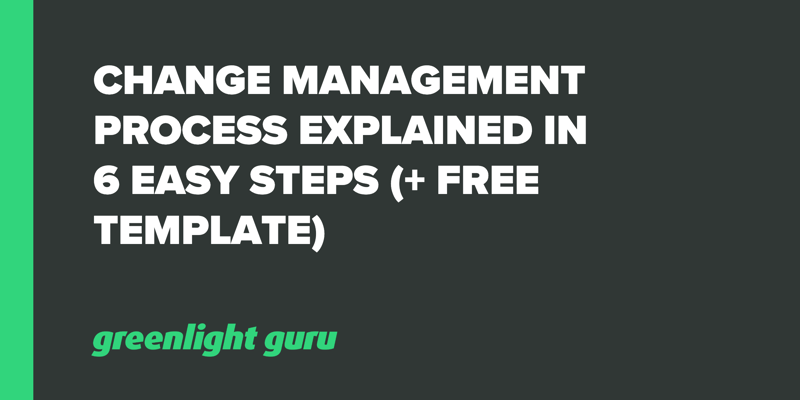 In Prosci's research, participants were six times more likely to meet project goals by following an excellent change management process.
The medical device world is turbulent, and change is rapid and inevitable. A well established change management process helps you navigate changes so that you can deliver a true quality medical device, on time, that saves or improves patient lives.
On the contrary, if you have a poor change management process in place, you could face quality issues or compliance problems and, ultimately, fail to deliver a quality device in a timely manner to end users.
Change management isn't a solo sport. Your entire team needs to be working in sync with multiple functional areas of your organization. Fortunately, implementing and following a solid change management process can make this synchronization possible.
Let's take a look at the 6 steps you can take to put your company's change management process in motion:
Free Download: Get this free change order template to streamline your change management process.
#1: Describe the change in detail
Much of change management's success depends on how well the change is documented early on. By describing the proposed change in as much detail as possible, as early as possible, you're setting yourself up to avoid complications later in the process.
You, or a member of your team, should initiate a change request (like this free change order template here) to provide details around the proposed change. To ensure you're getting the information you need, answer the following questions as best you can:
What is the change? Detail what change the person is requesting. Is this a materials change, process change, etc.?

What is the reason for the change? Write down the reason the employee gives for the change, not your reason for the change. (You'll determine the overall justification later on in the process.)

What business outcomes are affected by the change? At a glance, you'll want to gauge how the change may impact your business. Is this going to impact shipping or production, drive up the cost of the device, or throw off compliance?

Who needs to be involved in assessing, implementing, and monitoring the change process? Ask yourself who will need to implement this change. Bring in other department heads if you're unsure, and work as a team to get a rough idea around who this change involves.
You want to be thorough when documenting this part of the change management process, but keep in mind that you'll also dive deeper into each of the above elements in the following steps. Think of this initial phase of documentation as the written proposal, with the following steps as the investigation.
#2: Determine the scope of change
Many changes sound appealing at first, but a massive scope may make the change more trouble than it's worth. Determining scope involves taking a step back to ultimately determine the resources required for the change.
During the first step of the change management process, you got an idea of what and who the change will involve. For the scope, you'll want to zero in on the financial and time costs associated with the change.
Begin by assembling a team of whomever will be required to implement and manage the change process. Then, work together and analyze every element of the change and any materials, processes, regulations, or people impacted. Take note of any financial or time costs incurred along the way, and total them up to get as close an estimate as possible.
As an example, let's say someone proposed a change to the material used for the device packaging. On the surface, this may seem like a simple change; however, upon further discussion with the material team, you determine the storage conditions of the device would necessitate a significant change to accommodate the new packaging material. Additionally, you determine the need to update the storage area, as well, which will drive up the original scope and cost.
Now for the first time ever you can actually predict the impact that the change will have on your product, processes, and business with Greenlight Guru Intelligent Document Management powered by Halo℠, the world's first AI and machine learning recommendation engine.
Click here to learn more about Greenlight Guru Intelligent Document Management powered by Halo℠
Intelligent Document Management is powered by AI and machine learning technologies to provide a predictive recommendation engine for medical device companies to improve the entire change management process. This transformational quality solution allows teams to seamlessly identify documents, product development artifacts, and quality processes impacted by any change, so you never have to worry about whether you've missed something again.
#3: Assess risk associated with the change
Every change carries risk. It's important that you assess the risks associated with the proposed change. This involves looking at internal risks (budgetary, regulatory, or process inefficiencies) as well as external (device failure, harm, or death) risk factors.
Much like determining the scope, you must involve the key stakeholders from whichever teams will be impacted by the change and determine the associated risks with making that change. As a group, take note of any risks, and determine if they're acceptable. Documentation is critical during this stage.
Change management and risk management are among the most important areas of focus for medical device professionals; however, these also serve as a root cause of many problems for companies. Both of which come with their own set of specific policies and procedures that medical device companies are required to establish and follow within their QMS.
When recommended change and risk management practices are neglected or not properly integrated with one another, noncompliance and device quality issues can occur...unless you have the right tools in place that are designed to make those connections for you.
Intelligent Document Management allows you to reduce the risk of human error and avoid rework associated with updating or executing a change through machine learning connections made possible with the click of a button.
When assessing risks associated with a new proposed change to a device already on the market, take note of any new, significant risks that weren't previously known and disclosed to FDA at the time of product submission. There are some cases, depending on the change impact, which will necessitate a new 510(k) change form submission to the FDA for review and acceptance.
It's worth pointing out that risk assessments should be a continuous activity performed throughout the lifecycle of your medical device. Once changes are implemented to the current product in use, collect customer feedback, analyze the details of any complaint, and monitor the general reception to the modification that was made.
If any of the feedback is negative, it's time to go back to the drawing board and find a way to restore the safety and efficacy of your product.
#4: Consider regulatory implications of change
After assessing risk, it's worth revisiting the regulatory implications of a proposed change. In the US, depending on the nature of the change, you may be required to submit a new premarket notification (510(k)) for FDA to review and clear before you're able to legally market your device.
If you're unsure about the regulatory implications of any changes, re-familiarize yourself with the requirements associated with the classification of your medical device. In addition, FDA has published two guidance documents that serve as great resources for taking a risk-based approach to determine whether it's necessary to submit a 510(k) for a change to an existing device.
If you're prepared to move forward with a change and need to submit an FDA 510(k) change form, start the process early. Contact the FDA, submit the form, and work with them before the change is implemented to ensure there are no regulatory snags after you've already sunk money into implementing the change.
Greenlight Guru medical device QMS (MDQMS) software has the latest industry regulatory guidelines and best practices built into the system so you can worry less knowing you'll be covered for considering potential regulatory implications.
The Change Management software within the Greenlight Guru QMS platform is augmented by machine learning and natural language processing capabilities that allow medical device companies to Visualize, understand, and appropriately manage any and all changes that occur within the quality ecosystem.
#5: Justify your reasons for making the change
Every change, no matter the scope, needs proper justification. The end must justify the means, after all.
Most changes have a ripple effect, impacting numerous people, departments, and even locations. This ripple effect often turns a once simple change into a complex undertaking that is no longer justified by the benefits gained.
To make your decision process easier, it helps to lump the justifications for change into a few different categories:
Financial: Some changes are justified through money saved. If the money saved doesn't come at a greater cost elsewhere, this justification is often enough.

Regulatory: Does the change ensure that your device is compliant? If so, that's often reason enough for a change; otherwise, your device won't go to market.

Efficiency: Efficiency goes a long way, allowing you to deliver devices on time and meet market demands. Efficiency-based changes are often justifiable, especially if they don't come at the cost of device safety.

Safety: Next to regulatory changes, safety-based changes are also generally easy to justify. Your device must be safe for both the operator and the patient. When determining the cost of a safety-based change, keep in mind the cost of an unsafe device: patient harm or death, lawsuits, and the potential end of your company.
Beyond classifying the justification for a change, you'll also want to consider where your device is at in the product life cycle. Considerations may shift depending on whether a device is pre- or post-market.
Premarket product changes often come with the luxury of not requiring a production halt, because the device is likely still in the design and development phase. But a premarket change also presents the potential risk of manufacturing and marketing delays, which can be especially damaging for companies with strict project timelines or prior commitments to investors.
Lastly, if your company is publicly traded, you need to consider how shareholders will react to any kind of interruptions. If your device is postmarket, you'll need to keep in mind that changes could entail halting production to accommodate for the change.
This is especially true if the change is significant enough to which safety is of concern. And, again, you'll need to keep in mind how external stakeholders, such as investors, feel about any changes that involve a recall or cause some other financial burden.
#6: Conduct any testing required for the change
If a proposed change passed the evaluation, justification, and risk assessment check points, it's time to test the changes.
The testing process varies depending on the type of change that was made:
Materials changes: If a materials change is made, do production runs of the product, and test them for durability, safety, any storage changes, or unexpected irregularities.

Process changes: For process-related changes, have all relevant employees run through the new process multiple times, looking for errors, potential risks, or inefficiencies. Collect feedback from all involved employees, and gauge how they feel about the changes.

Documentation or form changes: If the change is related to any documentation or forms, perform test runs in which the documents are filled out and assessed by the correct team members. Just like the process-related changes, ask the employees how they liked the updated documents or forms.
At the end of any test, review the results for any unexpected changes, inaccuracies, or unknown risks. Like the risk assessment, look at the test results, and weigh them against the benefits of the change to ensure it's worthwhile.
Free Download: Get this free change order template to streamline your change management process.
Your medical device company is ready to put your approved change into motion
The change management process should ultimately improve upon existing processes or products while mitigating possible risks. But a good change management process will only work when every team member is working together to execute the established plan.
Nearly every step outlined in this article specified the importance of input from numerous team members. Without an efficient way to track that communication, the change management process falls apart.
The best QMS software will keep your team in sync throughout the change management and other subsystem processes, giving you insight into every step of the product life cycle while also making it easier for your team to share documents, communicate, and execute.
See how Greenlight Guru makes managing any change a seamless, effortless process by getting your free personalized demo of our QMS software today →
---
Looking for an all-in-one QMS solution to advance the success of your in-market devices and integrates your quality processes with product development efforts? Click here to take a quick tour of Greenlight Guru's Medical Device QMS software