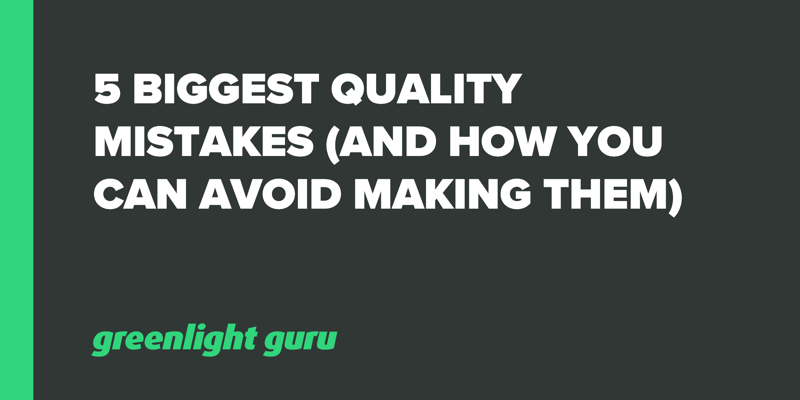 At Greenlight Guru, we collectively have hundreds of years of experience in medical device quality management.
We've all seen some great successes during our time in the industry—high quality medical devices that improved the quality of life for countless people around the world.
But we've also seen plenty of mistakes, especially when it comes to quality. Not only have we seen actions (or inactions) that contravene industry standards, but we've also encountered issues that have the potential to undermine a company's success entirely.
Quality management is the cornerstone of medical device manufacturing. There is simply no way to overstate how essential it is to bringing a medical device to market and keeping it there long-term.
So, let's take a look at the five biggest quality mistakes we see medical device manufacturers making—and how you can avoid them.
FREE RESOURCE: Click here to download a free Sample Management Review Template that will help you avoid one of the most common quality mistakes from this list.
#1. Conducting infrequent management reviews
How close is your management team to the inner workings of your quality management system (QMS)?
Management reviews are a regulatory requirement precisely because the regulatory bodies expect senior members of the company to stay on top of the creation, implementation, and management of your medical device processes.
A common problem among medical device companies is that senior managers often become disengaged from what's happening in the quality space. They might be following the bare minimum regulatory requirements by conducting a management review once a year, which is treated as a "checkbox" activity that has to be done to remain compliant.
Why are infrequent management reviews a mistake? Because you're only getting a snapshot of what's happening in your company at that particular moment in time. It might appear as though everything is going well at that point, but a single review can miss trends and small issues that have the potential to become big problems.
Frequent management reviews give you the opportunity to be proactive and head off problems before they become urgent, rather than reacting to major issues when they come to light.
But perhaps the best reason to conduct management reviews on a frequent basis is to instill a culture of quality within your company. When everyone understands that quality is management's top priority, you'll find there are fewer issues to deal with in the first place.
#2. Using inefficient feedback methods
Many companies understand that it's best to be proactive with gathering feedback to prevent issues from taking root, but sometimes the method of gathering that feedback is what breeds their mistakes.
For example, when was the last time you received a lengthy customer survey and actually completed the whole thing? Chances are you, like many of your customers, don't have time to take a long survey and you let the request languish in your inbox. It's not that surveys don't work, it's that if you want to get results, they need to be short and focused.
Additionally, there isn't one method of gathering feedback that will work for all the different types of information you need about your device.
Sometimes medical device manufacturers use supplier questionnaires and ask for evaluations from other users of a particular supplier. But for the task at hand, that feedback may be too subjective. Evaluating suppliers should be based on fact and data-driven criteria to avoid a decision based on biased feedback.
#3. Failing to control key quality system processes
You can make the argument that every process within your QMS is a "key" process. But there are certain processes that, if not controlled appropriately, can put you on a fast-track to disaster.
Nonconformance and CAPA are two key processes that fall into this category, mostly because of what's at stake if something goes awry. If these processes are poorly controlled, that means nonconforming products, or products made from nonconforming components, may end up on the market. From there, the consequences can range from minor inconvenience to serious harm or even death.
However, there are also several processes that feed into nonconformances, such as your product development, supplier, and quality assurance processes. And underlying all of them are your procedures for documenting and managing those key areas.
That's why Greenlight Guru's Medical Device Success Platform (MDSP) functions with Intelligent Document Management at its core. Your documentation is at the heart of bringing a safe and effective product to market, so see for yourself how Greenlight Guru makes it easy.
#4. Underusing or overusing CAPAs
CAPAs tend to come under close scrutiny during audits or inspections. That's because CAPA processes are there to address any systemic issues if they arise. These are the types of issues that can compromise the safety and efficacy of a medical device, so it's essential that manufacturers have airtight CAPA processes in place that are being followed.
However, "systemic" is the key word when it comes to CAPAs. Some manufacturers make the mistake of issuing a CAPA for every problem they find, whether it's systemic or not. The problem is that overuse of CAPA creates a burdensome quality environment within the company, and many companies that issue too many CAPAs lack the resources to follow through with investigating all of them.
On the other hand, sometimes underusing CAPA is the issue. Any systemic problem warrants a CAPA investigation to identify and address the root cause of the issue, but so do issues that have far-reaching implications—like a faulty fitting that is also used across multiple products. Underuse of CAPA is a leading cause of quality mistakes, and failure to initiate a CAPA can cause you to miss the window of opportunity to keep potentially larger issues at bay.
#5. Training some, but not all employees
Proper training is essential to the success of any medical device company. The last thing you want is for a lack of competence to undermine all the work you've done creating processes and procedures.
Most medical device manufacturers understand this, but it's harder than one might think to figure out exactly who should be trained for what—or when it should happen.
As a general rule, all team members who have to follow or oversee a process or procedure should receive adequate training to do so. And that means everyone who falls into this category. For some companies, a habit of exempting management or senior-level staff from ongoing training has crept in. The problem is, this quickly leads to a situation where management is out of the loop on a host of issues that can quickly snowball.
All medical device companies should establish a dedicated training management workflow where ongoing training activities are performed regularly and monitored continuously. Any time a procedure or policy changes, any personnel involved with that procedure should be retrained on the most up-to-date version.
One best practice is to manage training activities and records within a central documentation system which serves as everyone's single source of truth in order to provide the right training, for the right people, at the right time.
FREE RESOURCE: Click here to download a free Sample Management Review Template that will help you avoid one of the most common quality mistakes from this list.

Avoid quality mistakes with the best quality management solution
While each of these may seem like distinct issues, quality mistakes all stem from a single, overarching issue: an inadequate QMS. Without the right QMS in place, it's difficult to manage all of the documents and procedures that work collectively to ensure the production, delivery, and maintenance of high quality medical devices on the market.
You can avoid these quality mistakes from happening to you, however, with Greenlight Guru's Medical Device Success Platform. It's the only QMS software designed specifically for the medical device industry, which means it's designed to help you stay proactive and ahead of any potential pitfalls.
Get your free demo today and see what a medical device-specific QMS can do for you.
---
Looking for a design control solution to help you bring safer medical devices to market faster with less risk? Click here to take a quick tour of Greenlight Guru's Medical Device QMS software