Findings of a 2021 industry benchmark survey reveal internal divides within organizations are making medical device companies less competitive and more vulnerable to financial struggles in a post-COVID environment.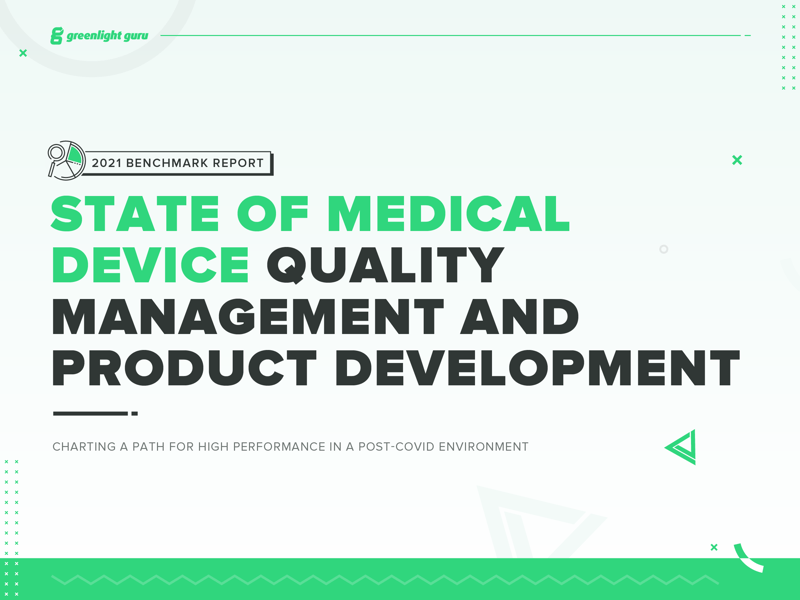 INDIANAPOLIS — December 8, 2020 — Greenlight Guru, the only medical device quality management system (MDQMS) software platform, today announced findings from the "State of Medical Device Product Development & Quality Management Report 2021." The original research report reveals new insights from survey findings of over 300 medical device product development and quality professionals from around the world, providing the global medical device community with insights into current strategies, tactics, and technologies being used to accelerate product development, ensure compliance, and prioritize quality.
One of the more striking findings of this study is the gap between executives and front-line managers on the risks their organization faces related to quality. Executives are far more likely than managers and individual contributors to give their company high marks for quality management and are less concerned about the risks posed by poor quality management. Behind the scenes, however, their front-line workers are feeling growing concerns over key regulations as well as their company's quality improvement plans for the coming year.
The current health crisis revealed insights that suggest a new catalyst for quality improvement has emerged despite the many obstacles organizations are facing. Findings show that two thirds of respondents work for companies that don't share a uniform commitment to prioritizing quality as a strategic asset, resulting in core misalignment across departmental roles.
"To find that more than 80 percent of organizations are asking their quality and engineering teams to 'make do' with legacy tools and solutions is as an eye-opener," said David DeRam, CEO of Greenlight Guru. "Quality isn't a department, but a cultural mindset within a business. Quality cannot be treated as a check-the-box activity — unfortunately, even when mandated by law, we're seeing companies do the bare minimum."
Additional findings from the report identified varying responses by organizations in dealing with the COVID-19 pandemic, which has buoyed revenue growth for medical device companies (79 percent) due to spikes in demand, while it has threatened financial viability for other organizations (39 percent) and wreaked havoc on supply chain systems.
Some other striking statistics from the report include:
Non-competitive companies are 71% more likely to struggle to keep up with regulatory changes than more competitive organizations.
Medical device companies who leverage an industry-specific QMS are 67% more likely to be able to demonstrate closed loop traceability than those who use general-purpose tools for quality management.
Highly-competitive organizations are twice as likely to increase their investment in quality management in 2021 than their less competitive counterparts.
Results from the State of Medical Device Product Development & Quality Management Report 2021 were driven from an online survey that was fielded between October 6 and October 20, 2020. Survey respondents consisted of 311 participants, of whom are employed in engineering, quality, regulatory, and operational roles by device organizations ranging in size from small to enterprise level that are located in various regions around the world.
To download the full State of Medical Device Product Development & Quality Management Report 2021, please visit https://www.greenlight.guru/state-of-medical-device.
About Greenlight Guru
Greenlight Guru is the only quality management software platform designed specifically for medical device companies. The platform helps companies bring safer products to market faster, simplifies FDA and ISO regulatory compliance and provides a single source of truth by connecting the management of all quality processes like CAPAs, risk, audits and more. Greenlight Guru's platform is used by thousands of users across the globe to push beyond baseline compliance and achieve True Quality for their medical devices.