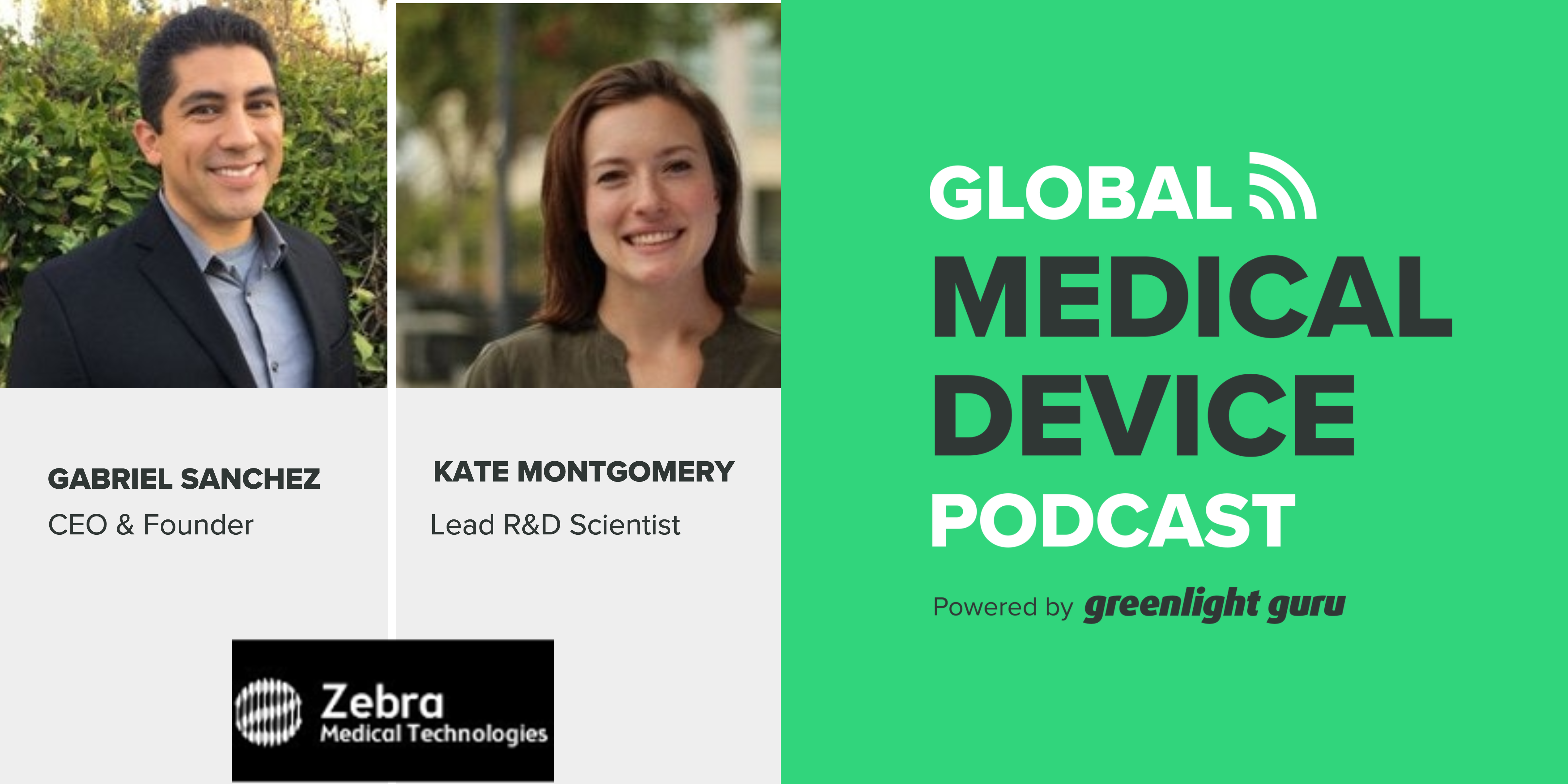 Zebra Medical Technologies is part of a new breed of medical device companies. They understand the reality that the funding market for truly novel, innovative devices is tight along with a host of other hurdles so they are always looking for advantageous ways to get more done with less resources.
"Greenlight Guru has already paid for itself in the added value brought to us by successfully flying through our quality audit." - Kate Montgomery
Based in the heart of Silicon Valley in Mountain View and hatched out of work done in the Stanford PhD program, Zebra Medical Technologies is creating a novel imaging system to permit live cellular pathology without cutting tissue. Their aim is to transform patient care across multiple medical regimes, and their current focus is to improve the diagnostics and treatment of skin cancers.
Listen Now:
Like this episode? Subscribe today on iTunes or SoundCloud.
Today we're joined by Gabriel Sanchez, Zebra's founder and CEO, and Kate Montgomery, their lead R&D scientist who both have quite the impressive backgrounds. Gabriel got his BS in Mechanical Engineering at MIT before getting both his MS and PhD in the same discipline at Stanford. Kate also received her PhD from Stanford, hers being in Bioengineering, and it was there at the Stanford PhD lab that they first met.
"You're only as good as your tools and your people." –Gabriel Sanchez
Having spent the last two years developing their technology at the prestigious Fogarty Institute for Innovation, they've also discovered some great business insights, such as the importance of quality management, and how leveraging technology has enabled them to be more efficient and pass a quality audit with flying colors even though they were going through the process for their first time.
Specifically, some of the topics you'll hear about today include:
Gabriel's and Kate's backgrounds that have led them to Zebra Medical Technologies.
How Greenlight Guru has helped Zebra Medical Technologies reach some of their milestones and put off hiring a consultant or full time quality resource
How Kate prepared, stayed confident and passed their quality audit with flying colors even though it was their first time going through one
What to expect to see and hear in the future from Zebra about the company's novel imaging system, which provides an alternative to the current method of surgical biopsies for live cellular pathology evaluation.
Additional links:
Fogerty Institute for Innovation
---
About The Global Medical Device Podcast:


The Global Medical Device Podcast powered by Greenlight Guru is where today's brightest minds in the medical device industry go to get their most useful and actionable insider knowledge, direct from some of the world's leading medical device experts and companies.
Like this episode? Subscribe today on iTunes or SoundCloud.
---