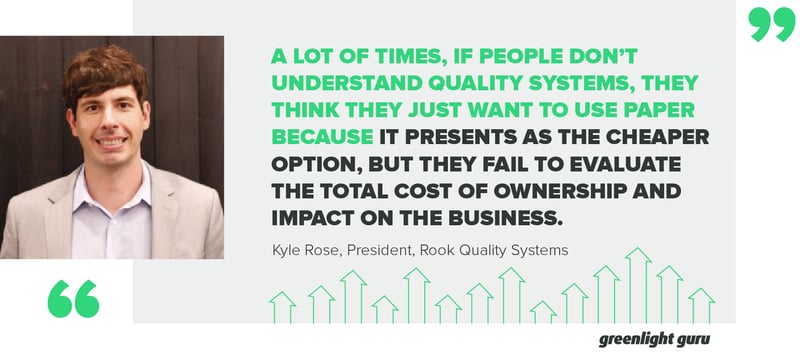 Have you ever wondered what partnering with Greenlight Guru could mean for your business?
We have a partner program for medical device industry service providers with the aim to make their service offerings stand out, accelerate their growth, and create life-long relationships with their clients.
Recently, we sat down with Kyle Rose, President of Rook Quality Systems, a platinum partner of Greenlight Guru, to understand what the partnership has meant to his business. Here's what he had to say:
ABOUT ROOK QUALITY SYSTEMS
Rook Quality Systems was started by Kyle Rose in 2012, when he worked part-time in the business, along with a full-time salaried job. In 2014 he switched to full time with Rook. They specialize in quality and regulatory strategy for medical device companies, especially those that are emerging or startups.
Kyle found that many companies, especially larger ones, are slow to move and make changes, particularly as they operate paralyzing quality systems. He once worked in a company where it took six months to get a document approved!
Along the way, Kyle has come across smaller companies that have implemented these same large quality management systems more suited for larger organizations. This not only stifles their time to market, but can also introduce risk into the development of their products. Rook's philosophy is in-line with Greenlight Guru - keep your QMS lean and efficient while focusing on achieving true quality in your processes and products.
Rook is helping pre-market companies establish quality systems, as well as the design control and risk documentation required. They help write test protocols and develop trace matrices, as well as generating reports and many other pre-market quality activities.
Part of Rook's clientele are folks who may be inexperienced in medical device quality and regulatory compliance, so Rook helps them with the bulk of their pre-market quality requirements. It is Rook's goal to help ensure that its clients' products make it to market through good quality and regulatory practices.
On the post-market side, Rook has clients who utilize their expertise as a high-level quality or strategy reviewer once Rook's team has optimized their processes. Rook will oversee the process and sign off on specific artifacts using Greenlight Guru's part 11 compliant eSig functionality. They have found that distance is no barrier to working with clients if they are using Greenlight Guru. Even with clients in countries like Northern Ireland and Europe, Rook can efficiently collaborate with them using the cloud-based system from their headquarters in Atlanta, GA.
Click here to learn more about what partnership with Greenlight Guru looks like →
Finding a Partner
In 2015, Kyle was evaluating eQMS systems for suitability to partner with and implement as a service for his clients. He knew paper-based quality systems are no longer the way to build a medical device quality system, and through partnering with a provider, he could grow both his business as well as the partner's.
After hearing feedback from many industry peers about an emerging eQMS solution named Greenlight Guru, Kyle met Jon Speer at a medical device event in 2015. Following a meticulous evaluation process, Kyle found that Greenlight Guru set itself apart from other QMS providers in that they were exclusive to the medical device industry, actually addressed product development pains along with solving QA/RA issues, and placed a staggering amount of effort into fanatical customer support in which is included in a customer's purchase.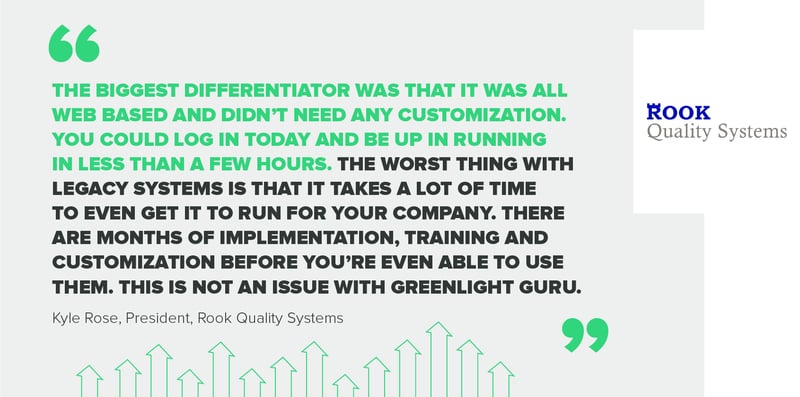 Greenlight Guru also stood out because of the team. When Kyle connected with Jon and David DeRam, he found them open to feedback and truly dedicated to improving the quality of life. Not only for the end patient, but the medical device company employees in the trenches developing products. The software itself he felt represented the future of where medical device QMS is headed, and he wanted to be part of the success. Since then he hasn't looked back, crediting the partnership with helping to expand his reach and accelerate the growth of his business.
GETTING MORE REACH
Once Kyle partnered with Greenlight Guru, he found that he had a new secret weapon in his repertoire. He could introduce himself as a partner of Greenlight at conferences and other events, and people often already knew who we were. It was a natural segue to introduce his own consulting business at the same time.
"At this point, pretty much everyone had heard of Greenlight Guru and it was a great ice breaker to start conversations and transition to discussing their quality system and DHF."
When Kyle is at a conference, he finds that Greenlight enables him stand out amongst other consultants. It allows him to naturally start conversations around the quality system without coming in as a hard sell.
Rook has found that, since Greenlight Guru leads the industry in marketing activity, co-marketing with the solution provider has helped them expand their reach. For example, Kyle has been involved with webinars with Jon and finds these and other marketing activities to be fruitful for his business.
CHALLENGES WITH QMS
Kyle points to the simple day-to-day tasks as being a good reason to go with an eQMS. For example, getting things signed can be an absolute hassle. Where companies are using Dropbox or other methods, it's not the most efficient means of keeping track and they can waste a lot of time just trying to get something signed, not to mention these systems are not part 11 compliant like the FDA requires. Software like Greenlight Guru helps get people on the same page in real time.
Kyle has clients who still use spreadsheets to manage a quality system, and there are clear differences in their overall company management. Those companies can spend a lot more time simply getting paperwork done or chasing things down, while those using an eQMS can significantly reduce administrative time and the probability that an error is made.
If the client isn't using Greenlight Guru, that means more time on site working with clients on non-value add activities. It takes significant time having to route documents, get signatures and scan documents. This is often done stringing together separate systems such as Excel, Dropbox and email versions of risk management.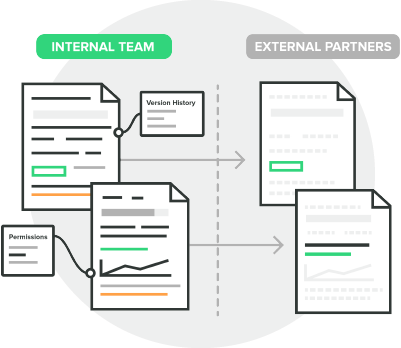 Learn about becoming a partner of Greenlight Guru
Another insight that Kyle adds is that, being a consultant creates a need to be everywhere at once, across multiple clients. Greenlight Guru with it's cloud-based system allows him to do that as he doesn't have to be onsite to ensure key tasks get done, signatures obtained or that a physical piece of paper gets tracked down.
"As a consultant, my time is extremely valuable so wasting 20-30 minutes on getting a signature is not how I want to spend my time."
Kyle also stresses the importance of companies ensuring that all quality requirements are are met with as streamlined an approach as possible:
"Not having your Design control or Risk Management can be a $20M hair cut on the valuation of your company. I've seen first hand a small company being courted by a bigger company; they send over a form asking about quality system, DC, RM, and if it's not in place it's going to cost you a lot of money."
Click here to learn more about what partnership with Greenlight Guru looks like →
RESULTS FOR ROOK Quality Systems
Rook has come a long way since partnering with Greenlight Guru. In 2015, they had less than 10 clients, mostly early startups. Since then, they have grown and taken on a full-time employee and two part-time consultants, as well as marketing and administrative support.
In 2018, they now have over 30 companies that they work with, and are continuing to grow their client base and employee count. On working with Greenlight Guru, Kyle says:
"It has been a huge advantage to improve efficiency, training and compliance around quality systems and actions. We have been able to improve the buy in from the whole team, which makes our job easier. Using Greenlight has given me the ability to expand my company and expand the number of clients I've been able to work with without hugely expanding headcount."
We wish Kyle and the team at Rook well, and look forward to our continued partnership success!