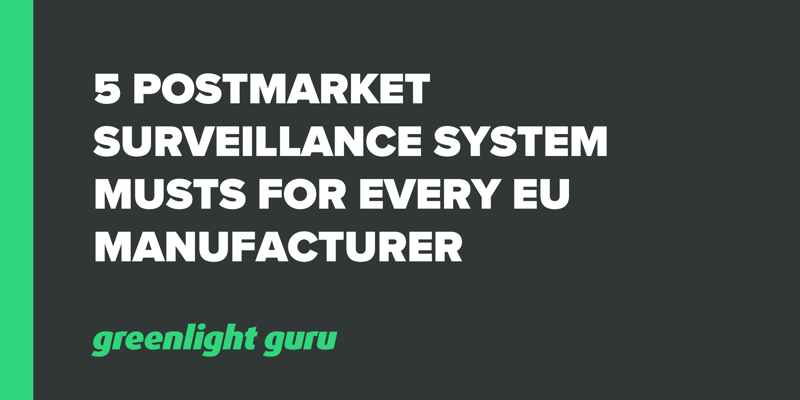 Designing, developing, and getting your medical device approved and onto the market is a huge accomplishment—but it isn't the end of your responsibilities.
For the EU market, the European Commission (EC) requires manufacturers to perform ongoing postmarket surveillance (PMS) activities once a device is placed on the market. This surveillance monitors for any potential safety or efficacy issues with the device, but it also allows manufacturers to be proactive when it comes to protecting patients.
By gathering customer feedback and other PMS data, manufacturers have an opportunity to proactively make improvements to their product or processes and prevent issues from arising in the first place.
The details of each PMS system may differ slightly from company to company, but if you plan on selling your medical device in the EU, your system must include these five components:
FREE WEBINAR SLIDES + RECORDING: Click here for the full webinar recording and slides of Post-Market Surveillance under the EU MDR.
1. Postmarket surveillance plan
A postmarket surveillance plan is a systematic process that is designed for the monitoring of a specific device. Note that each individual device requires its own PMS plan. Though the plans for different devices may have a lot of similarities, you cannot simply reuse a PMS plan from one device to another.
Your PMS plan must define which data should be surveilled, how it should be collected, and how you will investigate or determine reportable trends.
The type of data collected will vary depending on the product, but a postmarket surveillance plan should always include:
Investigations of both serious and non-serious incidents

Reports of undesirable side effects

Analysis of trends

Feedback from users, distributors, or importers—including complaints

Publicly available information about similar devices, as well as relevant information from literature, databases, or other sources.
In addition, the PMS plan must also address the processes used to collect this data and the methods used to assess the collected data. This means you will need to include the methods, protocols, or tools used for activities such as:
Investigating complaints and other market feedback

Identifying and analyzing reportable trends

Identifying and initiating corrective actions

Tracing and identifying devices that require corrective action
Your PMS plan enables better monitoring for any adverse events as well as gathering data on the long-term safety and effectiveness of the device. This is vital information that will help you gather meaningful feedback from end users, discover data trends, and make informed decisions on any updates or iterations to your product.
2. Postmarket surveillance procedures & protocols
Postmarket surveillance is only as good as the standard operating procedure (SOP) you put in place to organize and manage the data that is collected.
Your postmarket surveillance system should have an SOP that includes:
Activity triggers. These are usually either time-based ("We do X every quarter.") or prompted by a specific activity (a customer call, shipping the 5000th unit, publishing a new procedure or amendment to a procedure, etc.

A list of information sources. This might include customer feedback, service reports, employee observations, clinical follow-up studies, assessment results and any other source of good information.

Your PMS activities. These might include things like collecting, analyzing, and evaluating data before taking action on it.

The roles and responsibilities for PMS activities. You must indicate exactly who is responsible for what within your PMS system. Use specifics when describing the activities assigned to each role.

Documentation of PMS plan and activities. Not only does your PMS plan have to be documented, you also need to provide evidence of the various activities that show you're following the plan you laid out.
Huge amounts of actionable data are generated when a medical device goes to market. Without a strong SOP in place, you risk losing out on the insights that data holds for patients and providers.
3. Evidence of postmarket surveillance activities
Creating your PMS plan and establishing a well-structured SOP is an excellent start to building a strong postmarket surveillance system for your medical device.
But unless you have documented evidence that you've been conducting the surveillance activities according to your PMS plan, all that work is for naught. From a regulator's point of view, if it wasn't documented, it didn't happen.
At minimum, your postmarket surveillance system should include formal documentation of:
How you collect the information from your data sources

Your methodology for assessing data

The rationale used for risk analysis

Your methods for receiving and investigating complaints

Your methods for determining trends

Procedures for communicating with authorities where needed

Device tracing methods

Any actions you have taken as a result of PMS
Postmarket surveillance generates a lot of documents and demands a system that has the capabilities to store and manage that data. Greenlight Guru's quality management software does more than just streamline and automate PMS processes.
The medical device success platform (MDSP) offers a secure solution for manufacturers to maintain the integrity of documents stored within a dedicated PMS system, simplifying compliance requirements from whichever market you sell your devices.
4. Postmarket surveillance report (PMSR) & periodic safety update report (PSUR)
If you're manufacturing a Class I device in Europe, you're required under MDR to create a Postmarket Surveillance Report (PMSR). The purpose of a PMSR is to provide a summary of the results and conclusions of your PMS data, as well as a rationale and description of any corrective actions you took as a result of PMS activities.
For Class IIa, IIb, and III devices, the MDR requires a Periodic Safety Update Report (PSUR), which is an extension of the PMSR. The PSUR should contain a summary of your PMS results and conclusions as well as a summary of postmarket information, vigilance reporting, and the current status of the device on the market.
Finally, your PSUR must include the rationale for any corrective or preventive actions you took, such as:
Conclusions of your risk-benefit determination

Main findings of your postmarket clinical follow-up

Sales volume of the device

Estimates of the size of other characteristics of the audience using the device (plus usage frequency if known).
Keep in mind, while the PMSR and PSUR may seem exhaustive, there's still one more form of postmarket surveillance that your device may require.
5. Postmarket clinical follow-up (PMCF) & feedback system
Postmarket clinical follow-up (PMCF) is a proactive form of surveillance that systematically gathers clinical data on how the device is used and the outcomes of that use. It is concerned with ensuring the real-world use of a device is accurately characterized.
PMCF isn't always necessary, but its absence must be justified in your PMS plan. All high-risk devices require postmarket clinical follow-up, and some low or moderate-risk devices may have residual risks that could benefit from a PMCF.
MEDDEV 2.12-2 Rev. 2 suggests PMCF may be needed under the following circumstances:
Novel medical technology

High product-related risk

High-risk anatomical locations

High-risk target populations (e.g. children, elderly)

Severity of disease/treatment challenges

Unanswered questions of long-term safety and performance

Identification of previously unstudied subpopulations which may exhibit different benefit/risk-ratio (i.e. hip implants in different ethnic populations)

Verification of safety and performance of the device when exposed to a larger or a more varied population of clinical users
All PMCF studies should include:
Clearly stated objective(s)

Scientifically sound design with an appropriate rationale

Logical study plan and implementation

Appropriate statistical analysis of data, interpretation, and conclusion
PMCF is simply an extra layer of protection for devices that require heightened postmarket surveillance. It may take more time, but your patients and your stakeholders will be glad to know it's happening.
FREE WEBINAR SLIDES + RECORDING: Click here for the full webinar recording and slides of Post-Market Surveillance under the EU MDR.

Streamline & automate your postmarket surveillance
Postmarket surveillance is a critical part of ensuring the safety and efficacy of your medical device, but it requires the ability to collect and manage a tremendous amount of data and documents.
With Greenlight Guru's Intelligent Document Management solution, you get more than just a place to store your data. You get a secure solution for storing documents that offers seamless visibility and traceability for all your postmarket data.
If you need a streamlined, medical device-specific solution for managing your postmarket surveillance system, Greenlight Guru has you covered. Get your free demo today →
---
Looking for a design control solution to help you bring safer medical devices to market faster with less risk? Click here to take a quick tour of Greenlight Guru's Medical Device QMS software